Anti-wrinkle Botox Injections for Men in London
Personalised Botox Injections for Men at City Skin Clinic
Botox anti-wrinkle injections work by relaxing the facial muscles responsible for wrinkles. When used appropriately, Botox ® is a great solution for reducing the appearance of wrinkles around the face. In particular, it is highly effective in the lip, forehead and eye areas. In general, treating the male face requires additional considerations including the size and shape of muscles. Since our doctors personalise each treatment to every client we are able to produce effective and natural looking results. At City Skin Clinic, we undertake a detailed medical consultation to assess your general health and requirements. After which, if it is deemed safe and appropriate then we can offer Botox anti-wrinkle injections as a treatment.
Treatments Using Botox Injections for Men
Botox Anti-wrinkle Injections
We provide anti-wrinkle treatments with Botox anti-wrinkle injections to reduce the appearance of frown lines, forehead wrinkles and crow's feet. Our Botox anti-wrinkle injections last for 3-4 months on average, are quick and not painful. We place emphasis on providing a natural appearance and avoiding a "frozen look". As a result, we use the minimum amount of Botox® necessary and top-up clients 3-4 weeks later for free if necessary. This ensures that we achieve the most natural-looking results for our clients.
Gummy smile treatment with Botox Injections
If you're concerned about showing too much of your gums when you smile then this treatment may be of help. At City Skin Clinic we can correct a gummy smile using targeted Botulinum injections above the lip area. These results are visible within 3-4 weeks and then last for up to four months.
Jaw slimming with Botox Injections
We can also use Botox injections to define and slim down the jawline. These injections into the jawline are not painful, take around 3-4 weeks for the results to appear and last for up to 4 months. Additionally, clients who suffer from teeth grinding (bruxism) may also find that this treatment may improve their symptoms.
Perioral rejuvenation and smoker's line treatment with Botox
We have designed a combination of Botox and dermal filler perioral rejuvenation treatment to refresh the appearance of the mouth (perioral) area. This can smooth away smoker's lines around the mouth and restore the shape and structure of your lips.
Natural Looking Botox Injections for Men in London
Our doctors skillfully use Botox injections to achieve effective yet natural-looking results which boost rather than distort or change your looks. Our treatment plans are tailored for each client and their individual goals. We have an integrated approach to beauty, helping our clients work towards healthier and better-looking skin. We also provide written aftercare instructions and provide follow-up appointments at no additional cost. This is why we have become the City of London's premier clinic for Botulinum toxin anti-wrinkle injections. Book your appointment online today for Botox treatments in London.
Book an Appointment Online
Personalised Botox® injectable treatments for Men in London
Consultation
£30
The consultation fee can be taken off the cost of any treatment undertaken on the same day.
1 Area of anti-wrinkle treatment
£200
This also includes gummy smile correction.
2 Areas of anti-wrinkle treatment
£290
3 Areas of anti-wrinkle treatment
£380
Jaw Slimming (both sides)
£350
Smokers' lines (Botox and filler)
£395
Nefertitti Neck Lift
£350
Gummy Smile Correction
£200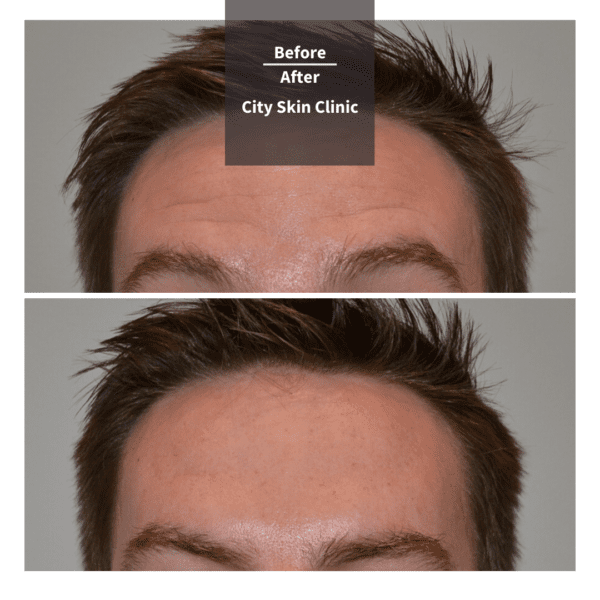 I recently hit my mid-thirties and had wanted to fix some age lines in my forehead. I took City Skin Clinic up on their offer of a half hour consultation with Dr Ibrahim. There's no hard sell with these guys, by the end of the consultation I knew exactly what to expect in terms of the treatment process, what results I could expect and how much it'd cost me. I would recommend City Skin Clinic to anyone considering anti aging treatment.
Wonderful service - can't fault them at all! I was completely pain free and chatting throughout and couldn't have asked for a more pleasant experience. I'll certainly be coming back and I've recommended to my friends 🙂 thanks so much guys!
Our doctors are committed to delivering results that are natural and beautiful. We avoid the frozen face effect by personalising each treatment to the client and only using the necessary amount of Botox required for the anti-wrinkle treatment based on the patient's anatomy and overall appearance. This allows us to achieve a natural looking result every time.
Our doctors use their surgical and medical training at leading London hospitals to apply a high level of knowledge of facial anatomy and attention to detail when administering Botox anti-wrinkle injections. The detailed consultations and dedicated aftercare ensure that our patients are only offered suitable treatments, have realistic expectations and are followed up adequately after any procedure. This distinctive advantage provides exceptional natural looking results which are safe and bespoke for all our patients.
Book Your Appointment Online
Expert personalised Botox® anti-wrinkle treatments in London