Combination Skin
If you consider skin type as a spectrum, combination skin would span the areas of dry and oily skin that are either side of normal skin. As such, for obvious reasons it needs its own combination skincare routine.
Combination skin tends to present as oily in the middle parts of the face (the T-zone area) whilst the peripheries of the face (cheeks outwards) are usually normal or dry. This can be mild in which case the T-zone is modestly oily whilst the edges of the face are normal or a bit dry or they can be extremely diametrically opposed. The latter situation in which you have a very oily T-zone and very dry rest of the face does exist but is thankfully much less common. Eitherway, these mean more thought needs to be put into creating a good combination skincare routine.
Typically, the signs of having combination skin are that the central or T-zone area of your face presents like oily skin with enlarged pores, excess sebum production as well as break outs and clogged pores whilst the edges of the face have small or invisible pores but are dry or flakey. Another characteristic of combination skin is that there is an association between this skin type and dandruff.
Whilst you keep the same skin type that you're born with throughout your whole life, like other skin types combination skin can be affected by internal and external factors. As with oily skin, oil production in combination skin can be affected by hormonal changes, diet or external factors. As with dry skin and normal skin, combination skin can be irritated and lose its hydration by harsh treatment. Big culprits include overzealous skincare or extreme weather.
"Combination skin can sometimes feel like having two completely skin types on your face. The central portion of the face usually behaves like oily skin whilst the edges may be more like normal or dry skin. The best combination skincare routine should respect this fact and ensure that the entire face is well-balanced, soft and blemish free."
Best Skincare Ingredients For Combination Skincare
Exfoliating acids: alpha hydroxy acids (AHAs) and/or beta hydroxy acids (BHAs) help with regulating oil. They also smooth rough texture and clearing pores.  
Retinoids: these are probably the most important skincare ingredient for all skin types. They help treat sun damage, fine lines & wrinkles. They also help control oil production and acne breakouts, smooth rough texture and fade hyperpigmentation. However, you must use them regularly for at least 6-8 weeks to start seeing results.
Vitamin C: this powerful anti-oxidant when used over time can help achieve firmer and brighter skin.
Enzyme exfoliants: these are a gentler alternative to exfoliating acids and include papain (from Papayas) and Bromelain (from apples).
Hyaluronic acid & Polyglutamic acid: these are humectant that attract water to the skin. They can help to hydrate combination skin and prevent it from becoming too dry or too oily.
Niacinamide: this ingredient brightens the skin and reduces the appearance of pores. It can also help to regulate oil production.
Ceramides: these are lipids that are naturally found in the skin. They help to keep the skin hydrated and protect it from damage. Ceramides are a good choice for combination skin. This is because they can help to balance oil production. Thus they prevent the skin from becoming too dry or too oily.
The Best Skincare Routine for Combination Skin
The main aim of your skincare routine should be to restore balance to both the oily and dry portions of your face. This will hydrate and protect your skin. It will also allow you to regulate oil production without stripping the face of its natural oils yet prevents excess sebum from clogging up pores and causing outbreaks. As for any skin type, your skincare routine should always pivot around cleansing, hydrating and protecting combination skin. Additionally, actives should focus on addressing skin concerns or goals like pores, wrinkles, uneven tone or dullness.
Daily Skincare Routine for Combination Skin
Mornings
Cleanser: use a gentle hydrating cleanser.
Toner: apply an exfoliating product that contains alpha and/or beta hydroxy acids. This will regulate oil production, clean pores and also address wrinkles or dull skin.
Actives: Vitamin C can help stimulate collagen production and brighten skin. It is great if you have a dull complexion or skin that needs firming or has signs of sun damage. Niacinamide can help reduce the appearance of pores and brighten the skin.
Moisturiser: use a light hydrating moisturiser. Use an oil-free product that contains hydrators like ceramides, polyglutamic acid and hyaluronic acid. If you are not using a separate active product, look for a moisturiser that contains Vitamin C and niacinamide.
Sunscreen: protect your skin from UV damage with an oil-free sunblock. Use a sunscreen with at least SPF 30.
Evenings
Double Cleanse: start with a cleansing oil or cleansing balm to remove makeup and any pollutants. It will also keep your pores clean. Then finish by using your morning cleanser.
Actives: use a Retinol serum or better still prescription retinoid like Adapalene or Tretinoin.
Moisturise with a more emolliating moisturiser than what you used in the morning. This will lock-in moisture and protect your skin barrier. If you don't want to use separate retinoid, try a hydrating night cream containing Retinol. Finally, finish your routine by applying a hydrating under eye cream that contains Retinol. Finish your skincare routine by using a hydrating undereye cream containing retinol. Alternatively, you can use your own retinoid product sandwiched between a hydrating eye cream or your night moisturiser. This will help reduce the appearance of dark under eye circles or smile line wrinkles.
Weekly Skincare Routine
Once a week set aside a little time to more throughly address skin concerns and repair your skin barrier. Try the following two-step combination skin facial as part of your weekly combination skincare routine:
Active Mask: start with a resurfacing exfoliating acid or enzyme face mask.
Reparative Mask: follow up with a nourishing hydrating mask. This should contain skin brightening and restorative ingredients like hyaluronic acid, peptides, Vitamin C and niacinamide.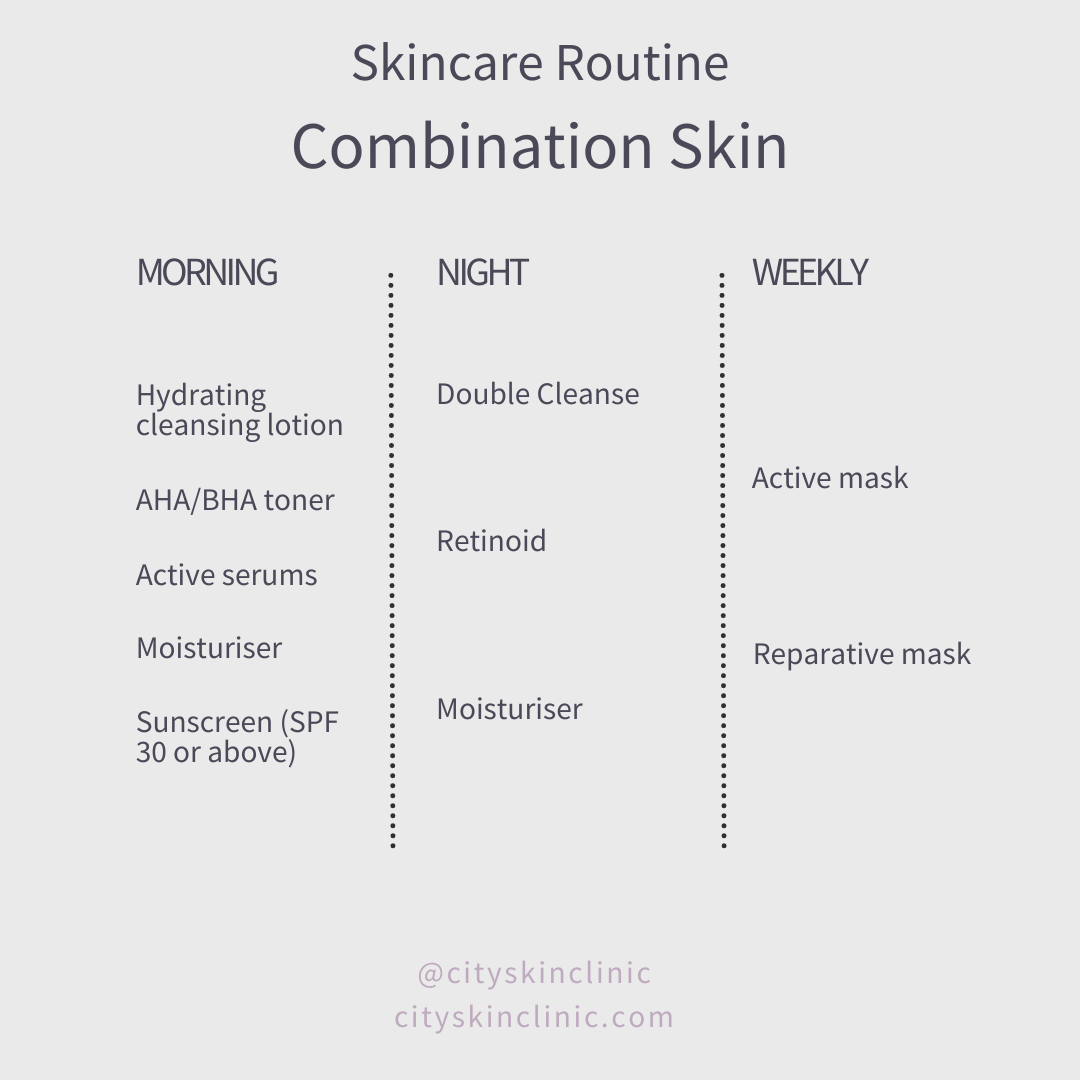 Professional Treatments for Combination Skin
With time and effort, a regular combination skincare routine will radically improve the look and feel of your skin. In order to boost these results or speed up the time-frame, you can incorporate prescription skincare treatments. Accordingly, this will help you address specific concerns like skin ageing and hyperpigmentation.
When it comes to professional skin treatments, remember that you will need a regular course of treatments. This will help you get optimal effects and maintain your results. Great skincare treatments for combination skin include chemical peels, advanced clinical facial and collagen induction therapy.
Skincare Recommendations for Combination Skin
We're constantly evaluating skincare products in order to advise all our online skin clinic customers and followers of our blog. We're very impressed with these products right now:
Cleansers
DHC Deep Cleansing Oil and Glossier Milky Jelly Cleanser are excellent for removing makeup and cleaning your pores. If you don't have time for double-cleansing, the Milky Jelly Cleanser can double up your morning cleanser also. In terms of day cleansers, CeraVe Foaming Facial Cleanser, KLAIRS Gentle Black Facial Cleanser, Aveeno Calm + Restore Oat Cleanser and The Face Shop Rice Water Bright Light Face Cleansing Foam are all great options for combination skin.
Toners
The COSRX AHA/BHA Clarifying Treatment toner and Bioderma Pigmentbio C-Concentrate serum are both great options to clear up blocked pores. They also smooth skin texture and brighten the complexion.
Actives
Great Vitamin C options for combination skin include Drunk Elephant C-Firma Day Serum and Obagi Professional-C serum.
As for niacinamide, try The Ordinary Niacinamide 10% + Zinc 1%, AXIS-Y Dark Spot Correcting Glow Serum, The Inkey List Niacinamide or Paula's Choice 10% Niacinamide Booster.
When it comes to Retinol, we like Medik8 Retinol 3 TR, CeraVe Resurfacing Retinol Serum, Paula's Choice Clinical 1% Retinol Treatment and The Ordinary Granactive Retinoid 2% in Squalane. If you're looking for something stronger, consider a prescription retinoid like Tretinoin cream.
Moisturisers
In the morning try a light-weight product. Simple Clear Skin Oil Balancing, CeraVe PM Facial Moisturizing Lotion, Tatcha The Water Cream and Obagi Hydrate are great options.
When it comes to night moisturisers, great options include Illiyoon Ceramide Ato Concentrate Cream, Innisfree Brightening & Pore-Caring Sleeping Mask and The Ordinary Natural Moisturising Factors + HA.
Sunscreen
The best sunscreens for combination skin should be lightweight and not too greasy or drying. We're reallt liking Beauty of Joseon Relief Sun Rice + Probiotics (SPF50+ PA++++), Supergoop Smooth and Poreless 100% Mineral Matte Screen SPF 40, CeraVe Hydrating Mineral Sunscreen and Aveeno Protect + Hydrate Lotion Sunscreen With SPF 60.
Masks
For a gentle exfoliating mask, try Glo-therapeutics Gentle Enzyme Exfoliant, Drunk Elephant T.L.C. Sukari Babyfacial AHA + BHA Mask or The Ordinary Peeling Solution. These will help resurface the skin, smooth wrinkles and texture, reduce the appearance of pores and fade hyperpigmentation. If your T-zone is feeling particularly oily, try a clay mask containing exfoliating acids. Good options include Charlotte Tilbury Goddess Skin Clay Mask or GLAMGLOW SUPERMUD Clearing Treatment.
For the reparative mask, good options include Skin Laundry Hydrating Radiance Facial Treatment Mask, Youth to the People Superberry Hydrate + Glow Dream Overnight Face Mask, Summer Fridays Jet Lag Mask and Dr. Jart+ Ceramidin Skin Barrier Moisturizing Mask.