Combination Skin
If you consider skin type as a spectrum, combination skin would span the areas of dry and oily skin that are either side of normal skin. As such, for obvious reasons it needs its own combination skincare routine.
Combination skin tends to present as oily in the middle parts of the face (the T-zone area) whilst the peripheries of the face (cheeks outwards) are usually normal or dry. This can be mild in which case the T-zone is modestly oily whilst the edges of the face are normal or a bit dry or they can be extremely diametrically opposed. The latter situation in which you have a very oily T-zone and very dry rest of the face does exist but is thankfully much less common. Whilst you keep the same skin type that you're born with throughout your whole life, like other skin types combination skin can be affected by internal and external factors. As with oily skin, oil production in combination skin can be affected by hormonal changes, diet or external factors. As with dry skin and normal skin, combination skin can be irritated and lose its hydration by harsh treatment like overzealous skincare or extreme weather. So the signs of having combination skin are that the central or T-zone area of your face presents like oily skin with enlarged pores, excess sebum production as well as break outs and clogged pores whilst the edges of the face have small or invisible pores but are dry or flakey. Another characteristic of combination skin is that there is an association between this skin type and dandruff.
The best way to look after combination skin is to adopt a skincare routine which treats the T-zone and the rest of the face as two separate areas. This means that you focus on oil regulation and clearing blocked pores in the oily areas whilst moisturising and removing dry flakey skin in the drier parts of the face. This does not have to be fussy and you can have a simple skincare routine which will overall ensure that your entire face is soft, glowing and hydrated.
"Combination skin can sometimes feel like having two completely skin types on your face. The central portion of the face usually behaves like oily skin whilst the edges may be more like normal or dry skin. The best skincare routine for combination skin should respect this fact to ensure that the entire face is well-balanced, soft and blemish free."
THE SKINCARE ROUTINE FOR COMBINATION SKIN
First of all, have a read of our post on how understand your skin type. This will help you identify your skin type and decide your skin concerns as well as skincare goals. Once you have this information, you will be able to adapt our skincare routine so that it is fully tailored to your skincare needs.
The main aim of your skincare routine should be to restore balance to both the oily and dry portions of your face. This will ensure that the whole face is hydrated and protected. It will also allow you to regulate oil production without stripping the face of its natural oils yet prevents excess sebum from clogging up pores and causing outbreaks. As for any skin type, your skincare routine should always pivot around cleansing, hydrating and protecting combination skin whilst add-ons are focused on addressing skin concerns or goals like wrinkles, uneven tone or dullness.
Daily Skincare Routine
Mornings
Cleanse your whole face by applying a gentle hydrating water-soluble cleanser that's designed for normal or dry skin. Use a cleansing brush (manual or electric) brush on the oily parts of the face alone to ensure that excess oil, dead skin and debris are removed from the T-zone. Finish by removing the cleanser from the whole face.
Tone with a hydrating product that contains alpha and/or beta hydroxy acids which will regulate oil production, clean pores and also address wrinkles or dull skin.
Serum (Extra) is a good add-on in order to tackle specific skin concerns. In the mornings using a Vitamin C serum can help stimulate collagen production and brighten skin. It is great if you have a dull complexion or skin that needs firming or has signs of sun damage.
Moisturise all of your face with a hydrating moisturiser. Use an oil-free product that contains oil regulating ingredients like salicylic acid and hydrators like glycerine and hyaluronic acid. If you are not using a serum, look for something that also contains Vitamins B5 and Vitamin C.
Protect your skin from UV damage if you are going outside for any length of time. Use an oil-free sunblock with at least SPF 30 and don't forget to top up if you're outside all day.
Evenings
Double Cleanse in the evenings to remove makeup and any pollutants or grime that's built up on your skin during the day to keep your pores clean. Start with a cleansing oil all over your face (don't worry this will not cause break outs). Then finish by applying your morning cleanser and using the cleansing brush on your T-zone.
Tone with the same product you used in the morning.
Serum (Extra) and in particular Retinol serum is a great step to add on at night. Not only is it clinically proven to reduce the appearance of wrinkles, it also helps regulate oil production, exfoliates skin and for a smoother and brighter face over time.
Moisturise with the same oil-free moisturiser that you used in the morning. If however, you don't want to use a serum, then switch to a hydrating night cream containing exfoliating acids and Retinol. Finally, finish your routine by applying a hydrating under eye cream that contains Retinol. This will help if you suffer from dark under eye circles or have smile lines.
Best Skincare Ingredients For Combination Skin
Oil regulating, rough texture and pore cleansing: use acid exfoliants containing alpha hydroxy acids (AHAs) and/or beta hydroxy acids (BHAs).
Sun damage, fine lines & wrinkles: without a doubt Retinol is the most important anti-wrinkle skincare ingredient. It has been clinically proven to reduce the visibility of lines and wrinkles, You must use it regularly for at least 8-12 weeks though. Another super ingredient is Vitamin C. It is a powerful anti-oxidant and when used over time can help achieve firmer and brighter skin.
Dry and flaky skin: to smooth down and hydrate dry flaky skin, exfoliate with alpha hydroxy acids (AHAs) or enzyme exfoliants such as papain (from Papayas) and Bromelain (from apples). Hydrating oil-free ingredients like hyaluronic acid and glycerine will help moisturise the dry and oily areas in combination skin.
Weekly Skincare Routine
Once a week set aside a little time to pamper your skin:
Exfoliate the T-zone with an activated charcoal scrub or cleansing brush. Then treat the whole face with a resurfacing chemical acid or enzyme exfoliator.
Multi-mask by applying a clay mask to the T-zone and an enzyme or acid mask to the dry edges of the face. Finish off with a hydrating mask to the whole face in order to balance and moisturise your skin.
Professional Treatments
With a little time and effort, a regular skincare routine alone will radically improve the appearance and feel of your skin. In order to boost these results or speed up the time-frame, you can have a bespoke professional skin treatment. We recommend having one of these every 2-3 months for optimal results. At City Skin Clinic, we provide a choice of bespoke skin treatments for combination skin in London. These include our bespoke chemical peels, advanced clinical facial and collagen induction therapy. All of our treatments are uniquely designed around your specific skin concerns and goals.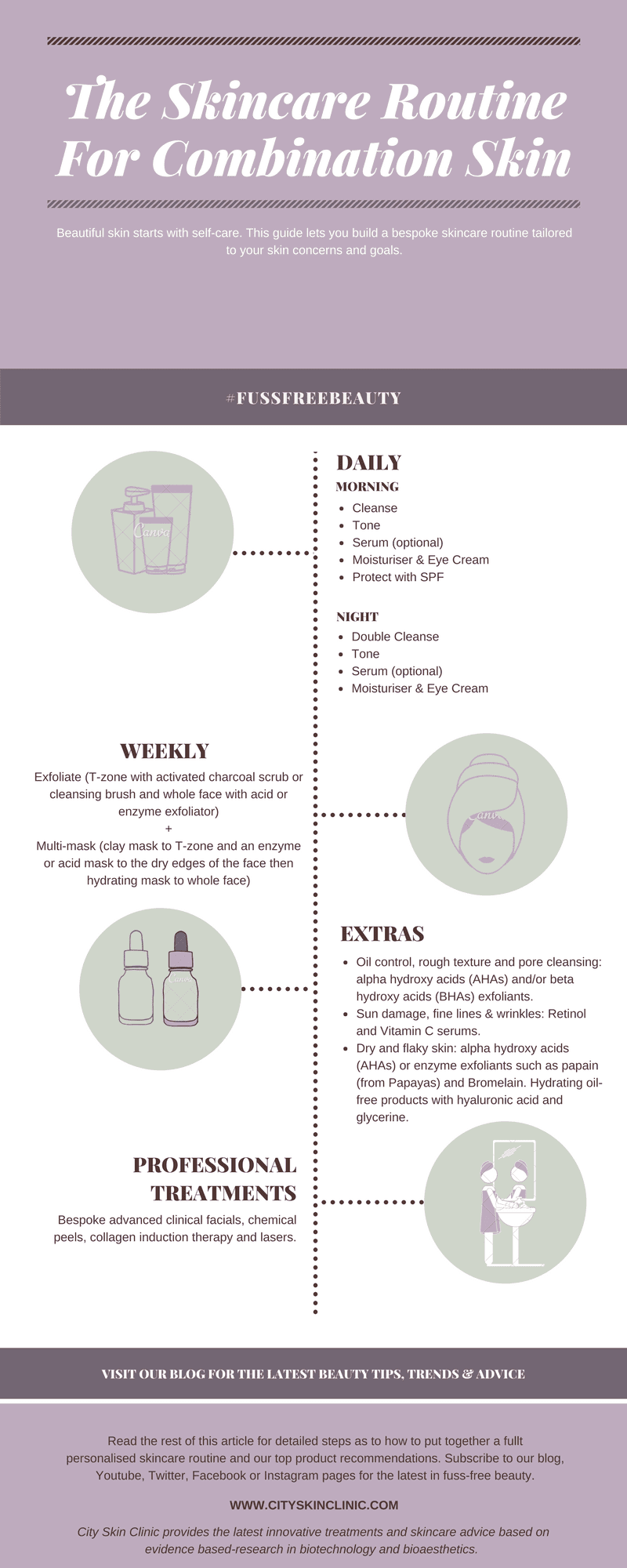 OUR TOP SKINCARE & MAKEUP PRODUCT RECOMMENDATIONS FOR COMBINATION SKIN
We're constantly evaluating skincare products in order to advise all our clients and followers of our blog. At the moment we have been very impressed with the following products for combination skin:
Cleansing: DHC Deep Cleansing Oil is the only product we recommend for removing makeup and cleaning your skin including the pores in the evening. In terms of day and night hydrating cleansers, we like Glossier Milky Jelly Cleanser and Cetaphil Daily Facial Cleanser For Normal To Oily Skin. Cleansing brush-wise, we're impressed with Olay Regenerist 3 Point Super Anti Ageing Cleansing System for an electric option or for a manual option try The Konjac Sponge Company facial sponge puff.
Toning: For simple hydration and oil-balancing try Paula's Choice SKIN BALANCING Pore-Reducing Toner. If you want a more active product opt for COSRX AHA/BHA Clarifying Treatment Toner which will clear up blocked pores, smooth skin texture and brighten the complexion.
Serums: Our favorite Vitamin C serums for combination skin at the moment are Drunk Elephant C-Firma Day Serum and Medik8 C E-Tetra Pro Collagen Vitamin C Serum. For Retinol, we recommend Medik8 Retinol 3 TR or The Ordinary Granactive Retinoid 2% in Squalane.
Moisturising: Simple Clear Skin Oil Balancing Moisturiser hydrates skin whilst absorbing excess oil.
Exfoliation: For a gentle exfoliant for the whole face try Glo-therapeutics Gentle Enzyme Exfoliant which contains enzymes from 5 different fruits. For the T-zone, Grounded Activated Charcoal Blackhead Removing Face Scrub will help remove dead skin and unclog your pores.
Masking: For the T-Zone use a clay mask like Charlotte Tilbury Goddess Skin Clay Mask or GLAMGLOW SUPERMUD Clearing Treatment. For dull skin, try a resurfacing mask like REN Glycol Lactic Radiance Renewal Mask. Finish off by hydrating and nourishing the skin on your whole face with Skin Laundry Hydrating Radiance Facial Treatment Mask.