Dry Skin
Your skin type is inherited and remains the same throughout your entire life. Dry skin is caused by having a smaller number of oil-producing glands and hence reduced sebum production.
As a result, dry skin is less able to retain moisture and thus loses water. It also has a reduced protective barrier due to lack of natural moisturising factors and epidermal lipids. In addition to being born with dry skin, it is possible for skin to become drier as we age and may also be triggered by environmental factors such as harsh weather conditions or chemicals. A good dry skin routine will treat dry skin and protect it from getting worse.
The main focus of any skincare routine for dry skin is to restore moisture and reinforce the skin's protective barrier. This is achieved most readily with hydration in the form of humectants like glycerine or hyaluronic acid. This should be combined with emollient products which will soothe, hydrate and help create an effective barrier to seal in moisture. Since dry skin tends to appear dull and more readily show up wrinkles, you might be tempted to over exfoliate. This is not necessary and may even damage the skin by removing its already thin protective layer. It is possible to smooth, brighten and resurface dry skin by using gentle yet effective exfoliation with chemical products. You should ensure that you combine this with intense moisturisation afterwards in the form of a mask.
"Dry skin is characterised by reduced production of sebum. This skin type tends to appear dull, may feel rough, is less elastic and increases the visibility of lines or wrinkles. It also has a tendency to be more sensitive. However on a positive note, produces almost invisible pores. A good dry skin routine is necessary to boost the health and appearance of dry skin"
THE SKINCARE ROUTINE FOR DRY SKIN
When putting together a dry skin routine, you should start by understanding your skin type and then select your key skin concerns as well as skincare goals. For example, your skin type maybe dry and your major concern might be dull skin and wrinkles whilst your skincare goal might be to achieve smoother and brighter skin. The reason it is important to do this is that it will help you create a skincare routine that is tailored to your concerns and goals. The below routine offers the fundamentals of a skincare routine for dry skin and has "optional" steps which you can use to tailor it to your skin and make it your own.
Daily Skincare Routine
Mornings
Cleanse your skin with a moisturising cleanser like a cleansing balm, cleansing oil or cleansing milk.
Tone with a hydrating toner.
Essence (Extra) is very effective if you suffer from dry skin as it helps rehydrate the skin after cleansing and toning. Use a hydrating essence containing hyaluronic acid for optimal hydration.
Serum (Extra) is another add-on if you want to boost your skincare routine for dry skin. In the mornings try using a Vitamin C serum if you want to brighten dull skin. For additional hydration, try adding a Vitamin B5, Vitamin E and/or hyaluronic acid serum.
Moisturise with a hydrating emollient based product. This will seal in moisture and reinforce your skin's protective barrier. Look for products with Hyaluronic acid which holds up to 1000 times its own weight in water. Emollients like glycerine, butters (e.g. Shea or Cocoa butter) and oils (e.g. Avocado or grapeseed oil) will also smooth skin and help lock in moisture. If you don't want to use a serum, look for a moisturiser that also contains Vitamins B5 and E.
Protect your skin with sunblock during the daytime (even on cloudy days). This will prevent photodamage and hence slow down the development of wrinkles and sunspots. Use a light-weight emollient sunblock and opt for at least SPF 30. If you're working outside, don't forget to top up your sunscreen during the day.
Evenings
Double Cleanse in the evening to remove your makeup and any dirt or pollutants that build up on the surface of your skin during the day. Start with a good cleansing oil and follow up with the hydrating cleanser you use in the morning. Double cleansing will not take up much more time than a single cleanse but it will leave your skin clean and ready to apply your nighttime skincare products.
Tone with the same hydrating toner you used in the morning. If your concern is very rough or dry skin, you can use a toner which contains exfoliating acids like glycolic acid at night instead of your daytime toner.
Essence (Extra) if you are using essence, use the same product that you use in the morning.
Serum (Extra) at night is a good step to add if you can and in particular opt for a Retinol serum. Retinol will smoothe out fine lines and wrinkles, exfoliate dead skin and help deliver smoother and fresher looking skin over time.
Moisturise with the same product you used in the morning. If you want or need additional hydration, use a richer night cream or mask which contains active ingredients like exfoliating acids and Retinol if you are not using these already. Finish by applying a hydrating under eye cream. Opt for one containing Retinol if you have under eye circles or smile lines.
Best Skincare Ingredients For Dry Skin
Dull and flakey skin: to smooth skin, exfoliation is important. Physical exfoliants like scrubs might irritate or even produce micro tears in dry skin which is thinner than other skin types. To safely and effectively resurface dry skin, use chemical exfoliants containing alpha hydroxy acids (AHAs) like glycolic acid. If your skin is sensitive, try exfoliating with fruit enzymes like Papain (Papaya) or Bromelain (Pineapples) which are gentler but still deliver smoother and brighter skin.
Sensitive skin: when skin is dry it is predisposed to feeling sensitive. This may manifest as tightness, cracking and red patches. The answer is to avoid any irritating products which strip the skin of its oil or over exfoliate it. Instead, focus on hydration and locking in moisture with products containing hyaluronic acid and emollients.
Fine lines & wrinkles: Retinol is the most important skincare ingredient when it comes to reducing the appearance of lines and wrinkles. It needs to be used regularly and you need to start slowly as it can cause irritation. For noticeable results, patience is key as you need to use regularly for 8-12 weeks.
Weekly Skincare Routine
Once a week set aside a little time to pamper your skin:
Exfoliate with a chemical enzyme exfoliant.
Multi-mask in order to resurface, hydrate and nourish your skin. Begin with an enzyme or alpha hydroxy acid mask to smooth and brighten your skin. Follow up with an intensely hydrating mask containing hyaluronic acid, Vitamins and essential oils.
Professional Treatments
With this skincare routine alone, you will notice a huge improvement in the appearance of your skin. If you want to boost or accelerate these results, then we recommend a professional treatment every 2-3 months. This will help you specifically target particular skin problems and work on your long-term skin goals. At City Skin Clinic, we offer a range of bespoke skin treatments for dry skin in London. We provide chemical peels either alone or as part of an advanced clinical facial. In addition to resurfacing chemical peels, we also offer collagen induction therapy using microneedling which will help stimulate collagen production to yield firmer and plumper skin.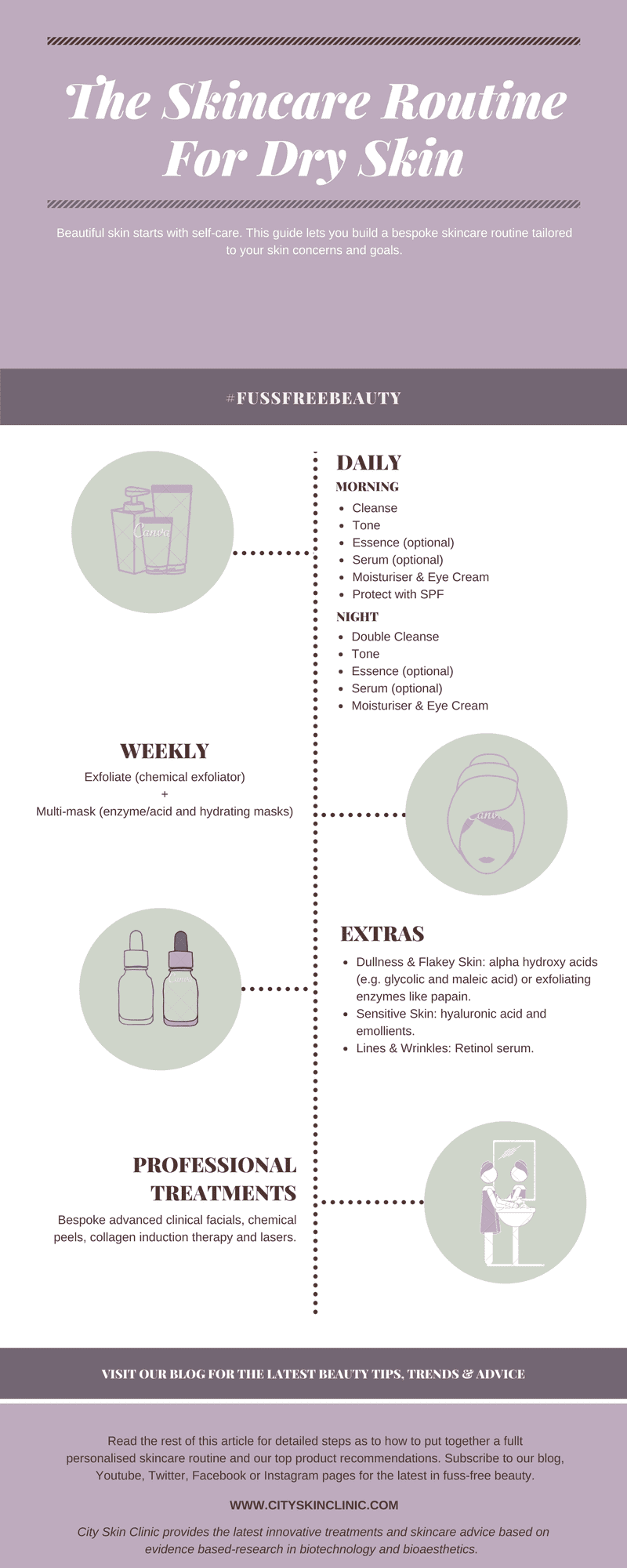 OUR TOP SKINCARE & MAKEUP PRODUCT RECOMMENDATIONS FOR DRY SKIN
There are numerous products available for dry skin and we always recommend you start with one or two and stick with it (unless your skin really dislikes it) to properly evaluate its effect. Whilst there are many great products out there, at the moment we are particularly fond of the following:
Cleansing: DHC Deep Cleansing Oil for the first step of your double cleanse (evening) which is also a great makeup remover. For the regular day and night cleanser, try Glossier Milky Jelly Cleanser or Skin Laundry Gentle Foaming Wash for very dry and sensitive skin.
Toning: Liz Earle Instant Boost Skin Tonic and Murad Essential-C Toner are hydrating products (the latter also contains Vitamin C which is a powerful antioxidant that also brightens skin). If you have very dull and flaky skin, PIXI Glow Tonic (contains 5% glycolic acid) and The Ordinary Glycolic Acid 7% Toning Solution are good options for an exfoliating toner.
Essences: HANSKIN Hyaluron Skin Essence contains a smaller version of hyaluronic acid which seeps into the skin and helps deliver greater hydration more quickly.
Serums: Drunk Elephant C-Firma Day Serum is an easy to use daily product which comprises a stable complex of high concentration Vitamin C. The Ordinary Hyaluronic Acid 2% + B5 is great for additional hydration and moisture. As does Hyasoft The Hero Project gel.
Moisturising: Clinique Moisture Surge Extended Thirst Relief also contains hyaluronic acid and is great for all day hydration.
Exfoliation: Glo-therapeutics Gentle Enzyme Exfoliant contains enzymes from 5 different fruits and skin hydrating ingredients hence it can be used for even sensitive skin.
Masking: Peter Thomas Roth Pumpkin Enzyme Mask contains both enzymes and alpha hydroxy acids to resurface and brighten the skin. Another great option is The Elemis Papaya Enzyme Peel is a cream which contains pineapple and Papaya extracts which exfoliate dead cells and brighten dull skin. Of course, REN Glycol Lactic Radiance Renewal Mask is another great option for resurfacing dry skin. After your chemical resurfacing mask, boost moisture with an intensely hydrating face mask such as Skin Laundry Hydrating Radiance Facial Treatment Mask or Charlotte Tilbury Multi-Miracle Glow Mask.