Oily Skin
Before starting an oily skin routine, remember that skin type is genetically predetermined and tends to stay the same throughout your life. Oily skin is caused by having a greater number of oil-producing glands and a higher amount of sebum production.
Before starting an oily skin routine, remember that skin type is genetically predetermined and tends to stay the same throughout your life. Oily skin is caused by having a greater number of oil-producing glands and a higher amount of sebum production. Whilst sebum is important for keeping the skin moisturised, pliable and maintains a healthy surface, there are problems associated with its excess. Overproduction of oil can lead to enlarged and clogged pores. This causes the appearance of large pores as well as blackheads, whiteheads and outbreaks of spots.
One of the commonest skincare mistakes that people with oily skin make is to use harsh or drying products. Whilst this might immediately seem satisfying as it provides relief from excess oil, it actually dries up the skin and triggers excess oil production. Hence, using harsh ingredients may exhacerbate the problem. Another skincare faux pas is using products which can clog up the skin. These comogenic products are often found in emoliating creams or makeup and eventually lead to enlarged pores and excess oil production.
The solution is to treat oily skin with care and to ensure that you maintain its hydration. This can be done by using light-weight non-comogenic formulations of skincare and makeup products. Its also important to avoid harsh or drying ingredients and opt for hydrating skincare products.
"Oily skin is characterised by excessive production of sebum. This type of skin tends to be thicker, more prone to breakouts and the pores are usually larger. On the plus side, oily skin tends to show the signs of ageing less readily. An oily skin routine should control oil production, reduce breakouts and minimise pores"
THE SKINCARE ROUTINE FOR OILY SKIN
Before you embark on an oily skin routine, take a moment to understand your skin type and identify your skin concerns as well as goals. For instance, you may have oily skin and your major concern is large pores or breakouts whilst your goal is to achieve bright dewy-looking skin. This is important because this oily skin routine offers the essentials for a clearer and healthier looking complexion. The oily skin routine always remains the same but the product selection can be adapted to target your skin concerns and goals.
Daily Skincare Routine
Mornings
Cleanse your skin with a hydrating cleanser.
Tone with a hydrating and oil regulating toner.
Serum (Extra) is an additional step if you want to boost your skincare routine. In the mornings we recommend a Vitamin C serum which will brighten your skin and help clear blemishes. A Niacinamide serum is also a great addition to your skincare routine particularly if you have blemishes, congested skin or outbreaks.
Moisturise with an oil-free hydrating product. This will prevent your skin being stripped of its moisture and hence help regulate oil production. It also provides an excellent priming base for your makeup. Massage on a hydrating eye cream to finish.
Protect your skin with sunscreen (even if the sun isn't shining) to prevent photodamage caused by UV rays. Use a light-weight oil-free sunblock to prevent your skin from feeling heavy and opt for at least SPF 30. If you're out and about, top up your SPF during the day.
Evenings
Double Cleanse in the evening to remove any makeup, dirt or grime that can build up on the surface of your skin during the day. We recommend a good cleansing oil (don't worry this won't make your skin more oily) and follow up with your hydrating cleanser. When done correctly, double cleansing will leave your skin clean and clarified without stripping away moisture.
Tone with your hydrating and oil regulating toner.
Serum (Extra) if you can, this is a great additional step. Retinol serum is an excellent product to add at night time as it will help smooth lines and wrinkles, refine texture, brighten dull skin and even skin tone.
Moisturise with a hydrating oil-free product. This can be the same one you used in the morning or you can use a more active product to work on your skin at night time. Finish by applying a hydrating eye cream ( look for one containing retinol if you have under eye circles or wrinkles).
Best Skincare Ingredients For Oily Skin
Break-outs: however tempting, avoid squeezing or picking spots. If you have an outbreak, opt instead for pimple patches which are hydrocolloid dressings that will draw out dirt and grime. If you're having skin breakouts then try adding a benzoyl peroxide cleanser and/or a salicylic acid toner or spot treatment gel until your skin clears up.
Dull skin, blemishes & scarring: Vitamin C and Retinol (Vitamin A) are both great for brightening your skin and fading away discoloration as well as scars to give you a healthy glow. Niacinamide (Vitamin B3) is effective at soothing redness and blemishes.
Fine lines, wrinkles and rough texture: Retinol is clinically proven to smooth wrinkles and rough texture when used over a period of 8-12 weeks. For exfoliating your skin, use face washes or masks which contain glycolic acid or lactic acid.
Weekly Skincare Routine
Once a week set aside a little time to pamper your skin:
Exfoliate with a clarifying scrub that contains charcoal which will gently cleanse your skin, unclog pores and buff away dead cells without stripping your skin dry.
Multi-mask in order to both resurface and hydrate your skin. Start with a clay mask for 10-15 minutes that will help draw out any impurities in your pores and excess oil. Follow up with a hydrating mask for 10-15 minutes which will nourish and moisturise your skin.
Professional Treatments
Every now and again (once every 2-3 months) treat yourself to a professional treatment in order to specifically target more persistent skin problems and target your long-term skin goals. At City Skin Clinic, we provide bespoke chemical peels either alone or as part of an advanced clinical facial to resurface your skin and treat specific problems including outbreaks, scarring, discoloration and wrinkles.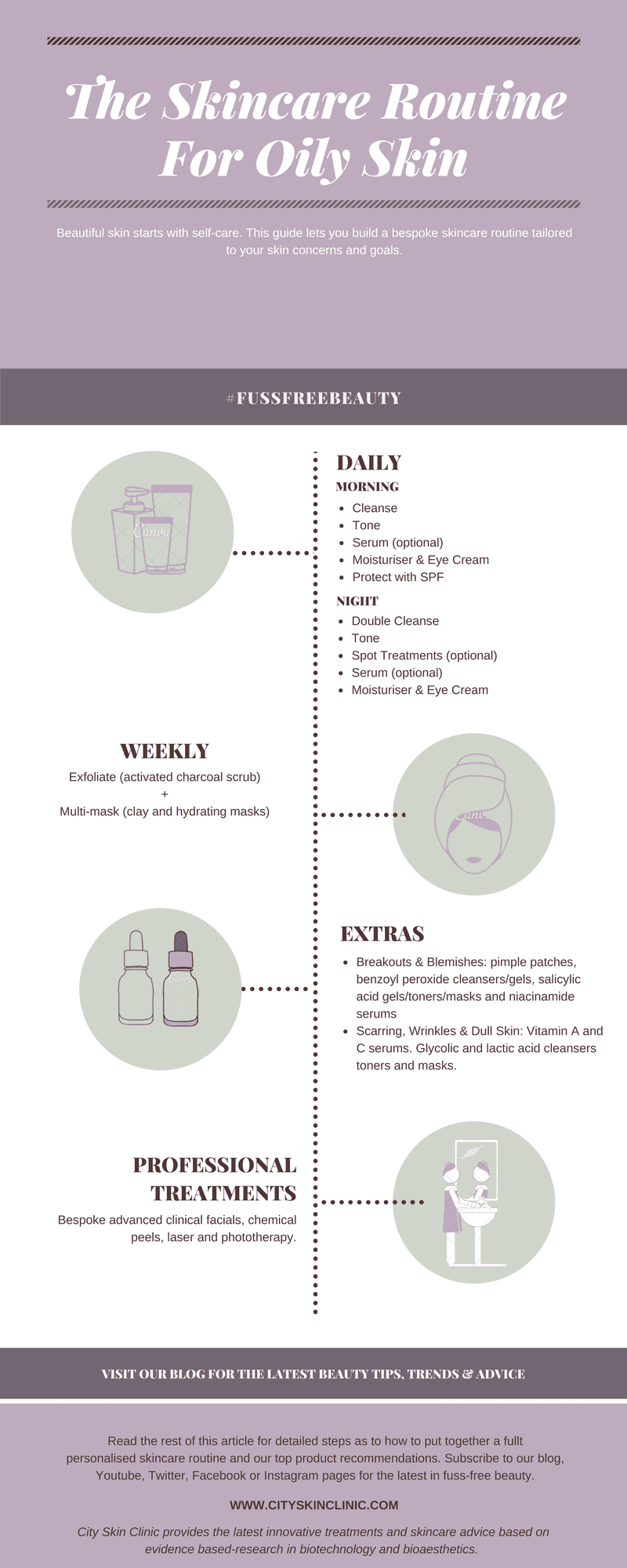 OUR TOP SKINCARE & MAKEUP PRODUCT RECOMMENDATIONS FOR OILY SKIN
Thankfully, there is a huge choice in terms of skincare for oily skin. Whilst we don't endorse any single brand or product, based on our experience and that of our clients, we are very fond of the below skincare products for oily skin:
Cleansing: DHC Deep Cleansing Oil for pre-cleansing (evening) and makeup removal followed by Cetaphil DERMACONTROL Oil Control Foam Wash.
Toning: PIXI Glow Tonic contains 5% glycolic acid and helps clear pores as well as brighten skin. COSRX AHA/BHA Clarifying Treatment Toner is one of the most popular toners at the moment as it contains alpha and beta hydroxy acids which has had rave reviews for clarifying the skin and purifying pores (even removing whiteheads over time).
Serums: Drunk Elephant C-Firma Day Serum contains a stable complex of high concentration Vitamin C.
Moisturising: Hyasoft The Hero Project gel contains hyaluronic acid and Vitamin B5 which hydrates and nourishes oily skin.
Exfoliation: Grounded Activated Charcoal Blackhead Removing Face Scrub removes dead skin, unclogs pores and hydrates.
Masking: Charlotte Tilbury Goddess Skin Clay Mask clears pores without drying skin and contains anti-ageing ingredients. REN Glycol Lactic Radiance Renewal Mask clarifies and resurfaces skin.