Oily Skin
Before starting an oily skin routine, remember that skin type is genetically predetermined and tends to stay the same throughout your life. Oily skin is caused by having a greater number of oil-producing glands and a higher amount of sebum production.
Before starting an oily skin routine, its important to remember that your skin type is genetically pre-determined and tends to stay the same throughout your life. Oily skin is caused by having a greater number of oil-producing glands and a higher amount of sebum production. Whilst sebum is important for keeping the skin moisturised, pliable and to maintain a healthy surface, there are problems associated with its excess. Overproduction of oil can lead to enlarged and clogged pores. This causes the appearance of large pores as well as blackheads, whiteheads and outbreaks of acne.
One of the commonest skincare mistakes that people with oily skin make is to use harsh or drying products. Whilst this might immediately seem satisfying as it provides relief from excess oil, it actually dries up the skin and triggers excess oil production. Hence, using harsh ingredients may exacerbate the problem. Another skincare faux pas is using products which can clog up the skin. These comedogenic products are often found in emolliating creams or makeup and eventually lead to enlarged pores and excess oil production.
"Oily skin is characterised by excessive production of sebum. This type of skin tends to be thicker, more prone to breakouts and the pores are usually larger. On the plus side, oily skin tends to show the signs of ageing less readily. An oily skin routine should control oil production, reduce breakouts and minimise pores"
The Best Skincare Routine for Oily Skin
The solution is to treat oily skin with care and to ensure that you maintain its hydration. This can be done by using light-weight formulations of skincare. Its also important to avoid harsh or drying ingredients and opt for hydrating skincare products. To put together the best oily skin routine, identify your skin concerns as well as goals. For instance, you may have oily skin and your major concern is large pores, breakouts or hyperpigmentation whilst your goal is to achieve bright dewy-looking skin. This is important because the best skincare routine for oily offers the essentials for a clearer and healthier looking complexion. The structure oily skincare routine always remains the same but the product selection can be adapted to target your skin concerns and goals.
Best Skincare Ingredients for Oily Skin
Salicylic acid: this beta-hydroxy acid (BHA) is oil-soluble, which means it can penetrate into the pores to help clear out dirt, oil, and dead skin cells. This can help to prevent breakouts and keep oily skin clear.
Niacinamide: is known for its ability to brighten the skin and reduce the appearance of pores. It can also help to regulate oil production.
Azelaic acid: this is a naturally occurring dicarboxylic acid that has antibacterial, anti-inflammatory, and exfoliating properties. It is a good choice for oily skin because it can help to reduce oil production, clear up breakouts and improve skin texture.
Vitamin C: this antioxidant can help to protect the skin from damage caused by free radicals. It can also help to brighten the skin and reduce the appearance of dark spots.
Retinoids: Retinol and prescription retinoids like Adapalene and Tretinoin can help improve skin texture, reduce the appearance of wrinkles, and clear up breakouts. They also regulate oil production, treat hyperpigmentation and brighten the skin.
Benzoyl peroxide: this is a great spot treatment if you're having breakouts. It kills the acne-causing bacteria, P.acnes, and reduces inflammation.
Daily Skincare Routine for Oily Skin
Mornings
Cleanser: wash your skin with a gentle foaming cleanser.
Toner: use a salicylic acid based toner.
Spot treatment (Optional): apply a Benzoyl peroxide gel or lotion to breakouts to help clear them faster.
Actives: boost your skincare routine withVitamin C and niacinamide serums or lotions. Use azelaic acid if you have concerns with texture or hyperpigmentation.
Moisturiser: apply an oil-free light-weight hydrating product. Look for moisturisers with hyaluronic acid or polyglutamic acid. If you don't have time for a separate active product as above, use a moisturiser that also contains Vitamin C and niacinamide.
Sunscreen: protect your skin with a water-based sunscreen that has at least SPF 30.
Evenings
Double Cleanser: use a cleansing oil or balm to remove any makeup, dirt or grime. Follow up with your gentle foaming cleanser from the morning.
Actives: apply a Retinol or prescription retinoid once your face and neck.
Moisturiser: use a richer cream than the one in the morning. This will seal hydration and repair your skin barrier. Finish by applying a hydrating eye cream. Look for one containing retinol or sandwich your face retinoid between two layers of your eye cream). This will help if you have under eye circles or wrinkles.
Weekly Skincare Routine for Oily Skin
Once a week try this two-step facial to accelerate your skincare routine:
Active Mask: use an enzyme or exfoliating acid face mask treatment (usually these come as face masks).
Reparative Mask: to repair and protect your skin, use a nourishing hydrating face mask. Look for products that contain hyaluronic acid and Vitamin C.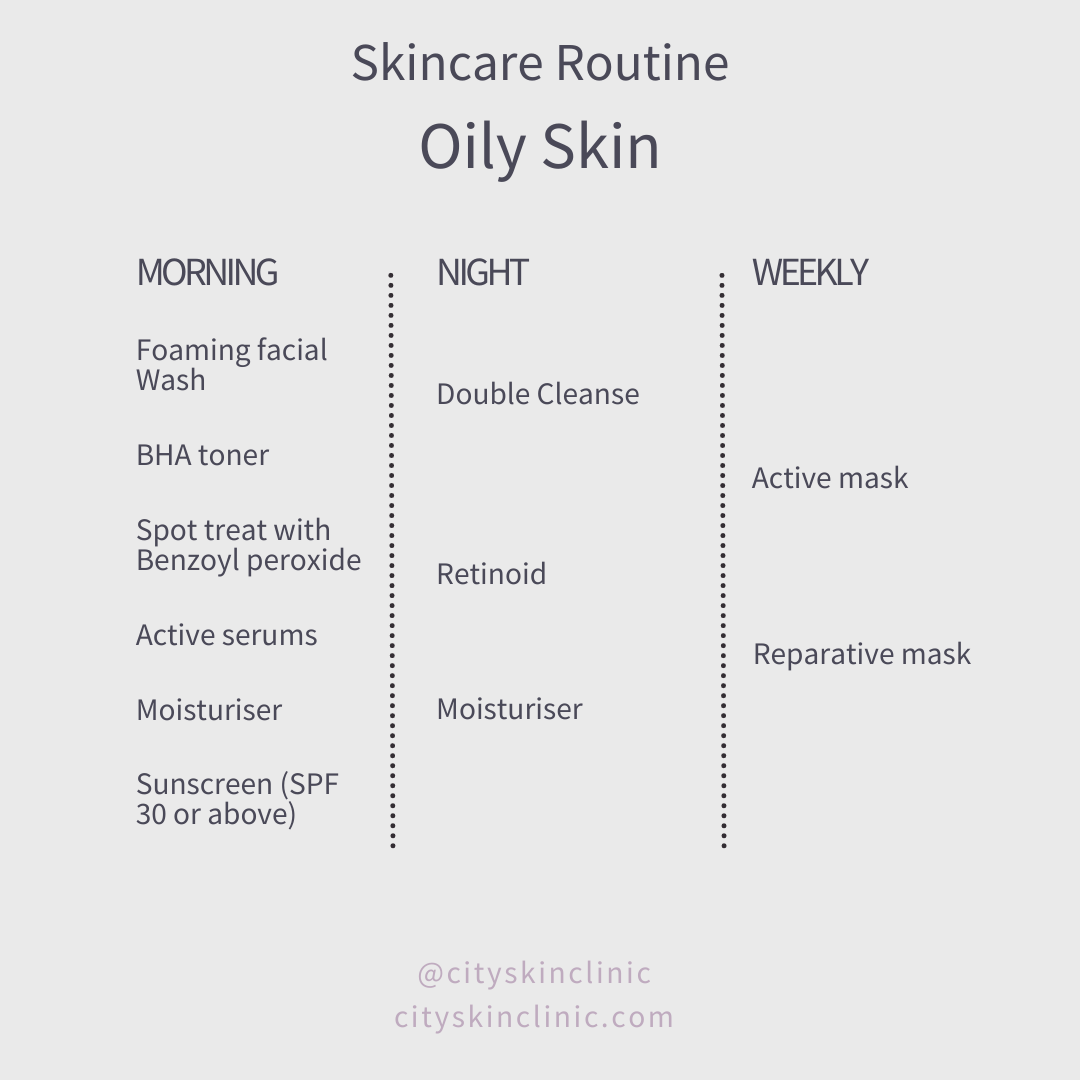 Professional Treatments
The above skincare routine should take good care of your skin and with time reduce breakouts, blemishes and pore size. If you want to boost your results, consider a prescription retinoid like Tretinoin cream. You can also try prescription skincare to treat skin ageing and hyperpigmentation if these are a great concern.
If you would like to explore professional skin treatments, consider chemical peels, microneedling and advanced clinical facials.
Skincare Recommendations for Oily Skin
Thankfully, there is a huge choice in terms of skincare for oily skin. At the moment we are very fond of the below skincare products for oily skin:
Cleansers
DHC Deep Cleansing Oil for pre-cleansing (evening) and makeup removal followed by Cetaphil DERMACONTROL Oil Control Foam Wash.
Spot Treatments
Neutrogena Rapid Clear Stubborn Acne Spot Treatment Gel and Acnecide 5% Gel are great options for spot treating breakouts. They both contain 5% Benzoyl Peroxide.
Toners
Paula's Choice Skin Perfecting 2% BHA Liquid Exfoliant, Farmacy Deep Sweep 2% BHA Toner and Cosrx BHA Blackhead Power Liquid are all great options for Salicylic acid toners.
Actives
For Vitamin C try Drunk Elephant C-Firma Day Serum or Obagi Professional C-Serum.
Good options for niacinamide are The Ordinary Niacinamide 10% + Zinc 1%, AXIS-Y Dark Spot Correcting Glow Serum, The Inkey List Niacinamide and Paula's Choice 10% Niacinamide Booster.
When it comes to Azelaic acid, try The Ordinary Azelaic Acid Suspension 10%, Paula's Choice Azelaic Acid Booster or The Inkey List SuperSolutions 10% Azelaic Serum.
Medik8 Retinol 3 TR, CeraVe Resurfacing Retinol Serum and The Ordinary Granactive Retinoid 2% in Squalane are all great options for Retinol. For a stronger product, consider a prescription retinoid like Tretinoin cream.
Moisturisers
For your day moisturiser La Roche Posay Effaclar Mat Anti-Shine Face Moisturizer for Oily Skin or Toleriane Double Repair Matte Face Moisturiser, VERSED SKIN Dew Point Gel Cream and Obagi Hydrate are all great options.
At night, try a more emolliating product like Youth to the People Superberry Hydrate + Glow Mask, Kiehl's Ultra Facial Overnight Hydrating Face Mask or Paula's Choice Radiance Renewal Mask. Eucerin Vanicream Moisturizing Cream is also great if you want something simpler.
Sunscreen
The best sunscreens for oily skin should be lightweight and non-oily. We're huge fans of Beauty of Joseon Relief Sun Rice + Probiotics (SPF50+ PA++++), Supergoop Unseen sunscreen, CeraVe Hydrating Mineral Sunscreen and Neutrogena Ultra Sheer Dry-Touch Sunscreen.
Masks
Good options for the first active exfoliating masks include Drunk Elephant T.L.C. Sukari Babyfacial AHA + BHA Mask, The Ordinary Peeling Solution and Bliss Pumpkin Powerhouse Resurfacing & Exfoliating Enzyme Face Mask.
Great reparative mask options this include Korres Greek Yoghurt Probiotic Superdose Face Mask, Youth to the People Superberry Hydrate + Glow Dream Overnight Face Mask and Aesop Blue Chamomile Facial Masque.