Normal Skin
You inherit your skin type although it remains the same throughout your lifetime, skin type can be affected by many factors. Normal skin isn't really a skin type but rather an average. People with normal skin tend to have a number and size of oil-producing glands that is in between that which oily and dry skin types possess.
You are born with your skin type. Although it remains the same throughout your lifetime, skin type can be affected by many factors. Normal skin isn't really a skin type but rather an average. People with normal skin tend to have a number and size of oil-producing glands that is in between that which oily and dry skin types possess. Often people with normal skin tend to have enough of a skin thickness that prevents excessive water loss and hence are less prone to experiencing dry or flakey skin. They also produce enough oil to keep the skin moisturised but not so much that pores become clogged, enlarged or experience regular break-outs. Normal skin can, however, behave more like oily skin if triggered by hormonal or stressful events. Everybody's skin also tends to get drier as we age. It can also dry out in response to environmental factors like harsh weather conditions or chemicals.
"Normal skin is defined as well-balanced skin which contains the optimal amount of sebum and moisture. This skin type tends to have fine pores, an even tone and is neither too oily or too dry. Both sensitivity and outbreaks are rare in normal skin but this can be triggered by internal and external stressors."
Best Skincare Ingredients For Normal Skin
Exfoliating acids and enzymes: will resurface the skin to target dullness and rough texture. Alpha hydroxy acids (AHAs) like glycolic acid are ideal for normal skin. More gentle exfoliation can be achieved with fruit enzymes like Papain or Bromelain.
Retinoids: are the most powerful topical skincare ingredients. They reduce the appearance of lines and wrinkles, fade hyperpigmentation and smooth skin texture. Retinol is widely available over the counter and if you want something stronger then Tretinoin is a great option.
Vitamin C: helps to brighten skin and encourages your skin cells to produce more collagen.
Hyaluronic acid & Polyglutamic Acid: are excellent humectants which means they attract water to the skin. This can help to hydrate normal skin and prevent it from becoming too dry or too oily.
The Best Skincare for Normal Skin
The focus of any skincare routine for normal skin should be to maintain its properties and reduce stressors which tip it towards dryness or breaking out. If you have normal skin, you can more easily focus on additional skin goals such as texture, radiance or wrinkle-reduction as you will already have a good foundation in terms of oil regulation and hydration. The fundamentals of cleansing, resurfacing, hydrating and protecting your skin remain the same. Next up decide whether you have any key skin concerns such as skin ageing, wrinkles, hyperpigmentation or melasma. This will help you to create a personalised skincare routine that is completely based around your concerns and goals.
The most important thing to remember when putting together a skincare routine for normal skin is that this skin type is the end goal for most people. Hence, the aim of your skincare routine should be to maintain the desirable properties of normal skin such as being well balanced and having small pores. Your routine should avoid doing anything that causes normal skin to swing towards behaving like oily or dry skin (ie by clogging pores or stripping skin of its moisture). Your skincare routine should be based on cleansing, hydrating and protecting normal skin whilst add-ons are focused on addressing specific skin concerns or goals.
Daily Skincare Routine
Mornings
Cleanser: use a hydrating cleanser like lotion or cream.
Toner: apply an exfoliating toner with glycolic acid or other exfoliating acid to improve to smooth texture and wrinkles, even out skin tone and brighten your skin.
Actives: use these to boost the appearance of normal skin. Vitamin C is a powerful anti-oxidant that can help stimulate collagen production and brighten skin.
Moisturiser: apply a hydrating moisturiser that can also act as a primer for your makeup if you wear any. Look for a product with hyaluronic or polyglutamic acid. If you don't want to use a separate active product, look for a moisturiser that contains Vitamin B5, Vitamin E and Vitamin C.
Sunscreen: protect your skin from UV damage with at least SPF 30 sunscreen.
Evenings
Double Cleansers: remove makeup and pollutants with a cleansing oil or balm to keep your pores clean. Follow up with the cleanser you used in the morning.
Actives: use Retinol serum or Tretinoin to reduce the appearance of lines and wrinkles, even out skin tone, brighten and smooth your skin.
Moisturiser: switch to a richer moisturiser in the evening to improve your skin's hydration and maintain your skin-barrier. If you don't want to use a separate retinoid product, opt for a hydrating night cream containing retinol. To finish, apply an under eye cream containing Retinol if you suffer from dark under eye circles or wish to reduce the appearance of smile lines or use a hydrating eye cream and sandwich your own retinoid product between teh layers of eye cream.
Weekly Skincare Routine
Once a week amp up your skincare routine with a weekly two-mask facial to target specific concerns and super-charge your skincare routine:
Active Mask: use a product with a resurfacing chemical acid or enzyme exfoliator.
Reparative Mask: apply a hydrating face mask that contains peptides, Vitamin C and other anti-oxidants to target dullness, skin ageing and sun damage. This will give you softer, hydrated and more radiant skin.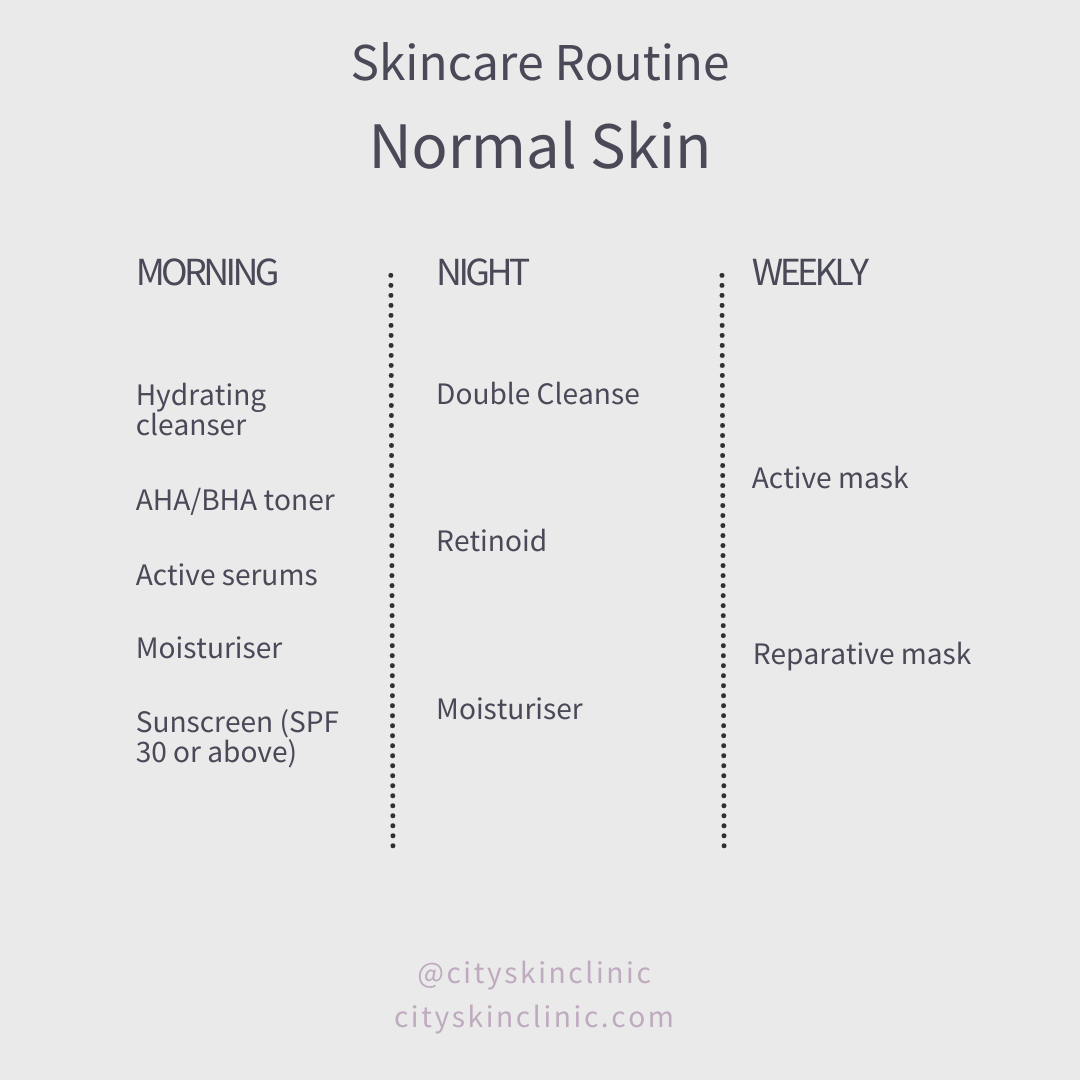 Professional Treatments
With a good skincare routine like this, your skin will feel noticeably softer and look fresh and glowing. If you want to speed up these results or build on them, then opt for prescription skincare products like Tretinoin cream. There are also additional at home prescription treatments that can target specific concerns like skin ageing, hyperpigmentation and melasma.
If you are interested in a professional skin treatment then consider chemical peels, advanced clinical facial and collagen induction therapy. These should be designed around your specific skin concerns, skin type and goals. Remember that you will at least need a course of several treatments regularly to achieve noticeable results.
Skincare Recommendations for Normal Skin
There is a vast wealth of information and products available for normal skin. At the moment, the following skincare products have impressed us when it comes to caring for normal skin:
Cleansers
The DHC Deep Cleansing Oil and Juno & Co. Clean 10 Cleansing Balm are great for the first cleanse in the evening to cleans deep into pores and effectively remove makeup. For both day and the second evening cleanse, we like Aveeno Calm + Restore Gentle Nourishing Oat Face Cleanser, CeraVe Hydrating Facial Cleanser, Youth to the People Kale + Green Tea Spinach Vitamins Superfood Cleanser, Tatcha The Rice Wash and Glossier Milky Jelly Cleanser. The latter can also be used as a first step to remove makeup if you really don't have time to double cleanse.
Toners
If you want an active toner which will give smoother and brighter skin, try PIXI Glow Tonic (contains 5% glycolic acid) or The Ordinary Glycolic Acid 7% Toning Solution.
Actives
Our favourite Vitamin C serums are Drunk Elephant C-Firma Day Serum and Obagi Professional-C serum.
Moisturisers
Great options for the day moisturiser include CeraVe Daily Moisturising Lotion, Glossier Priming Moisturiser and Obagi Hydrate.
At night try an occlusive product like Vaseline, Youth To The People Superberry Hydrate + Glow Dream Overnight Face Mask, SUMMER FRIDAYS Jet Lag Mask, Typology Firming Night Mask with Organic Prickly Pear Oil and Kiehl's Ultra Facial Overnight Hydrating Face Mask.
Sunscreen
The best sunscreens for normal skin should be light-weight but not drying. We really like Beauty of Joseon Relief Sun Rice + Probiotics (SPF50+ PA++++), EltaMD UV Clear Broad-Spectrum SPF 46, Supergoop! Every Single Face Watery Lotion SPF 50, La Roche-Posay Anthelios Melt-In Sunscreen Milk SPF 100, CeraVe Hydrating Mineral Sunscreen and Aveeno Protect + Hydrate Lotion Sunscreen With SPF 60.
Masks
Your active mask should contain an acid exfoliant. REN Glycol Lactic Radiance Renewal Mask, The Ordinary Peeling Solution and Drunk Elephant T.L.C. Sukari Babyfacial AHA + BHA Mask are great options. Meanwhile, Glo-therapeutics Gentle Enzyme Exfoliant and Peter Thomas Roth Pumpkin Enzyme Mask Enzymatic Dermal Resurfacer are excellent enzyme alternatives. Youth To The People Yerba Mate Resurfacing Energy Facial and VERSED Doctor's Visit Instant Resurfacing mask contain exfoliating acids and enzymes.
For the reparative mask try a hydrating and skin nourishing product like Charlotte Tilburys Multi-Miracle Glow, Tatcha Violet-C Radiance Mask and Pai Skincare Resurrection Girl are all excellent options.