Skin Ageing Treatments
Fade Age Spots, Fine Lines and Wrinkles with Anti-Ageing Prescription Skincare
At City Skin Clinic, we designed our virtual clinic skincare service to be your hub for cutting-edge anti-ageing treatments designed. Our innovative skincare solutions focus on addressing the cardinal signs of skin ageing. We focus on wrinkles, fine lines, sun damage, loss of elasticity, melasma, age spots, and skin pigmentation.
Skin ageing is complex but treating it doesn't have to be. Most people find it difficult to maintain skin elasticity and combat the appearance of wrinkles on the face. Whether you're looking to soften forehead wrinkles, reduce frown lines, or restore radiance to sun damaged skin, we can help! We offer a range of proven anti-ageing prescription treatments to rejuvenate and refresh your skin.
Understanding Skin Ageing
Skin ageing is a natural process that is caused by intrinsic and extrinsic factors. Intrinsic skin ageing is inevitable and is governed by our genetic makeup. It results in a gradual loss of skin elasticity and the appearance of fine lines and wrinkles. Extrinsic ageing, on the other hand, is influenced by environmental factors and lifestyle habits such as sun exposure, smoking, poor diet, and stress. All of these accelerate skin ageing and contribute to issues like sun damage, melasma, age spots, and skin pigmentation.
Optimal skincare for ageing skin involves ingredients that not only tackle existing signs of ageing but also help to prevent future damage. These include retinoids (like Tretinoin) for their collagen-boosting and cell turnover properties, antioxidants (like Vitamin C) to fight off free radicals and environmental damage, and alpha-hydroxy acids (AHAs) for their exfoliating capabilities that improve skin texture and tone.
Anti-Ageing Prescription Skincare
We proudly offer Obagi skincare, a leader in the skincare industry, known for its transformative effects on ageing skin. Obagi's prescription products penetrate beneath the skin surface to revitalise and rejuvenate at a cellular level.
Tretinoin
Obagi Tretinoin cream (or gel) is the most critical component in any anti-wrinkle and photo-ageing treatment plan. Tretinoin is a powerful prescription retinoid that is 20x more powerful than retinol. It increases skin cell turnover, stimulates collagen production and repairs sun damage on the face. This powerful anti-wrinkle cream is normally used alone to treat skin ageing and mild sun spots and hyperpigementation. You can boost its effects with Vitamin C and exfoliating acids to brighten the skin even more.
Hydroquinone
If you are suffering from moderate to severe sun damage induced hyperpigmentation, then you may want to consider using hydroquinone alongside Tretinoin for a limited period. This will augment the dark spot fading effects of Tretinoin for a highly effective anti-ageing skincare routine. This combination will combat the signs of past sun-damage and you can then maintain the results with just Tretinoin alone. We offer hydroquinone as separate products or as part of the Obagi skin systems:
Obagi hydroquinone (Clear or Blender): these standalone products contain 4% hydroquinone but work on slightly different layers of the skin. You can use Clear both day and night to inhibit melanin production. Obagi Blender is only used at night and is mixed with Tretinoin. Your doctor will advise which of these products is best for you or if you have extensive hyperpigmentation then you might need both.
Nu-Derm System: this is an all-in-one solution for skin ageing and is often referred to as "the skin transformation system". The Nu-Derm system fades age spots and hyperpigmentation on the face. It brighten as well as even out the complexion. Nu-Derm also resurfaces the skin and improves the appearance of fine lines and wrinkles. Better still, when used in conjunction with Obagi Tretinoin cream, it's arguably the most effective topical treatment for wrinkles on the face as well as other signs of photo-damage and skin ageing. This kit is best for those with moderate to severe signs of skin ageing age spots and melasma.
Obagi-C System: infused with vitamin C, the Obagi-C system brightens, clarifies, and smooths your skin. Ideal for those struggling with mild to moderate age spots and pigmentation. This system also contains 4% hydroquinone and works brilliantly with Tretinoin.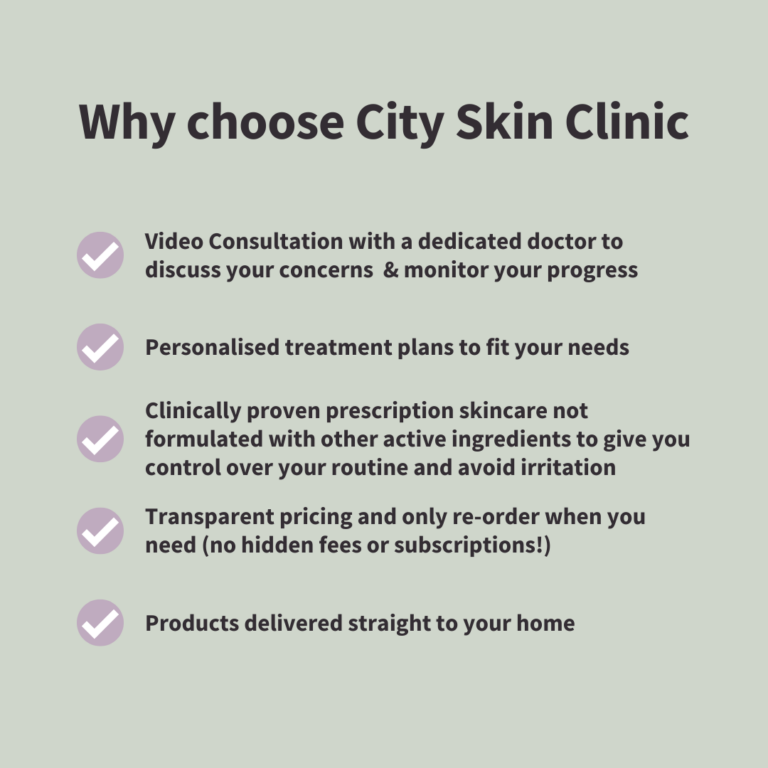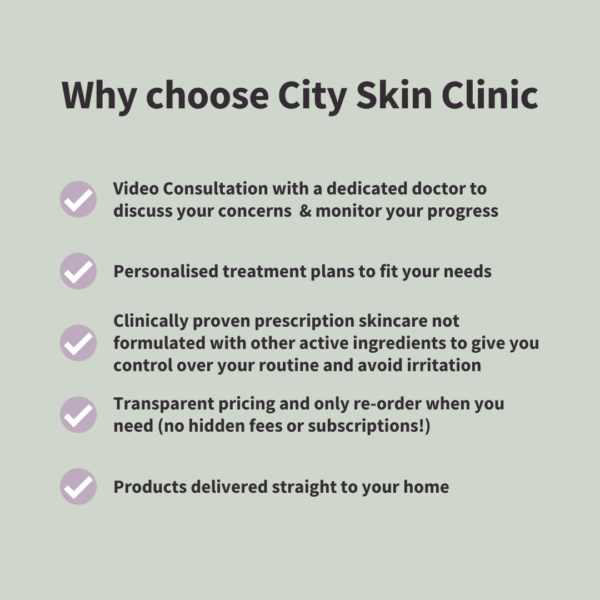 Add-On Treatments
To enhance your anti-ageing results, we offer a range of add-on products, perfect for further addressing specific skin concerns. Our most popular add-ons include:
Elastiderm eye cream: Say goodbye to saggy skin and hello to elasticity with Obagi Elastiderm. This cream will help your skin bounce back, restoring elasticity, and reducing visible fine lines and wrinkles, especially around the eyes.
Professional C-Serum: Boost your skin's health and glow with Obagi Professional C-Serum. Loaded with antioxidants, this serum fights against environmental damage, brightens your complexion, and provides superior hydration.
Exfoderm acid exfoliant: Obagi Exfoderm exfoliate the top layer of your skin. They remove dull and old skin to reveal new skin cells for a brighter and smoother complexion. The are two different formulations to suit different skin sensitivities.
The City Skin Clinic Approach to Prescription Skincare
At City Skin Clinic, we don't believe in a one-size-fits-all approach to skincare. We understand that everyone's skin is unique, with its own set of strengths and weaknesses. We also believe that you should be in full control of your skincare journey. This is why we don't provide gimmicky subscriptions or generic plans. We tailor your bespoke treatment plan to your individual needs which you discuss with your doctor. We ensure that we target your specific skin concerns whether it be hyperpigmentation, wrinkles, sun damage or all of the above. It doesn't just stop there, we offer follow ups and ongoing support free of charge. You will be able to connect with your doctor by email for ongoing advice, monitoring and refills.
Our team of aesthetic doctors are dedicated to providing the most effective anti wrinkle skincare treatments to help you achieve healthier and more youthful skin. Book an online consultation today and embark on your journey to healthier, radiant skin with our comprehensive and personalised skin ageing treatments.
How Our Virtual Skin Clinic Works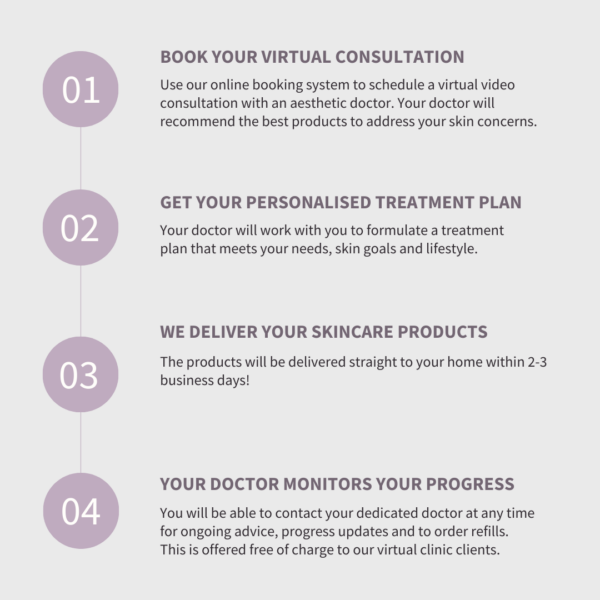 Skin Ageing Skincare Fees
VIRTUAL CONSULTATION£30

Our expert doctor will design a bespoke Obagi Skincare program for you to follow. The cost of the consultation will be deducted from any skincare purchase.

OBAGI TRETINOIN 0.025% CREAM£86

OBAGI TRETINOIN 0.05% CREAM £90

OBAGI TRETINOIN 0.1% CREAM £100

OBAGI HYDROQUINONE 4% CREAM£115

OBAGI-C STARTER SYSTEM RX£370

OBAGI NU DERM SKIN TRANSFORMATION SYSTEM RX£455
Frequently asked questions
Regular use of potent anti-ageing ingredients such as retinoids, antioxidants, and AHAs can significantly reduce the appearance of wrinkles and fine lines. Professional treatments like the Obagi skincare line can further enhance these results.
We treat all the main features of skin-ageing such as fine lines, wrinkles, hyperpigmentation (brown marks or sun spots), lax skin and more visible pores. The products(s) we recommend will be based on which of these concerns you have and wish to address.
Yes! We only offer treatments that work safely and effectively on everybody. Our doctors are experienced in treating all skin types and tones.
While our treatments are suitable for most skin types, our doctors will recommend the best products and protocol to follow to avoid skin irritation especially if you have sensitive skin.
Results can vary from person to person, and also depend on the product used. As a general rule, skin takes 6-8 weeks to turnover which means most people start to see noticeable results after that. You will need to use your products consistently to get the most out of them and see the best results.
Tretinoin and Hydroquinone are safe but they can cause some initial skin irritation including redness and peeling. This is usually temporary and subsides as your skin adjusts to the product. You may also experience purging. Always use sun protection especially while using Tretinoin and/or Hydroquinone, as they can increase your skin's sensitivity to the sun and lead to rebound hyperpigmentation. For more info visit the product pages.
Prolonged sun exposure without proper protection leads to what's known as photoaging. This can present as freckles, age spots, spider veins, rough and leathery skin, fine lines and wrinkles, and in more severe cases, skin cancer. Sun damaged skin can be addressed through a combination of professional treatments and high-quality skincare products. Remember, the key to slowing down skin ageing is prevention. Regular use of a broad-spectrum sunscreen, maintaining a healthy lifestyle, and integrating potent anti-ageing ingredients into your skincare routine can go a long way in preserving your skin's youthfulness and vitality.