Melasma Treatment
Skincare to Prevent and Treat Melasma Hyperpigmentation
Melasma is a largely harmless form of hyperpigmentation but it can be a major cosmetic concern for many. This is especially the case because melasma treatment can be hard if you don't use the correct products. Normally prescription treatment for melasma is needed to tackle and prevent the hyperpigmentation. Through our online clinic, our doctors offer personalised, prescription-based skincare solutions to effectively treat melasma and restore the brightness of your skin.
Understanding Melasma
Melasma is a common skin condition that results in discoloured patches on the skin, often on the face. This is the most common form of hyperpigmentation. Melasma is usually a result of hormonal changes, such as pregnancy, HRT or oral contraceptives, sun exposure or hereditary factors. These factors lead to the overproduction of melanin, the pigment responsible for skin colour. As a result, you see uneven dark patches on the skin, which is the primary symptom of melasma. It is more prevalent in women, especially those with darker skin tones, but it can also affect men.
The most common areas affected by melasma are the cheeks, bridge of the nose, forehead, chin, and above the upper lip. The condition often develops gradually, resulting in asymmetrical, blotchy, freckle-like spots that are clearly defined and flat. When melasma occurs as a result of pregnancy, it is sometimes referred to as chloasma or "the mask of pregnancy".
At City Skin Clinic, we understand the emotional distress melasma can cause. It can impact an individual's self-esteem and quality of life. We also know that each individual is unique and so is their skin.That's why we're dedicated to offering personalised, effective solutions to treat melasma and restore your skin's natural beauty.
Our Approach to Melasma Treatment
City Skin Clinic's personalised approach to melasma treatment is centred on the use of safe and effective prescription skincare products. Our main treatments include Obagi Tretinoin cream, usually used alone or in severe cases alongside Obagi hydroquinone, the Nu Derm system or Obagi-C system. We also offer add-ons like the Obagi Professional C-serum and Exfoderm exfoliating acid to enhance your results.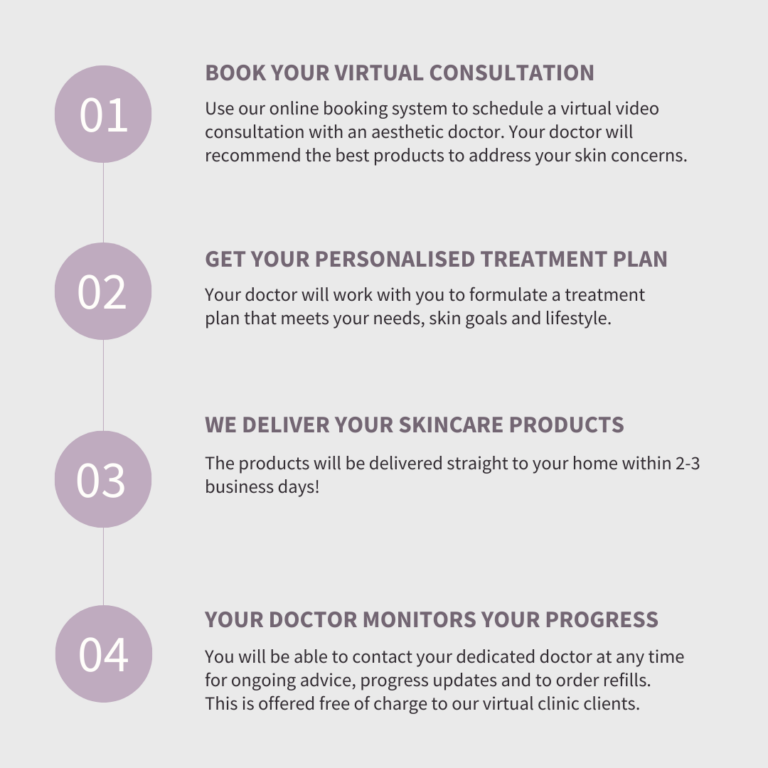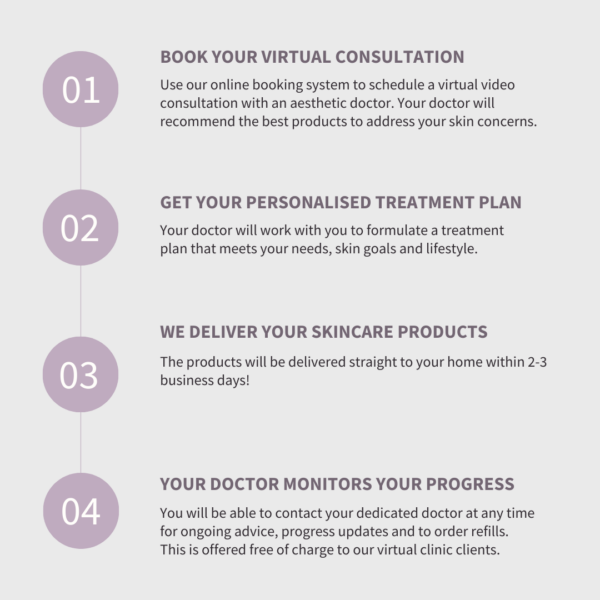 Prescription Skincare for Melasma Treatment
Obagi Tretinoin for Melasma
This powerful prescription cream is highly effective in treating melasma. Tretinoin, a form of vitamin A, works to speed up skin cell turnover, which helps to reduce the appearance of dark patches on the skin. It is up to 20x more powerful than Retinol. We use Obagi Tretinoin cream to treat melasma most commonly by itself for mild to moderate forms of hyperpigmentation. Tretinoin is safe and effective. It can be used indefinitely if you are not pregnant or breastfeeding or allergic to it. You can also step down to over the counter retinol once you're happy with your results.
Obagi Hydroquinone for Melasma
Hydroquinone is a prescription only clinically-proven skincare ingredient for treating melasma. We sometimes recommend combining Tretinoin treatment with a short period of Obagi Hydroquinone in more extensive case of melasma. Obagi hydroquinone for melasma lightens the skin by reducing the production of melanin which is the pigment that causes dark patches. When used correctly this powerful combination will clear up hyperpigmentation and even out your complexion. You can then maintain and build on your progress with Tretinoin alone.
Nu-Derm System
In cases of severe melasma and in those who want to see quicker progress, we may recommend combining Tretinoin with Obagi Nu Derm skin transformation system. The Obagi Nu Derm system is a comprehensive skincare routine that includes several active ingredients known to combat melasma. The products in this system include hydroquinone and acid exfoliants to fade dark patches and brighten your skin. It is also great if you are looking to treat signs of skin ageing. Once you've completed the Nu Derm system you can maintain and continue to build on your results with Tretinoin alone.
Obagi-C System
For those with moderate-to-severe hyperpigmentation and who wish to accelerate their results, we recommend combining Tretinoin with the Obagi-C system. This contains hydroquinone and Vitamin C which is a potent antioxidant that helps to repair and prevent damage from the sun and other environmental stressors. Once you've completed the Obagi-C system you can maintain and build on your results with Tretinoin alone.
Additional Treatments
We also offer the Obagi Professional C-serum and Exfoderm exfoliating acid as add-ons. The C-serum contains a potent form of vitamin C to protect and repair your skin, while Exfoderm is an exfoliating acid lotion that removes old skin cells and stimulates new cell growth.
VIRTUAL CONSULTATION£30

Our expert doctor will design a bespoke Obagi Skincare program for you to follow. The cost of the consultation will be deducted from any skincare purchase.

OBAGI TRETINOIN 0.025% CREAM£86

OBAGI TRETINOIN 0.05% CREAM£90

OBAGI TRETINOIN 0.1% CREAM£100

OBAGI HYDROQUINONE 4% CREAM£115

OBAGI-C STARTER SYSTEM RX£370

OBAGI NU DERM SKIN TRANSFORMATION SYSTEM RX£455
Duration of effect
3-4 Months
Why Choose City Skin Clinic?
At City Skin Clinic, our primary focus is you. This is why we offer a video consultation with a doctor to discuss your concerns and goals. Your doctor will create a personalised protocol to treat melasma based on your expectations, skin type, melasma severity and lifestyle. Your doctor will guide you through every step of your skincare journey to ensure you get the best possible results. Our online clinic allows us to provide the best treatment for melasma using our personalised prescription skincare approach.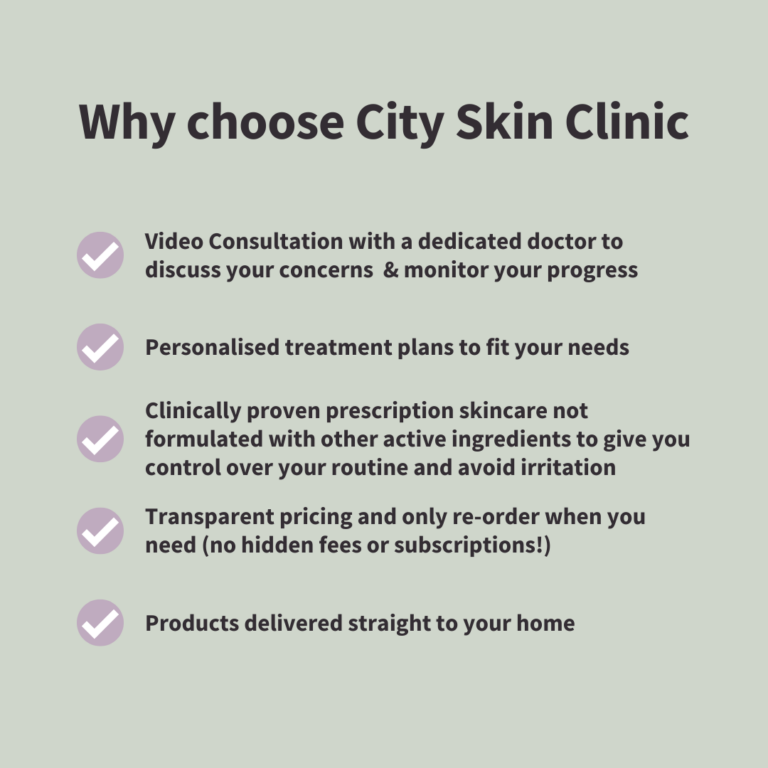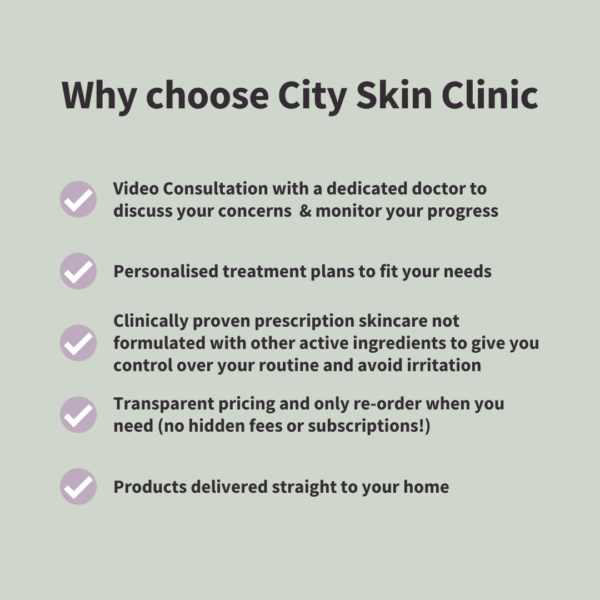 Remember, achieving clear, healthy skin is a process, and we're here to help you every step of the way. Begin your journey to healthier skin by scheduling an online consultation with our doctors at City Skin Clinic. Let us help you treat your melasma effectively once and for all.
Frequently asked questions
Yes, Obagi treatments are suitable for all skin types. However, the strength of Tretinoin and possible combination with other products will be personalised based on your skin type, sensitivity and needs.
This depends on the severity of your melasma and the specific treatment plan. However, many of our patients begin to see improvements within 6-8 weeks. This does vary person to person.
No, our treatments for melasma do not require any downtime. You can immediately resume your normal activities whilst using the skincare products. There is however a potential for irritation, dryness of skin and purging when you first use them. This is temporary but we advise starting the products with some time away from important events such as a wedding or photo shoot.
Some ingredients, such as hydroquinone and tretinoin, are not recommended during pregnancy or breastfeeding. It's essential to consult with our doctor, who will guide you on safe and effective alternatives.