Acne Treatment
Get Clear Skin with Prescription Acne Skincare
Struggling with acne can be exhausting. Not only does it affect your skin's appearance, but it can also significantly impact your self-confidence and quality of life. At City Skin Clinic, we believe everyone deserves clear and healthy skin. We offer personalised acne treatments using powerful prescription ingredients such as Tretinoin cream and Obagi CLENZIderm MD acne medication skincare. That's why we founded our online acne treatment service. Through our virtual skin clinic, everyone can access scientifically-proved prescription acne treatment under the care of experienced aesthetic doctors.
Understanding Acne
Acne is a common skin condition that occurs when your pores become clogged with oil and dead skin cells which leads to whiteheads, blackheads or pimples. It is an inflammatory condition and driven by P.acnes bacteria. While it's most prevalent amongst teenagers, acne can affect anyone, regardless of age or gender.
The good news? Effective acne treatment with acne medication skincare can help you manage the condition, prevent breakouts, and treat acne scarring as well as hyperpigmentation that occur due to acne.
Why Personalisation Matters For Acne Treatment
Acne is is a complex skin condition that varies from person to person. Whether you're dealing with sporadic breakouts, persistent acne, hyperpigmentation or acne scars, our expert team will thoroughly assess your skin to understand the underlying causes of your acne. This allows us to develop a personalised treatment plan that addresses your specific concerns and promotes long-term skin health.
Prescription Acne Treatment
At City Skin Clinic, we're proud to offer safe and effective acne medications through our online acne treatment service. We primarily use Obagi Tretinoin Cream, either standalone or in conjunction with Obagi ClENZIderm MD and Obagi Clear or Blender Rx. The powerful combination of these products helps to control breakouts, unclog pores, and reduce the appearance of acne scars and dark spots. Our doctors will recommend the best prescription acne treatment and provide protocols tailored to your skin. We only provide evidence-based, scientifically-proven solutions to help you combat acne and get clear skin.
Obagi Tretinoin Acne Cream
Obagi Tretinoin cream is the key player in all prescription acne treatments. Tretinoin acne cream works by promoting skin cell turnover, which helps to unclog pores and reduce the development of acne. It is a powerful prescription retinoid that is 20x more powerful than retinol. The great news is that Tretinoin acne cream doesn't just significantly reduce the appearance of acne. Tretinoin also helps smooth rough skin texture and improve skin discolouration (hyperpigmentation).
This powerful acne medication is normally used alone. In more widespread acne, Tretinoin can be combined with the CLENZIderm MD system to clear up breakouts faster. You can boost Tretinoin's effects with Vitamin C to brighten the skin even more.
CLENZIderm M.D. System
The majority of our clients achieve success with Tretinoin alone. In more extensive breakouts, we may recommend using the Obagi Clenziderm M.D. System alongside your Tretinoin initially. This prescription acne treatment kit targets acne at its source. This three-step system uses salicylic acid and hydrogen peroxide as its main ingredients. It contains a daily cleanser, pore therapy solution, and a therapeutic lotion to providing a comprehensive skincare routine to speed up clearing acne.
Obagi Hydroquinone
To improve skin tone and reduce the appearance of severe post-acne marks, we may recommend adding Obagi Clear or Blender Rx for a short period. These products are formulated with 4% hydroquinone to lighten discolouration and promote an even skin tone. When used with Tretinoin, Obagi Hydroquinone can help you achieve a brighter, clearer complexion.
Add-On Treatments
Obagi Professional-C Serum
To enhance the benefits of your acne treatment, we also offer Obagi Professional-C Serum. This potent Vitamin C serum works to brighten your complexion, promote collagen production, and protect your skin from free radicals, further enhancing the effects of your acne treatment.
Regain Confidence with Prescription Acne Treatments
Acne can be persistent, but with our tailored prescription acne treatments, achieving clear, healthy skin is entirely possible. By using the acne-fighting power of acne medications such as Tretinoin acne cream, we can help you take control of your skin. Our acne medication skincare can help you reduce the appearance of acne, scarring and post-acne hyperpigmentation.
Remember, overcoming acne is a journey that requires an individualised approach. Our doctors are here to guide and support you every step of the way through our online acne treatment clinic. We will design a treatment protocol based around your skin concerns, needs and goals to help you achieve clear, radiant and beautiful acne-free skin.
Acne Treatment at City Skin Clinic
At City Skin Clinic, we are dedicated to providing personalised and effective acne treatments that are tailored to your individual skin needs. Our holistic approach to skincare blends personalised skincare protocols and powerful prescription products to combat acne, scarring and hyperpigmentation.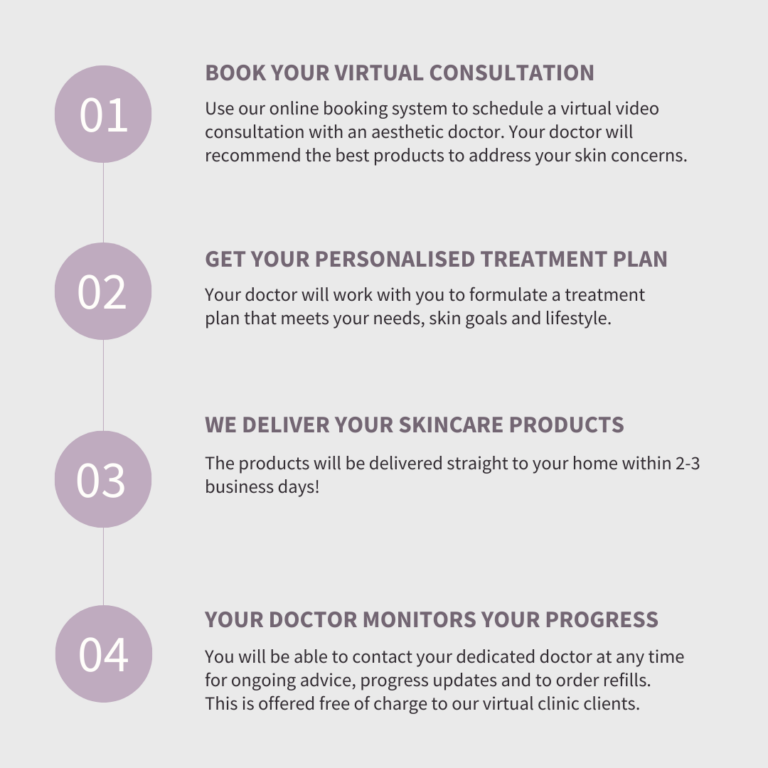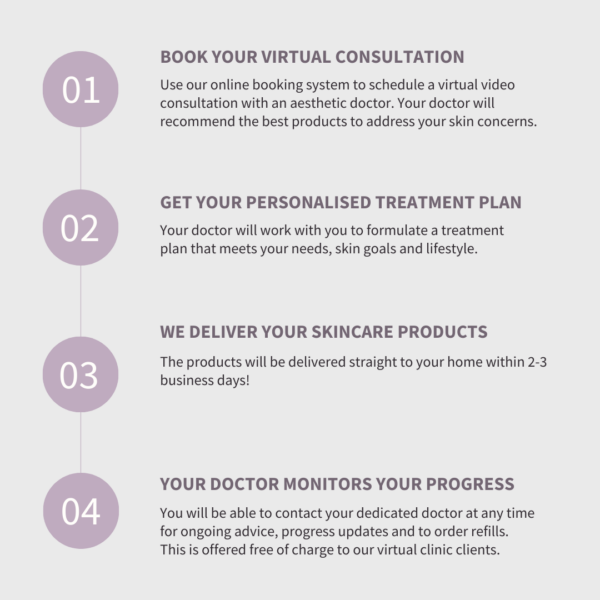 VIRTUAL CONSULTATION£30

Our expert doctor will design a bespoke Obagi Skincare program for you to follow. The cost of the consultation will be deducted from any skincare purchase.

OBAGI TRETINOIN 0.025% CREAM£86

OBAGI TRETINOIN 0.05% CREAM£90

OBAGI TRETINOIN 0.1% CREAM£100

OBAGI HYDROQUINONE 4% CREAM£115

OBAGI CLENZIDERM M.D. SYSTEM£145
Duration of effect
3-4 Months
Why Choose City Skin Clinic
Video Consultations: We don't believe in one-size-fits-all generic solutions. At City Skin Clinic, your journey starts with an in-depth video consultation with one of our aesthetic doctors. They will listen to your concerns, evaluate your skin, and develop a treatment plan that's unique to you.
Personalised Skincare Regimens: Based on your skin assessment, we prescribe skincare products that are specially designed to tackle your type of acne, improve your skin's overall health, and prevent future breakouts.
Premium Prescription Acne Skincare: We only use premium prescription skincare products from reputable brands like Obagi. These products are scientifically formulated to deliver powerful and effective results, helping you achieve clearer, healthier skin.
Comprehensive Aftercare: Your skincare journey doesn't end after your virtual consultation. You will be able to directly contact your doctor at any point for further advice, progress monitoring and refills.
Convenience: Our online acne treatment clinic ensures that you receive expert care and advice from the comfort of your own home, whenever you need it. All products are delivered straight to your home.
From the initial consultation to follow-up, our team is with you every step of the way, providing expert advice, tailored treatments, and unwavering support. Choose City Skin Clinic for your personalised acne treatment, and start your journey towards healthier, clearer skin today.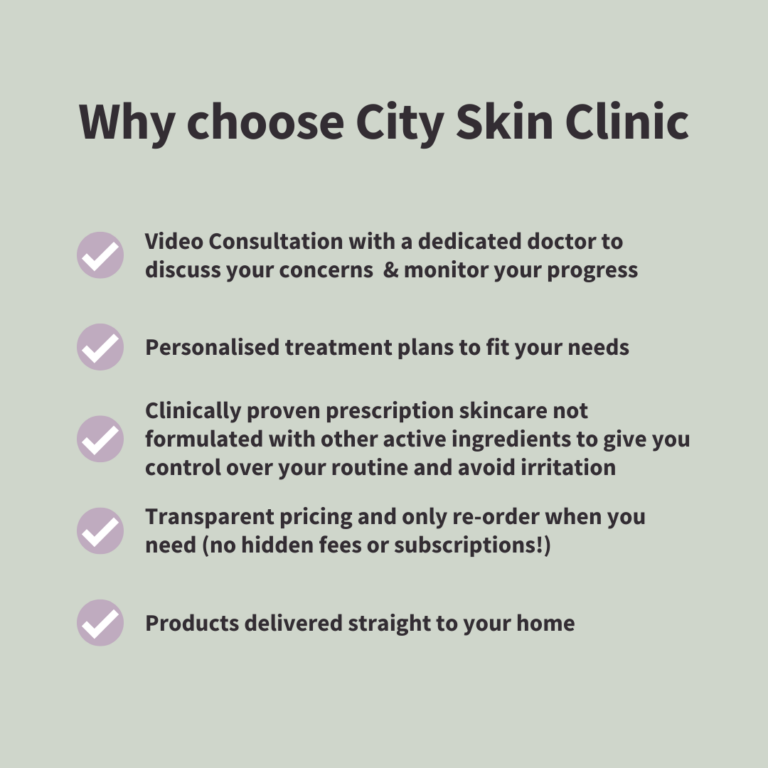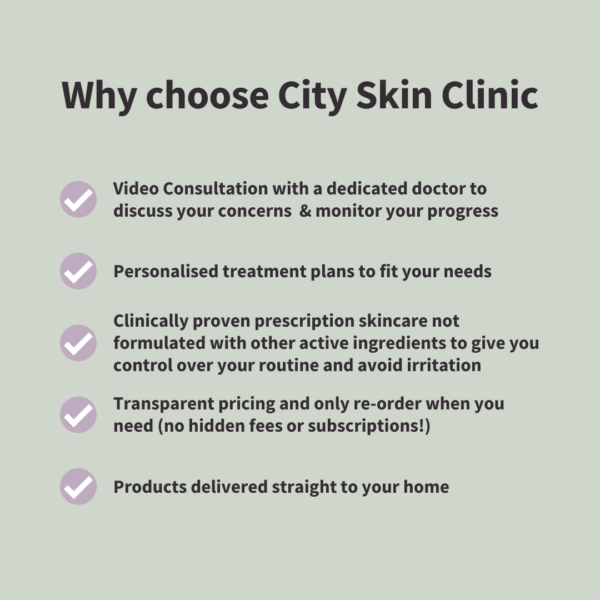 Frequently asked questions
Our treatments can be effective for various types of acne, from mild breakouts to cystic acne. However we recommend that if you have severe acne that you see a Dermatologist who can offer you more powerful treatments such as Roaccutane. During your consultation, our skincare experts will assess your skin to determine the most suitable treatment for you.
Results can vary from person to person. Some people may see improvements in as little as two to three weeks, while others may need several months of treatment. Patience and consistency are key.
The products we use are suitable for a variety of skin types. However, if you have sensitive skin, we recommend discussing this with our skin experts before starting any treatment. We can help determine the best course of action based on your skin's specific needs and sensitivities.
Yes, the products we use, such as Obagi Tretinoin Cream, have been shown to reduce the appearance of acne scarring. However, the degree of improvement can vary depending on the type and severity of the scars. During your consultation, our skincare experts will assess your skin and devise a treatment plan best suited to address your specific concerns.
Some of the products we use, such as Obagi Tretinoin Cream, require a prescription. During your consultation, our skincare experts will evaluate your skin and determine if a prescription acne treatment is the best option for you.
Acne can be a persistent condition, and while our treatments aim to control breakouts and reduce the appearance of acne, they do not cure it. Maintaining a consistent skincare routine and adopting a healthy lifestyle can help manage acne in the long term.
Yes, the treatments we offer can also address other skin concerns, such as uneven skin tone, sun damage, and fine lines. Our skincare experts will work with you to address your skin's specific needs and goals.