Ageing Skin
Ageing skin is not a skin type per se in the sense that all skin types (e.g. oily, combination, normal, acne-prone or dry skin) age. There are however a distinct set of characteristics that are unique to ageing skin which makes it worthwhile to adopt a skincare routine specifically for it.
Skin ageing is marked by loss of collagen and elastin which results in reduced skin elasticity, sagging and thinning. There are intrinsic causes of skin ageing. these are mainly genetics and biological factors like reduced blood supply and reduced cell regeneration which occurs with time. In addition, there are extrinsic (and avoidable) causes of ageing skin such as sun damage and pollution. In addition, poor nutrition and lack of proper skincare can also speed up skin ageing.
Regardless of your skin type, there are some key skincare steps that can reduce the signs of skin ageing. A good skincare routine for ageing skin should aim to prevent any further triggers of skin ageing and reduce or reverse signs of the skin ageing such as hyperpigmentation, volume loss and fine lines and wrinkles.
"Ageing skin is common to all skin types and is caused by both internal and external factors. The focus of any skincare routine for ageing skin should be preventing further ageing and focus on changes such as loss of volume and elasticity, wrinkles as well as pigmentatory changes."
In addition to understanding your skin type you should identify your main skincare concerns and goals. For ageing skin this your concerns wrinkles, sun spots, melasma and/or loss of volume. Your goals on the other hand might be smoother, tighter and brighter skin. The best anti ageing skincare routine will help you protect your skin and reduce the appearance of ageing skin by treating wrinkles, skin laxity and hyperpigmentation.
The Best Anti-Ageing Skincare Ingredients For Ageing Skin
Exfoliating acids and enzymes: these all help to remove dead skin cells and improve skin texture. They also brighten the skin and reduce the appearance of fine lines and wrinkles. Alpha hydroxy acids like glycolic acid are excellent if your skin is dry whilst beta hydroxy acids work best for oily or combination skin. Polyhydroxy acid and enzyme exfoliants are excellent choices for those with sensitive skin.
Retinoids: these come in a variety of formulations and include Retinol and Tretinoin. Retinoids are the most powerful anti-ageing topical skincare ingredients. They smooth skin texture, improve the appearance of wrinkles and fade hyperpigmentation. Tretinoin and other retinoids can also be combined with Hydroquinone to tackle hyperpigmentation and melasma.
Vitamin C: this very powerful anti-oxidant protects the skin from damage caused by free radicals. It also helps to brighten the skin and fades sun spots and other types of hyperpigmentation.
Hyaluronic acid & Polyglutamic acid: these two ingredients attract water to the skin. They can help to hydrate ageing skin which reduces the appearance of fine lines.
Peptides: these are small chains of amino acids that can help to stimulate collagen production in the skin. Peptides can help to reduce the appearance of wrinkles and improve skin elasticity.
Niacinamide: this has a variety of benefits for the skin, including reducing the appearance of pores, brightening the skin, and improving skin texture.
Daily Skincare Routine
Mornings
Cleanser: use a gentle hydrating cleanser.
Toner: apply an acid exfoliating toner (AHA for dry/normal skin, BHA for oily/combination skin and PHA for sensitive skin).
Actives: use a Vitamin C serum to brighten skin. Also use niacinamide if enlarged pores, texture or hyperpigmentation are a problem.
Moisturiser: apply a hydrating product that ideally contains hyaluronic acid, peptides, Vitamins B5 and E.
Sunscreen: protect your skin with at least SPF 30 even if it's cloudy or you're indoors.
Evenings
Double Cleansers: use a cleansing oil or balm to remove all traces of makeup and pollutants. Follow up with your hydrating morning cleanser.
Actives: at night should use either Retinol or a prescription retinoid like Tretinoin.
Moisturiser: use a rich emolliating and occlusive night moisturiser to seal hydration and rebuild your skin's barrier. Finish off your night time routine by applying a hydrating eye cream either containing retinol or using your own retinoid sandwiched between two layers of your eye cream. This will help brighten dark under eye circles and smooth away smile lines.
Weekly Skincare Routine
Once a week you should set aside a little time to amplify your skincare routine by following this two step facial:
Active Mask: use an enzyme or exfoliating acid mask to remove dead skin cells, increase cell turn over and resurface the skin.
Reparative Mask: use a nourishing hydrating face mask to repair and restore your skin.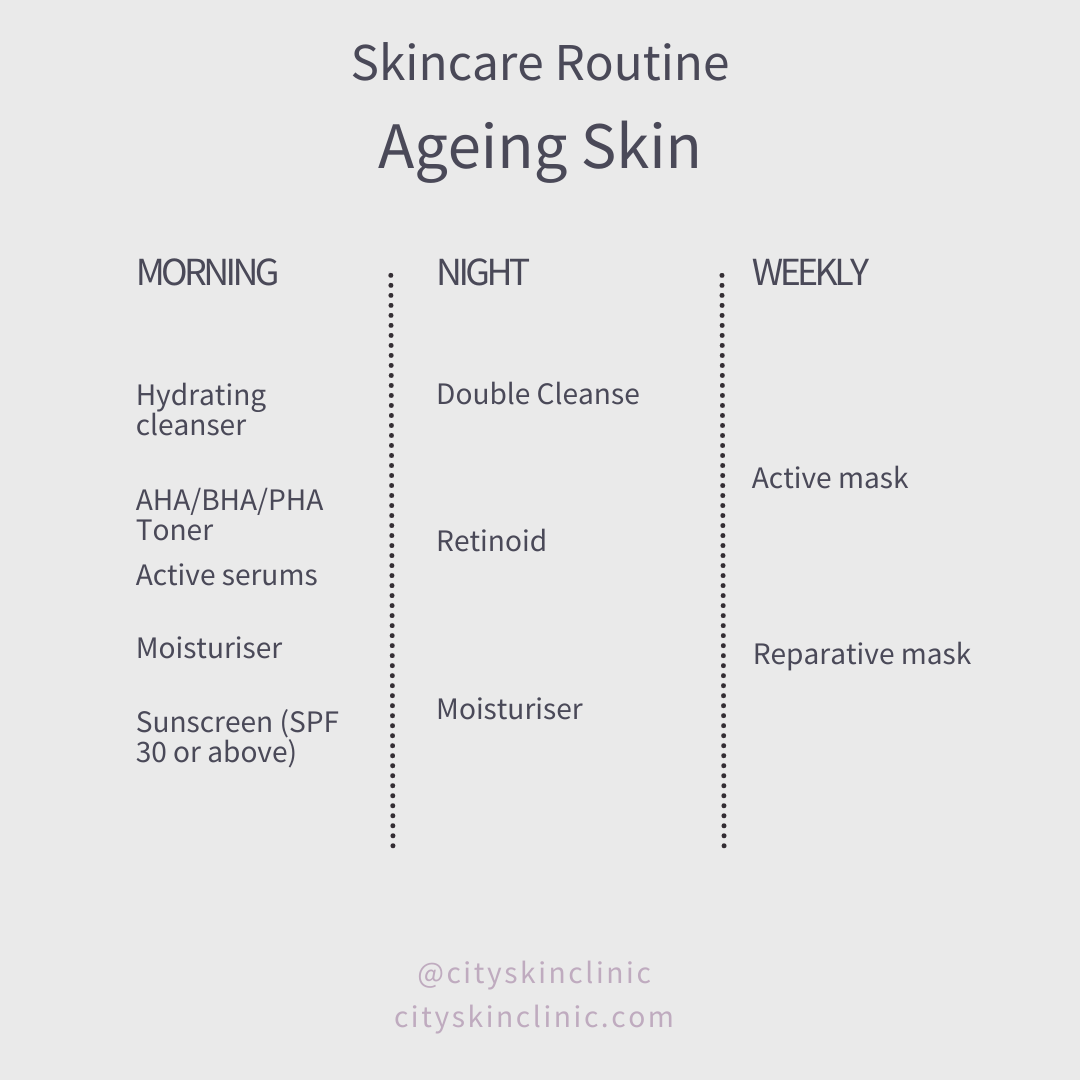 Professional Treatments
Skincare is a vital part of any anti skin ageing treatment routine. To really enhance your results, consider a prescription retinoid like Tretinoin cream. Hydroquinone cream, Nu Derm and Obagi-C system are also all prescription skincare that can help reduce the appearance of wrinkles and treat hyperpigmentation and melasma.
For ageing skin there are several professional treatment options which can complement and enhance the effects of your skincare routine. The best anti-ageing professional treatments include chemical peels, collagen induction therapy and of course treatments like Botox anti-wrinkle injections, Profhilo and dermal fillers. If you want a faster acting solution for wrinkles and lines then explore our anti-wrinkle injections using Botox and fillers.
When it comes to ageing skin, there are an endless number of skincare products available. It is wise to take some time and explore beyond the marketing and claims. To help you get started, here are a few of our favourite skincare products for ageing skin at the moment:
Cleansers
DHC Deep Cleansing Oil and JUNO & Co. Clean 10 Cleansing Balm and erborian Centella Solid Cleansing Balm are great options for the first step in your evening double cleanse. Glossier Milky Jelly Cleanser and Paula's Choice Optimal Results Hydrating Cleanser are good gentle products for the morning and your second step in the evening double cleanse.
Toners
For an AHA toner try PIXI Glow Tonic (contains 5% glycolic acid) or The Ordinary Glycolic Acid 7% Toning Solution. If you have oily or combination skin then you might prefer COSRX AHA/BHA Clarifying Treatment toner and Bioderma Pigmentbio C-Concentrate serums.
Actives
Drunk Elephant C-Firma Day Serum, Medik8 C E-Tetra Pro Collagen Vitamin C Serum and Obagi Professional-C serum are all great choices for ageing skin.
Moisturisers
In the mornings, try Clinique Moisture Surge Extended Thirst Relief, SkinCeuticals Triple Lipid Restore 2:4:2,
La Roche-Posay Substiane Riche Face Moisturiser, OLAY Regenerist Micro-Sculpting Cream Fragrance-Free or Obagi Hydrate.
In the evenings, opt for a rich night cream like CeraVe Moisturising Cream, Weleda Skin Food Original and Skinfix Barrier+ Triple Lipid-Peptide Cream to lock-in moisture and seal hydration.
Sun Screens
Great options for sunscreens for ageing skin include EltaMD UV Clear SPF 46, Cosrx Vitamin E Vitalizing Sunscreen SPF 50+ and La Roche-Posay Anthelios Light Fluid Sunscreen – SPF 60.
Masks
REN Glycol Lactic Radiance Renewal Mask, Glo-therapeutics Gentle Enzyme Exfoliant, Peter Thomas Roth Pumpkin Enzyme and Elemis Papaya Enzyme Peel are are great options for your exfoliating mask.
Skin Laundry Hydrating Radiance Facial Treatment Mask, Tatcha Violet-C Radiance Mask, Youth to the People Superfood Skin Reset Antioxidant Mask and Charlotte Tilbury Multi-Miracle Glow Mask all make a great anti-ageing reparative mask.