Acne Prone Skin
Whilst most people with other skin types (in particular oily and combination skin) can experience spots or breakouts, acne prone skin is primarily driven by hormonal changes. As such, it is important to have an acne skin routine specifically designed for acne prone skin.
Usually, acne occurs when the triad of androgen, bacteria on the surface of the skin and excess oil production come together. Accordingly, it is most common in teenagers but the number of adults with acne is also on the rise. Moreover, the severity varies and it can be classed as mild, moderate or severe. Generally, acne prone skin typically contains excess oil and clogged pores which manifest as whiteheads, blackheads, nodules or cysts. It can be worsened by hormonal changes, blocked pores and spread or increase of acne-causing bacteria on the skin. As such, these are all important to consider when putting together an acne skincare routine. In this review we will take you through the best skincare ingredients for treating acne. We will also guide you on how to put together an effective acne skin routine.
One of the biggest mistakes people with acne prone skin make is to use very harsh and drying skincare products. Whilst this gives temporary relief because it makes skin feel cleaner and look dryer, it is counter productive. It actually prompts the skin to produce more oil. Also using very harsh skincare products like physical exfoliant or high dose acids is a bad idea. These can cause micro injury to the skin, irritation and inflammation as well as acne scarring. It is not all bad news though. It is possible to control acne and oil production with the right skincare routine. A good skincare routine for acne prone skin will cleanse the skin, hydrate and protect it. Additionally, it will also specifically target acne with specific acne-fighting products. With the right skincare routine, acne prone skin can be made clear, outbreaks reduced and blemishes or scars prevented.
"Acne prone skin is caused by an imbalance of the androgen hormones which stimulate overproduction of sebum from the oil-producing glands. This causes blockage of the pores and overgrowth of skin bacteria. Together, these result in inflammation resulting in pimples and blemishes. The key to caring for acne prone skin is to properly cleanse, control oil production, reduce bacterial growth and hydrate the skin."
The fundamentals of caring for acne prone skin are similar to a skincare routine for oily skin. However, there are some important inclusions that are unique to acne prone skin. These include spot treatments for individual pimples. Additionally, you should find products with acne fighting ingredients which regulate oil and prevent excessive bacterial growth. Whilst your main focus will be on acne, also consider whether you have other skin concerns or goals. For instance, this may be acne scarring from previous outbreaks, uneven skin tone or rough skin texture.
Best Skincare Ingredients For Acne Prone Skin
Acne is a complex skin condition and no single treatment is a silver bullet. These are the best skincare ingredients for acne:
Daily Skincare Routine
If you want success from your acne skin routine, then you need to use the right products regularly.
Mornings
Evenings
Weekly Skincare Routine
Once a week set aside a little time to pamper your skin or focus even more on specific skin concerns: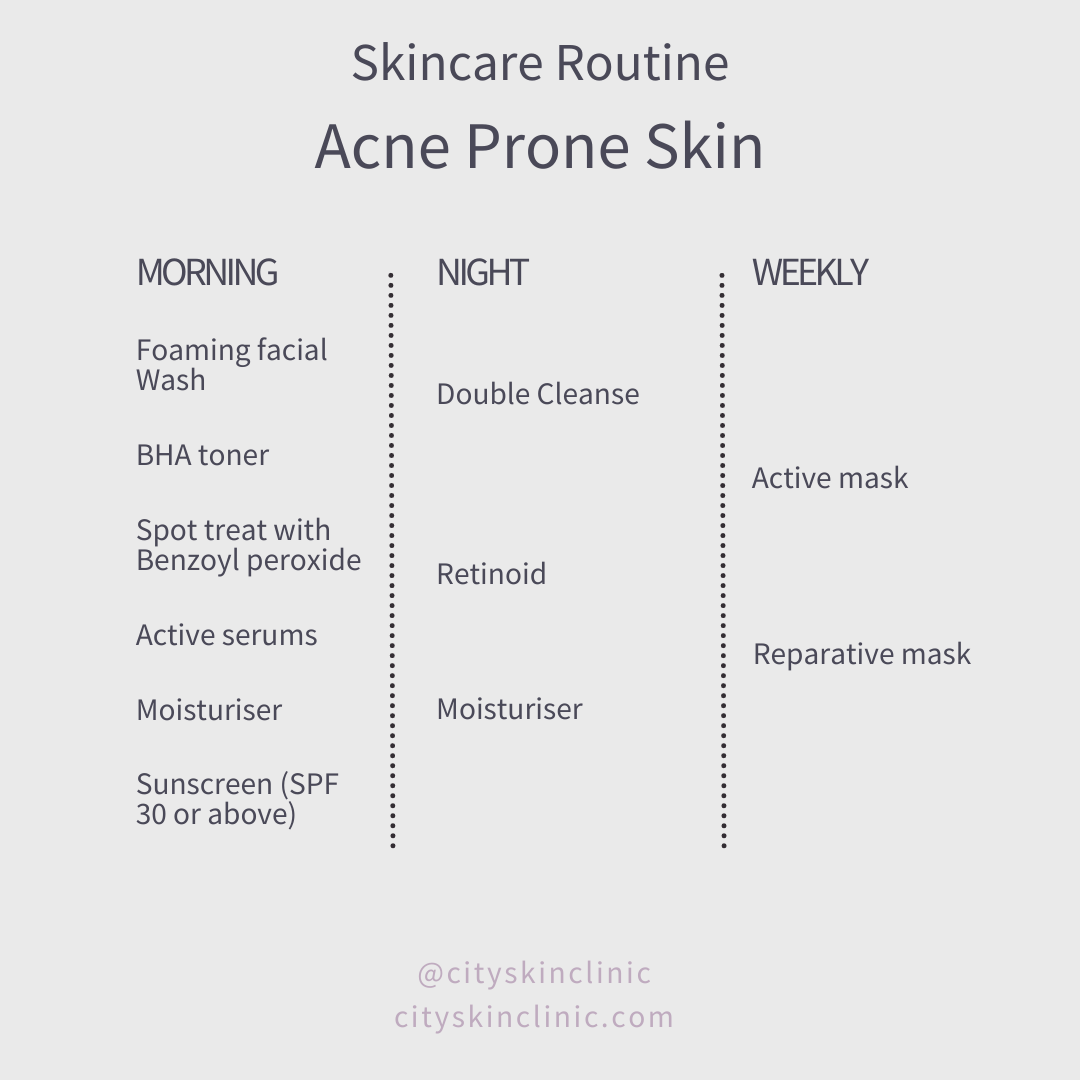 Professional Treatments for Acne
A good skincare routine will clarify your skin and control acne. It can also target other problems including acne scarring, blemishes, wrinkles or uneven skin tone. To quickly get your skin to a better baseline we would recommend a prescription skincare system such as Obagi CLENZIderm alongside Tretinoin. You may also need a short course of Hydroquinone to help fade post inflammatory hyperpigmentation and any acne scarring.
If you're looking for in office treatments, then try a course of chemical peels. If your acne is under control and you simply wish to boost your skincare routine, then a superficial chemical peel or advanced clinical facial every 2-3 months can help with that. At City Skin Clinic, we offer personalised prescription skincare to treat acne, scars and hyperpigmentation through our online skincare clinic. These are entirely designed around your specific skin concerns and goals.
When it comes to skincare products for acne prone skin, you're rather spoilt for choice. We constantly review and assess feedback on skincare products for our clients and readers of our blog. Below are our favourite skincare products for acne prone skin at the moment:
Cleansers
DHC Pore Cleansing Oil or CeraVe Hydrating Cleansing Balm for the first cleanse tin the evenings. Acnecide 5% Wash Benzoyl Peroxide or for the morning and second step in the evening.
Toners
Mizon AHA & BHA Daily Clean and Paula's Choice Skin Perfecting 2% BHA Liquid Exfoliant contain salicylic acid.
Spot Treatments
Neutrogena Rapid Clear Stubborn Acne Spot Treatment Gel and Acnecide 5% Gel both contain 5% Benzoyl Peroxide.
Actives
For Vitamin C try Drunk Elephant C-Firma Day Serum or Obagi Professional C-Serum.
For niacinamide, try The Ordinary Niacinamide 10% + Zinc 1%, AXIS-Y Dark Spot Correcting Glow Serum, The Inkey List Niacinamide or Paula's Choice 10% Niacinamide Booster.
Great options for Arbutin include The Ordinary Alpha Arbutin 2% + HA, COSRX Arbutin 97 Power Essence and Inkey List Alpha Arbutin.
When it comes to Azelaic acid, try The Ordinary Azelaic Acid Suspension 10%, Paula's Choice Azelaic Acid Booster or The Inkey List SuperSolutions 10% Azelaic Serum Redness Relief Solution.
With regards to Retinoids, good Retinol serum include Medik8 Retinol 3 TR or The Ordinary Granactive Retinoid 2% in Squalane. For a stronger product, look into a prescription retinoid like Tretinoin cream.
Moisturiser
Keep it simple in the morning with a light moisturiser like Hyasoft The Hero Project gel, La Roche-Posay Toleriane Sensitive Fluid or Obagi Hydrate.
In the evenings try a richer reparative product like Youth to the People Superberry Hydrate + Glow Mask, Kiehl's Ultra Facial Overnight Hydrating Face Mask or Paula's Choice Radiance Renewal Mask. You can also try Eucerin Vanicream Moisturizing Cream if you want something simpler.
Sunscreen
The best sunscreens for acne skin are lightweight and non oily formulations. You should use at least SPF30 and reapply during the day. We're big fans of Beauty of Joseon Relief Sun Rice + Probiotics (SPF50+ PA++++), Supergoop Unseen sunscreen, CeraVe Hydrating Mineral Sunscreen and Neutrogena Ultra Sheer Dry-Touch Sunscreen.
Masks
Good options for the first exfoliating mask include The Ordinary Salicylic Acid 2% Masque, Drunk Elephant T.L.C. Sukari Babyfacial AHA + BHA Mask, The Ordinary Peeling Solution or Bliss Pumpkin Powerhouse Resurfacing & Exfoliating Enzyme Face Mask. If you want something with clay and an exfoliant instead try innisfree Volcanic AHA Pore Clearing Clay Mask, Fenty Skin Cookies N Clean Whipped Clay Detox Face Mask or Youth To The People Superclay Purify Clear Power Mask
Follow up with the reparative mask. Great products for this include Korres Greek Yoghurt Probiotic Superdose Face Mask, Youth to the People Superberry Hydrate + Glow Dream Overnight Face Mask and Aesop Blue Chamomile Facial Masque.