Keeping in the theme of seasonal change, how happy are you that it's now hot soup and stew weather? I can't imagine it's as much as me!
I'm all about keeping things simple in the kitchen especially when it comes to nutrition so, October is my dream month. After a cold autumn evening there is nothing better than coming home to a hot bowl of deliciousness. My skin is guaranteed to feel its best when I focus on adding as many whole foods into my diet as possible, so I will be reopening my slow cooker and bulking up on hearty vegetables.
My approach to cooking is usually very spontaneous, I love getting creative and working with lots of different ingredients. This recipe does exactly that. Like our skincare hacks in our recent Autumn beauty blog post, it is fuss free and simple.  Now I don't believe there such a thing as a bad cook, with the right direction and ingredients anyone can learn, but for those who lack the confidence…this one is for you. You cannot go wrong. All you have to do is put everything into one pan and let it simmer away. Even better, if you have a slow cooker then you can literally go to work and it will be ready by the time you get home. Without further a do here is the recipe:
Ingredients
250 g of Chicken breast
1 large white onion
3 cloves of garlic
2 large carrots
I red pepper (or any colour of your choice)
1 small swede
1 bunch of purple cabbage (you can choose any other greens, maybe curly kale or spinach)
1 handful of thyme
500 g of new potatoes
1 tin of chopped tomatoes
2 chicken stock cubes
500 ml of water
Once you have cooked off your chicken in a large pot, dice the white onion and carrots and add to the pan to sweat. Once softened, add the rest of the vegetables which you can chop to your liking. The last step is to add your tinned tomatoes, stock (mixed with with the 500 ml of water), and the remaining spices. Bring to the boil for 5 minutes and then lower the temperature, cover with a lid and let it simmer away for as long as you like.
The longer it is cooked for, the more rich and delicious it will be, so this is when I would recommend using a slow cooker instead. With this method you just have to add everything into the pot, turn on, and go about your day!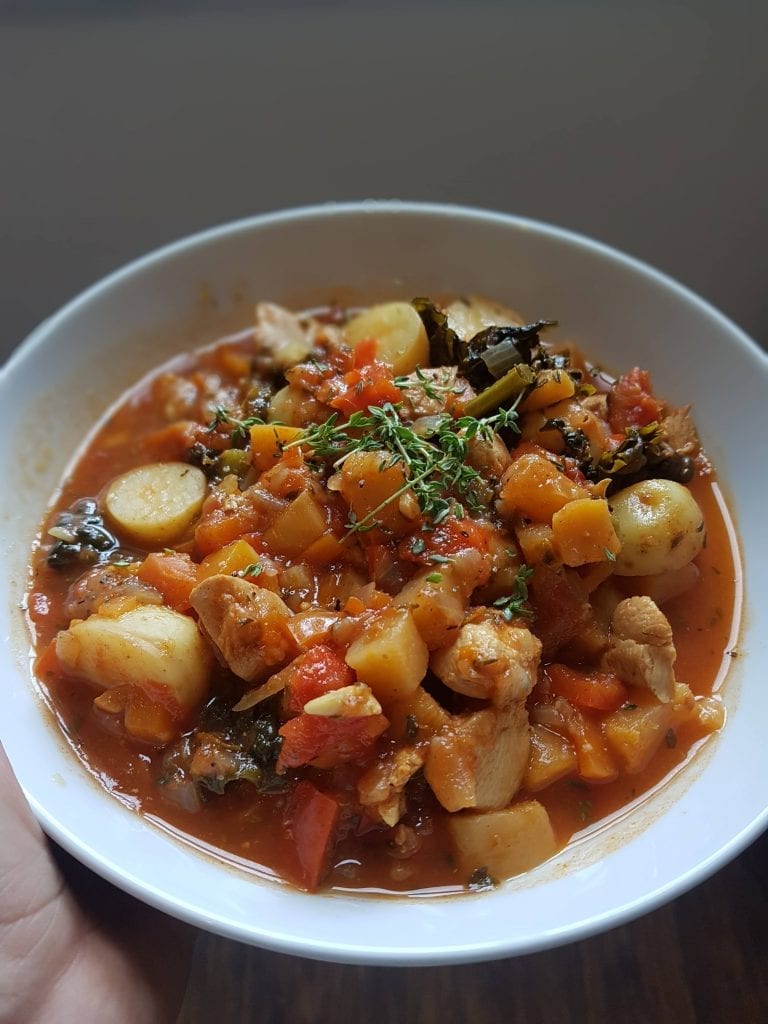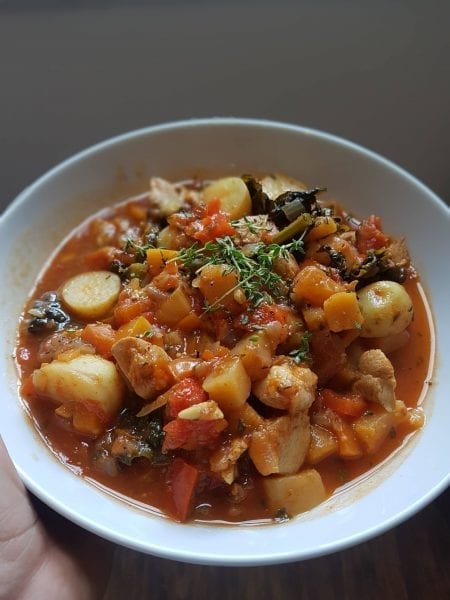 What next?
For more recipes, head to
The Modern Salon
where you can find the rest of our weekly Skin Food Saturday recipes. Maybe try our
Dark chocolate and Avocado truffles
for dessert 😉
If you give it a try we would love to see! Tag us in your pictures on Facebook and Instagram. Also follow us to keep up to date with the latest beauty trends, tips and advise. Keep an eye out for tomorrow's  Sunday Vibes post for more fuss-free beauty!