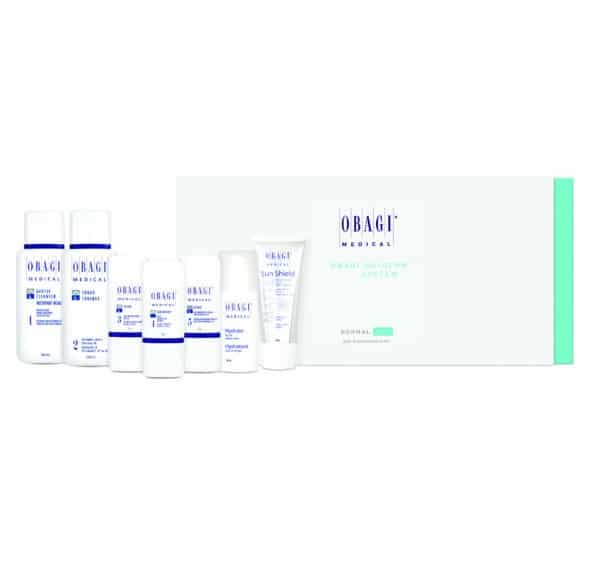 Obagi Nu-Derm System (Prescription only)
Obagi Nu Derm is a Complete skin care system specially formulated for normal to dry skin to help correct hyperpigmentation, such as dark spots and melasma, and transform the appearance of aging skin.
Kit Includes:
Gentle Cleanser
Toner
Clear
Exfoderm
Blender
Obagi Hydrate
Sun Shield Matte Broad Spectrum
Please note you will need a consultation with one of our doctors to assess you and ensure this is the correct system for you. 
Obagi Nu-Derm System Transforms Your Skin From the Inside Out
The Obagi Nu-Derm System helps transform the skin's appearance by reducing darks spots, revealing younger, healthier-looking skin. Nu-Derm is ideal if you have:
Age spots
Rough skin
Erythema (redness)
Sallowness (yellowish complexion)
Hyperpigmentation (discoloration)
The system is available for either normal-dry skin or normal-oily skin and comes in two variants, a prescription only (Nu Derm Rx) which contain 4% Hydroquinone and an over the counter one containing Arbutin (Nu Derm Fx). Please note, regardless of the system you will need to book a consultation with one of our doctors before ordering any of our Obagi Nu derm systems. This will ensure that they ensure that you are ordering the best products for you and provide free follow up so that you are taken care of during your journey.
The difference between the Obagi Nu Derm Rx and Fx system is that the prescription-only system contains 4% hydroxychloroquine. You will achieve similar results from both lines. However, the more potent hydroquinone found in the prescription system will provide faster, more optimal results. Patients who use the prescription system typically start to see progress in as little as 6 weeks. The Fx products contain Arbutin, which is a gentler formulation, so it will generally take about 24 weeks to see noticeable results. Our doctor can advise you which would suit your needs best during your consultation. Please note you must have a consultation with one of our doctors who will discuss which treatment be best for you and put together a personalized treatment protocol. 
Consultation
£30
Our expert doctor will design a bespoke Obagi Skincare program for you to follow. The cost of the consultation will be deducted from any skincare purchase.
Obagi Nu-Derm System (Prescription only)
£455