Obagi Hydrate Moisturizer
Obagi Hydrate Moisturizer uses innovative technologies and naturally-derived ingredients to provide instant and long-lasting hydration and moisture. These dermatologist-tested moisturizers are hypoallergenic, non-irritating, and designed for a variety of skin types to help enhance your skin's smoothness.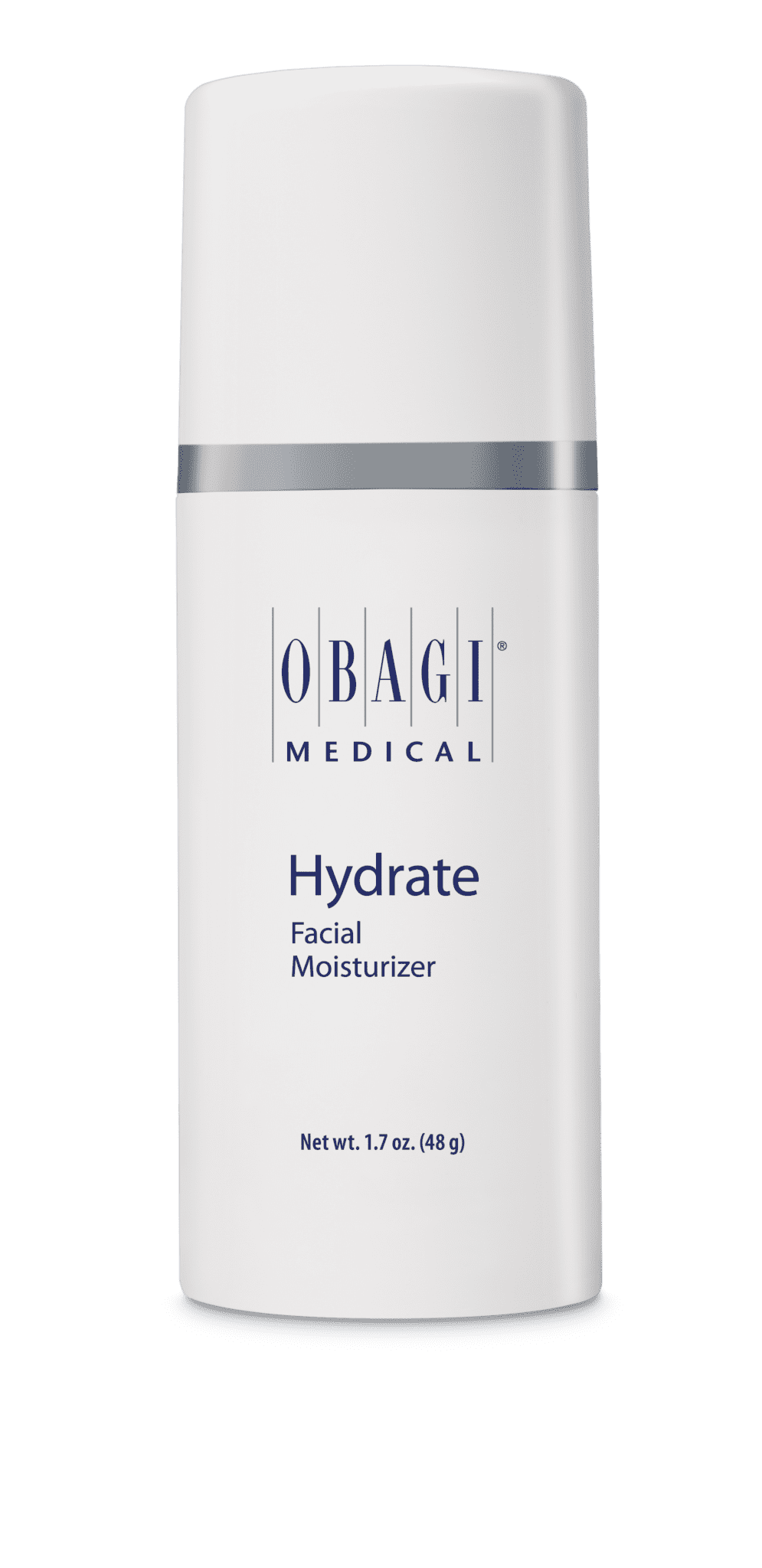 Innovative Hydromanil Technology To Deliver Long-lasting Moisture
The Obagi Hydrate facial moisturizer contains novel Hydromanil technology and is one of the most popular hydrating product lines in the UK. This is because it is clinically proven to improve the moisture content of the skin. It contains Hydromanil which is a hydrator that is naturally derived from tara seed. Hydrate delivers moisturizing action in two ways:
Immediate moisturization to reduce water loss and hold water on the surface of your skin
Gradual moisture delivery that retains water and continuously releases active moisturising compounds within your skin
What Does Obagi Hydrate Facial Moisturizer Do?
Obagi has long been a trusted name in skincare. This is mainly because its products are developed based on extensive research and clinical trials. The Hydrate Moisturizer range is no different. It provides instant and long lasting hydration, addresses dry patches and helps maintain optimal moisture balance. This has made it a staple in premium skincare routines.
Key Features & Benefits:
Deep Hydration: With its advanced hydromanil technology, Obagi Hydrate facial moisturizer delivers ongoing moisture. It does so by holding water in the skin's layers for up to 8 hours.
Non-Comedogenic: Suitable for all skin types, including sensitive and acne prone ones. It hydrates without clogging pores or causing breakouts.
Smooth Texture: Its light weight, non greasy formula ensures smooth application and rapid absorption. This leaves skin feeling soft and supple.
Safety-First: Dermatologist-tested, hypoallergenic and free from parabens.
OBAGI SKINCARE PRICES (DELIVERY TO UK ONLY)
CONSULTATION£30

Our expert doctor will design a bespoke Obagi Skincare program for you to follow. The cost of the consultation will be deducted from any skincare purchase.

OBAGI HYDRATE MOISTURISER (48G)£65
Duration of effect
3-4 Months
What's The Difference Between Obagi Hydrate & Obagi Hydrate Luxe?
Obagi Hydrate and Luxe are two exceptional facial moisturizers. Both products ensure intense hydration but cater to different skin needs. So, the best one for you completely depends on your skin condition and skincare goals. Below is a comparison of the two:
Formulation
Obagi Hydrate contains Hydromanil technology, offering immediate and long lasting hydration for up to 8 hours. Obagi Hydrate Luxe goes a step further. It is an ultra moisturizing, luxurious cream loaded with biomimetic peptides that enhance skin's overnight renewal process. Hence, it provides deep hydration and skin rejuvenation. This makes it particularly great for dry, sensitive or ageing skin.
Usage
As it is more light weight, Obagi Hydrate is designed for daily use. It can work easily in your morning or evening skincare routine. It's a great go-to product for round the clock skin hydration. On the other hand, Obagi Hydrate Luxe is a rich product that works best as an overnight mask to hydrate and seal in moisture.
Texture and Consistency
Obagi Hydrate boasts a light weight texture without a greasy feel. This means it works well for all skin types and is great for daily application. On the other hand, Luxe has a richer feel. It provides an extra layer of hydration and nourishment. This is what makes it ideal for nights or drier skin.
Targeted Concerns
Both products deliver hydration and ensure that your skin remains moisturized throughout the day. Obagi Hydrate Luxe does however deliver results if you have very dry or sensitive skin. It can also make ageing skin look plumper and smoother.
How to Use Obagi Hydrate
For best results, apply Obagi Hydrate moisturizer to your face and neck twice daily. Its rapid absorping formula is perfect for use as the penultimate step in your morning skincare routine before sunscreen. It also makes an excellent plumping primer and base before your makeup. At night, hydrate works well as the last step in your skincare routine.
Can I Use it With Other Skincare Products?
Yes, this moisturizer is a great addition to any skincare routine. It hydrates the skin and helps protect the skin barrier. This makes it an ideal product to support the skin especially if you're using active products like vitamin C, exfoliating acids and retinoids like retinol or Tretinoin.
Where Can I Get Obagi Hydrate Moisturizer in the UK?
Obagi Hydrate facial moisturizers are very popular and widely available products in the UK. You can get them through most good aesthetic clinics and online through authorised resellers. We offer Obagi Hydrate through our online skin clinic to UK based clients. Your doctor can provide you with this treatment and advise on how to use it in your skincare routine to get the best out of it! They will also advise whether any other treatments such as Tretinoin can help you address your skincare concerns and goals.
What Are The Key Ingredients in Obagi Hydrate & Luxe?
In general, both products have some similar ingredients with regards to their main hydrating function. However, they also have some key differences that support their different uses. Below is just a summary of some of the main ingredients in both products. Please read the product packaging or consult the manufacturer's official website or trusted retailers for a complete ingredient list. Furthermore, if you have any skin sensitivities or allergies, please review the entire ingredient list before using. Always do a patch test before starting any new skincare products.
Hydrate Moisturizer
The main benefit of the Obagi Hydrate Moisturizer is that it delivers long lasting hydration and protects your skin from excess water loss. These are some of the main ingredients and their benefits:
Hydromanil: This is a significant part of the Obagi Hydrate Moisturizer. Derived from tara seed, Hydromanil acts as a powerful hydrating agent. Through this it helps retain water and gradually delivers moisture to the skin.
Shea Butter: A renowned moisturizing agent, shea butter helps to soothe and heal the skin. It offers deep nourishment and aids in the skin's natural barrier functions.
Mango Butter: A natural emollient, mango butter is known for its soothing and moisturizing properties. In this product, it helps provide a long lasting hydration without feeling greasy.
Avocado Oil: Rich in essential fatty acids. As such, it aids in skin hydration to make the skin feel soft and reduce dryness.
Glycerin: As a powerful humectant, this attracts moisture from the environment and binds it to the skin. This then provides prolonged hydration.
Vitamin E: An essential antioxidant, Vitamin E aids in protecting the skin against environmental damage. It's also vital for maintaining the skin's elasticity and hydration.
Hydrate Luxe
Obagi Hydrate Luxe contains a number of agents that work together to provide deep hydration and support the skin whilst its at its most active overnight. Here are some of the primary ingredients and their benefits:
Biomimetic Peptides: These are designed to boost the skin's nightly renewal and metabolic functions. This then helps to give younger and more radiant looking skin.
Hydromanil: A key ingredient in many Obagi products, Hydromanil delivers immediate and long lasting moisture to the skin. It also helps keep water locked in.
Shea Butter, Mango Butter, and Avocado: These natural ingredients provide hydration and nourishment. This ensures your skin feels soft, smooth and deeply moisturized.
Glycerin: A humectant that helps maintain the skin's moisture balance by attracting water from the air. It then locks it into the skin.
Vitamin E: An antioxidant that helps defend against environmental insults and free radicals. It also provides hydration and supports the skin's barrier function.
Babassu Seed Oil: This oil offers deep hydration and can restore the skin's elasticity. It can then provide a smoother skin texture.