Obagi Tretinoin Cream
Obagi Tretinoin cream is an active form of vitamin A. It is one of the most powerful and effective topical treatments in skincare. Tretinoin is used for the treatment of acne, hyperpigmentation and signs of ageing.
Obagi Tretinoin Cream 20g (Prescription Only)
Obagi Tretinoin cream is an active form of vitamin A. It is one of the most powerful and effective topical treatments in skincare. Tretinoin is used for the treatment of acne, hyperpigmentation and signs of ageing. It is a prescription topical and is available in 3 strengths of Tretinoin 0.025, 0.05, and 0.1 cream.
Tretinoin is a retinoid that stimulates cell division. It improves the skin by removing old and damaged cells. Hence, new ones can present themselves. It also stimulates collagen and blood vessel formation. As such, Tretinoin cream is effective in treating the following skin conditions:
Acne vulgaris and acne scarring
Hyperpigmentation (pigmented patches)
Wrinkles and sun damage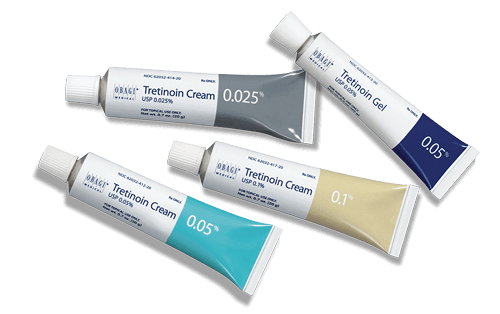 How to access Tretinoin cream online
Please note that Tretinoin cream is a prescription-only product. You will need to complete the online consultation form or book a virtual video consultation with one of our doctors first. They will ensure that it is safe and effective for you. Following that, they will then decide which is the correct strength and frequency for you.
Most people start on Tretinoin 0.05 cream every 2-3 nights if they have previous experience of tolerating active skincare products. They then work up to a higher frequency and/or strength. However, if you have more sensitive skin or are new to actives we might start you on a lower frequency and/or lower strength Tretinoin 0.025 cream. On the other hand, if your skin is used to active products or treatments and/or are currently using Tretinoin your doctor may decide to start you on Tretinoin 0.1 cream. Ultimately, this treatment will be personalised to your skin concerns, type and goals.
Following your virtual consultation, your doctor, will create a skincare protocol for you. Once you've received your treatment, they will then monitor your progress virtually.
TREATMENT FEES (UK BASED PATIENTS ONLY)
VIRTUAL CONSULTATION£30

Our expert doctor will design a bespoke Obagi Skincare program for you to follow. The cost of the consultation will be deducted from any skincare purchase.

TREATMENT WITH OBAGI TRETINOIN 0.025 CREAM 20G (PRESCRIPTION ONLY)£86

TREATMENT WITH OBAGI TRETINOIN 0.05 CREAM 20G (PRESCRIPTION ONLY)£90

TREATMENT WITH OBAGI TRETINOIN 0.1 CREAM 20G (PRESCRIPTION ONLY)£100
Duration of effect
3-4 Months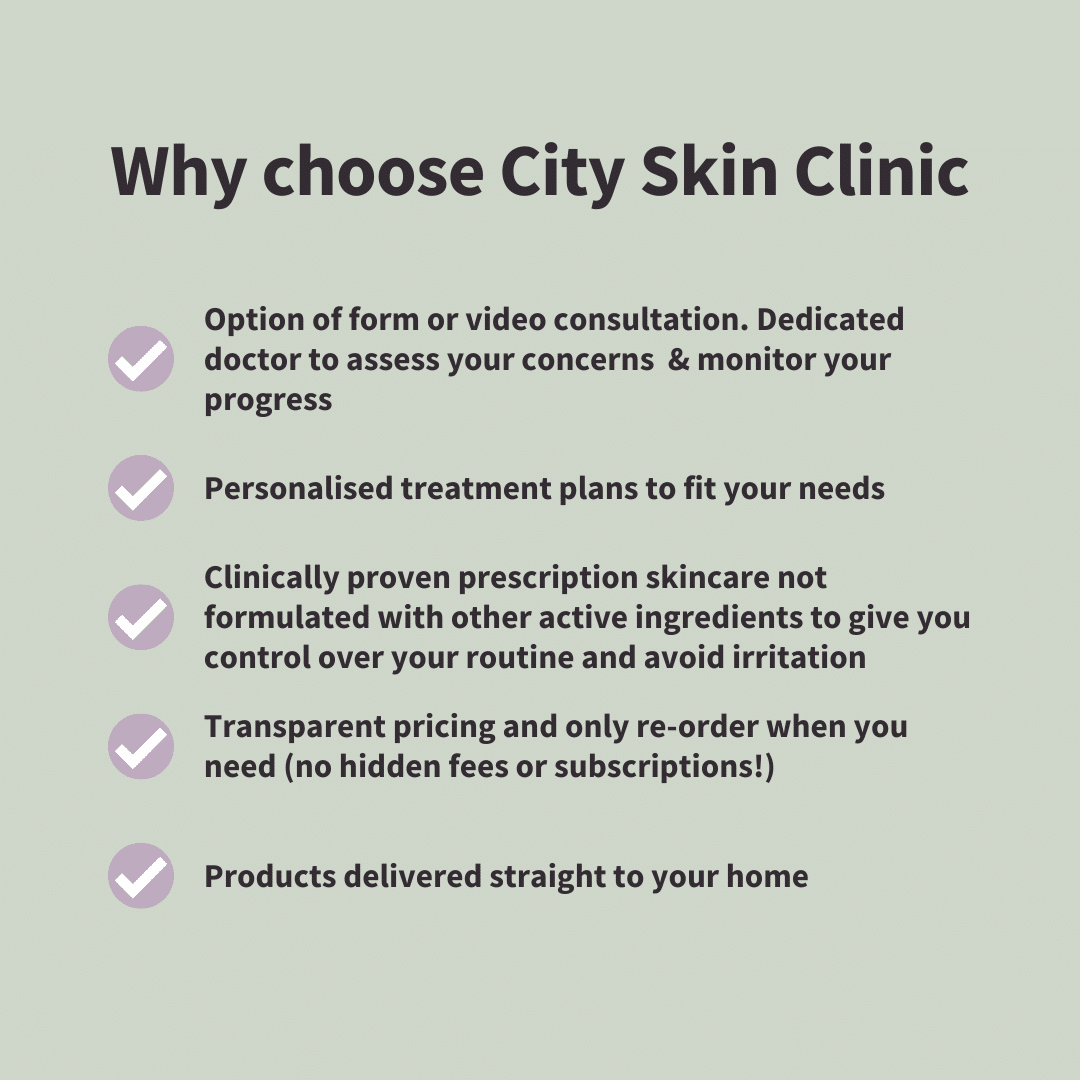 Frequently asked questions
Yes, absolutely. In fact, the vast majority of our clients only use and need Tretinoin. We offer other skincare solutions such as Hydroquinone and Nu Derm as options for people who have very severe skin ageing or hyperpigmentation. However, these are only suggested as add-ons if the doctor feels they are indicated and of course, the client is interested in them.
This depends on how frequently you use it but in general one tube of Obagi Tretinoin lasts 3-4 months for most people.
This is a prescription only medicine and hence can only be offered after a consultation with a doctor. This ensures that the treatment is safe for you to use and will also ensure that it meets your treatment goals. Your doctor will also be able to answer any questions you have and provide you with a personalised treatment plan so you get the most out of your treatment and avoid irritation or side-effects.
Yes. We offer either online consultation forms or video appointments. Whatever option you choose, you will have the same doctor dedicated to you throughout your treatment and get a personalised experience.
Yes, if you are a new client to our clinic.
You will have direct access to your doctor by email so you can ask questions, get advice and let them know if you have any problems.
No, you just need to reach out to your doctor by email and they will arrange your follow up. This maybe by email or a virtual video follow up depending on the problem.
Absolutely not. We never charge for any follow up or aftercare. You can contact your doctor at any time for advice, updates and any issues.
No, you can just email your doctor and they will assist you.
No it is not. We are really passionate about putting you in control of your treatment. Everyone goes through their treatment and products at different rates so we don't think subscriptions make sense for a personalised journey. That's why we leave it up to you to let us know when you need a refill and we make it very easy to order these.
Unfortunately we can only offer our services to customers based in the UK.
Your product(s) will be delivered straight to your home. It usually takes 2-3 business days for products to arrive.
Nope! All our prices are as listed on the website. The fees also include delivery.
Important Information
Retinoids are a family of Vitamin A and its derivatives. They can treat acne, reduce fine lines and wrinkles and correct hyperpigmentation. Retinoids increase cell turnover, boost production of collagen and stimulate the production of new blood vessels. ⁠Retinoic acid is already in its active form and so works significantly faster than retinol and other retinoids. It is available as a topical cream or gel by prescription only. Topical retinoic acid is also known as Retin-A or Tretinoin.⁠ Basically, Tretinoin is the generic name for this product and is the same as Retin-A. The latter is just a brand name for Retinoic acid.
Tretinoin cream is often used in the topical treatment of acne vulgaris. It is a prescription only treatment that can also improve skin texture, scarring hyperpigmentation and wrinkles.
Contraindications
If you are aware of any allergies to Tretinoin or similar products please let your doctor know. You must not use this product if you have or develop an allergy to any of the ingredients. Furthermore, the safety and efficacy of Tretinoin are not established in patients younger than 12 years of age. Nor is it recommended for use by pregnant or breast feeding women. In addition, please let your doctor know if you suffer from eczema, fish allergy or have any sores, burns or wounds.
How to use Tretinoin
This is a prescription treatment and you must use it as directed by your doctor. After your consultation, your doctor will design a treatment plan just for you. This will include the strength of Tretinoin to start with. It will also tell you how often to use it and when you can increase the frequency and/or concentration.
In addition to the personalised instructions, there are some general cautions to observe when using Tretinoin. Firstly, do not apply this medicine to windburned or sunburned skin or on open wounds. Secondly, do not use this medicine in or around the eyes or lips. Nor should you use it inside of the mouth or nose.
We will advise you where in you skincare routine you should use Tretinoin. In general, we advise washing your skin with a cleanser and warm water. Then gently pat dry and make sure your skin is completely dry before applying Tretinoin cream. We normally suggest using a pea-sized amount and spreading it to cover your face. As Tretinoin can cause skin dryness, we normally recommend following up with a moisturiser. In addition, we also advise all patients to wear sun protection during the day.
Side effects of Tretinoin
People with sensitive skin might become excessively red, swollen, blistered, or crusted. If any of these occur, we would either stop the treatment or adjust it to a level or frequency that you can tolerate.