Anyone who's got a busy job or stressful lifestyle will identify with this. Dark circles are shockingly common and the main complaint people tend to have is that they "look tired". In this post we'll discuss what causes them. We also check out how improve the appearance of or get rid of dark under eye circles.
Causes Of Dark Under Eye Circles
You can have under eye dark circles for a variety of reasons. Yet, the underlying cause of the appearance of under eye circles is usually due to genetics, life-style or a combination of the two.
The first reason is that you have actual hyperpigmentation (dark patches) of skin under your eyes. This is usually inherited and is due to increase in the pigment-containing cells of the skin. Another hereditary cause is having an increase in the number or size of superficial blood vessels under the eye which gives the appearance of dark circles or shadowing. This can be further exacerbated or if you have thin or pale skin which shows up these vessels more readily.
Dark Under eye circles can also be due to having a tear trough deformity. This is due to thinning of the fat pad underneath the eye which can be caused by ageing. It is also more common in people of South Asian, Eastern European and middle eastern backgrounds. The loss of volume in this area causes a line of separation between the under eye region and the cheek which is called the tear trough. This tear trough deformity causes shadows to pool under the eye which gives the appearance of dark circles. It can also accentuate any swelling under the eye to make under eye bags look more apparent.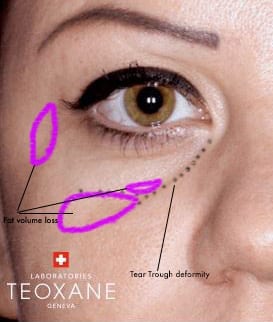 Whilst there isn't much you can to do about your genes, you can do a few things to reduce their impact. There are a number of habits or lifestyle choices that can bring on or aggravate dark under eye circles. Actions like rubbing your eyes consistently over a number of years due to allergies can stimulate rougher and darker skin production due to the friction. Overexposure to the sun and photo-damage can also increase pigmentation. The toxins from cigarette smoke can also worsen dark circles by damaging the delicate skin under the eyes. Drinking too much alcohol also dehydrates your skin and makes blood vessels more visible which will give the appearance of dark under eye circles. Similarly, lack of sleep also worsens the appearance of dark under eye circles by increasing the visibility of blood vessels under the eye and increasing swelling of the tissue.
How To Get Rid Of Dark Under Eye Circles
So obviously the million dollar question is how to get rid of dark under eye circles. Whilst there isn't an easy solution, there are a number of skincare and makeup options. These can help improve their appearance. Obviously, before you begin, make sure that you take as much action as possible to limit aggravating factors like sun damage, smoking, alcohol and lack of sleep.
No matter the cause of dark under eye circles, the first place to start is always skincare. You should always take care when you handle skin around the eye as its very fragile. In terms of cleansing, ensure that you use a delicate under eye cleanser that can remove eye makeup without irritating the skin. The same goes for a toner and moisturiser. If the main cause of your under eye circles is pigmentation, include a Retinol containing product like Dr Dennis Gross Ferulic + Retinol Triple Correction Eye Serum. The Retinol will brighten dark areas, thicken the skin and reduce the appearance of fine lines. If you're suffering from dry and thin skin, then ensure you use a moisturiser which contains hyaluronic acid or a specific product like CeraVe Eye Repair Cream. For visible vessels and bluish tinged discolouration, opt for something like Korres Wild Rose Instant Brightening Eye Treatment which contains Vitamin C to brighten and illuminate the under eye area. Regardless, of your choice of skincare product, you should make sure that you use SPF during the day to protect the eyes.
The next step up in terms of skincare is professional treatments. Tear trough deformities can be easily corrected with temporary hyaluronic acid under eye fillers. These tear trough fillers restore the lost volume underneath the eye and cheek. Hence. smoothing out the separation and filling in the tear trough groove to get rid of dark under eye circles. Tear trough correction with Redensity II dermal filler can also reduce the appearance of pigmentation under the eye due to its combination of peptides and Vitamins. If the main problem is hyperpigmentation alone then treatments using professional chemical peels can brighten and smooth the skin. Laser treatment is also an effective way to treat visible blood vessels.
In terms of makeup, you're a little spoilt for choice these days. As long as you're looking after your skin properly then colour correcting will help conceal the dark under eye circles. Make sure that your skin is prepped with a hydrating moisturiser. Use a primer if you have rough texture, wrinkles or lines. Apply your foundation as normal to your skin. Follow up by colour correcting to conceal dark shadows and discolouration. For dark shadows use a peach based concealer that is matched to your skin tone like Bobbi Brown Instant Full Cover Concealer. For visible greenish discolouration, use a pink colour corrector. If you have redness due to broken blood vessels then add a green shade. Blend this into your skin either using fingers, a beauty sponge or a concealer brush. Add a little highlighter at the end which will illuminate your skin and give you a bright-eyed look.
As you can see the causes of dark under eye circles is varied as is their treatment. If you stop a few offending habits and regularly look after your skin, that's half the battle. After that, there are a number of makeup options to help reduce the appearance of them on a regular basis. If after trying all that, you're keen for a more definitive treatment, try some professional skincare treatments. These can help reduce discolouration and treat any underlying tear trough deformity.