Chemical peels at City Skin Clinic
Our bespoke skin resurfacing chemical peels refresh tired and dull looking skin. This gives a more youthful, smoother and brighter complexion. Whether you're in need of a quick "pick-me-up" or want to actively target wrinkles, acne, scarring, pigmentation or sun-damage, we can design a bespoke skin peel just for you. All our peels are designed and performed by an expert doctor. Choose City Skin Clinic for:
Safe and effective treatments by expert aesthetic doctor
Dedicated follow-up and aftercare
Instant glow and radiance with our skin refresher superficial chemical peels
Treat acne, pigmentation, scarring and wrinkles with our medical peels
Resurfacing peels to reduce the appearance of lines, wrinkles and smooth away rough skin
Clarifying peels to treat acne, inflammation and breakouts
Skin perfecting peels to smooth scarring, rough texture and brighten skin
Tone correcting peels to treat pigmentation and rosacea
We are also renowned for our simple and transparent pricing system for our chemical peels. We offer two types of peels both of which are completely tailored to your needs and the only difference between them is the depth of the peels. All our treatments comprise several types of peels which we have carefully selected to compliment each other and your skin goals.
What is a skin resurfacing chemical peel?
Chemical peels are clinical treatments which harness the rejuvenating effects of plant-based acids and/or enzymes. Through this, we can safely resurface skin by exfoliating the top layers. This results in revealing the new layers of skin underneath to give smoother, brighter and fresher looking skin.
Our skin refresher peels are bespoke superficial resurfacing peels. These boost the skin by removing dead skin cells to visibly reduce the appearance of open pores and blemishes. They instantly leave you with smoother, brighter and dewy looking skin. There is also no downtime so you can immediately enjoy your new skin.
Our bespoke medical peels act at a deeper level of the skin and are excellent for targeting wrinkles, acne, scarring, pigmentation, sun-damage and rosacea. You will see the full effect of the peel after a few days. After which, you can enjoy revitalised, brighter and fresher looking skin.
How does a chemical peel work?
Chemical peels react with the top layer of the skin causing it to peel off to reveal the newer skin underneath. As the old dead skin is removed, new cells and collagen take their place. Thus giving firmer, brighter and fresher looking skin. We use chemical peels to reduce or eliminate wrinkles, acne, the appearance of large pores and scarring. They also stimulate the production of collagen for brighter, firmer and smoother skin.
Which skin problems can be treated with a medical chemical peel?
Our medical peels can be specifically designed to treat a whole range of skin problems. The commonest skin complaints that we treat are:
Lines and wrinkles
Dull and tired looking lack-lustre skin
Rough or uneven textured skin
Acne, breakouts and inflammation
Hyperpigmentation, uneven skin tone and blemishes
Sun damage
Rosacea
Acne scarring
What results can be achieved with a chemical peel?
This depends on the type of peel that you have but in general chemical peels can resurface the skin to give you:
Brighter and dewy looking skin
Rejuvenation of dull skin
Exfoliation of dead skin cells
More even tone
Reduced appearance of fine lines and wrinkles
Smoother and softer skin texture
Reduced or eliminated pigmentation and discolouration
Reverse the effects of sun damage
Control and reduction of inflammation and breakouts caused by acne
Hydrated and nourished skin
Plumper, firmer and more youthful looking skin
Which skin resurfacing chemical peel is the right treatment for me?
During a detailed skin consultation with our doctor, we formulate a bespoke treatment plan for you. At City Skin Clinic we offer two categories of skin resurfacing chemical peel:
The skin refresher chemical peel is a superficial peel that is great for giving tired dull-looking skin a little pick me up. This chemical peel exfoliates away dead skin cells to unveil healthy new skin underneath. It's brilliant if you want to rescue tired lack-lustre complexion for smoother, brighter and dewy looking skin.
We also offer several options of medical peels which we personalise and tailor to your skin. These peels work at a deeper level and are excellent for smoothing lines and wrinkles. They can also target acne and breakouts, scarring, pigmentation, sun damage, rosacea and rough texture.
Amazing results, courteous and professional. Will be back.
Dr. Ibrahim is super nice and the service provided at city skin clinic is superb! Can't recommend enough!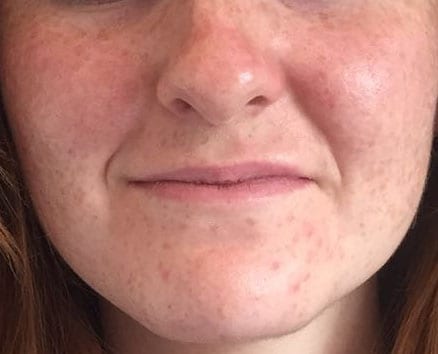 Consultation
£30
The cost of the consultation is taken off the treatment fee if treatment performed at the same time.
Skin Refresher Superficial Peel (Face and neck)
£100
Brightening, clarifying or exfoliating superficial peel treatments for instantly smoother, brighter dewy looking skin.
Medical Peel (Face and neck)
£150
Medium depth peels to target wrinkles, acne, scarring and pigmentation.
Advanced Clinical Facial
£150
Bespoke facial with skin refresher chemical peel, micronutrient peptides and oxygenating mask for soft dewy-looking skin.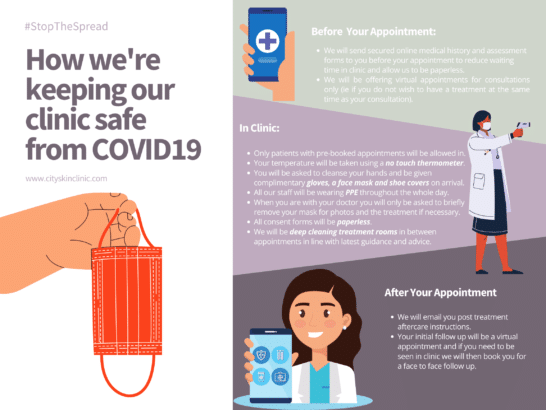 Book Your Chemical Peel Treatment Online
All peels designed and performed by an expert doctor with a passion for skincare.
Book Your Chemical Peel Treatment Online
All peels designed and performed by an expert doctor with a passion for skincare.