Ever looked at those colour correcting palettes or pots of pinks, greens, yellows and oranges then wondered what the flip is colour correcting? You're not alone. Whilst it might feel like yet another beauty fad aimed at indulging your inner narcissist, colour correcting can have its place. In this post, we'll give you the low down on colour correction and how to use it for concealing blemishes or pigmentary issues and correct uneven tone. With little effort, a bit of knowledge and one or two products, concealing and colour correcting can give you flawless skin as part of your fuss-free beauty routine
Concealing Or Colour Correcting – What's The Difference?
Colour correctors are essentially concealers that allow you to smooth out skin imperfections without caking on makeup. They have long been one of the go-to tricks professional makeup artists use to make skin appear flawless. They work on the principle that colours that are opposite to each other on the colour wheel cancel each other out. Hence, if you cover a discolouration or blemish with a neutralising colour then you effectively blur out the imperfection of naturally looking fresh skin. This is far better than applying a stock concealer colour which can give a caked on appear to your makeup or even worse leave a greyish tinge underneath.
What To Colour Correct
Before you begin, cleanse your skin and apply a little moisturiser then look at your face in natural light. Figuring out what you want to colour correct is important. I generally recommend that you should choose only obvious things like blemishes or discolouration in order to keep your overall look flawless but fresh looking. The most common areas to colour correct are:
Dark circles and discolouration – this is most common in the under eye area where there might be dark circles, between the eyes in the frown line area and at the corners of the mouth. Also can combat blemishes, scars, patches of hyperpigmentation or visible veins.
Dullness – sallowness and uneven pigmentation can be neutralised to brighten skin.
Redness – often on the cheeks but also chin, nose or forehead.
How To Colour Correct Like A Pro
Once you've defined your aims then colour correcting becomes both quick and super easy. There are 5 key colours that can be used to colour correct almost every single imperfection:
1. Purple
Purple brightens the complexion by neutralising sallowness and yellow undertones. Colour correcting concealers in this tone range from mauve to lilac. For paler skin opt for lighter shades whilst medium and darker complexions are better suited to darker shades of purple.
2. Green
Green cancels out redness. It can be used to correct widespread patches as well as for spot treating blemishes and broken blood vessels (capillaries). Colour correcting concealers in the green range from light mint to dark green. The best shade depends on your skin tone and generally paler skin with a cool undertone should opt for light mint. On the other hand, warmer and darker complexions are better served by a deeper green.
3. Yellow
Yellow brightens dull or tired skin to give a natural looking healthy glowing complexion. It also conceals purple-hued shadows as well as dark circles like those under the eye. Yellow tends to work best on pale to medium skin tones although its a very versatile colour.
4. Peach
Peach corrects blue-hued dark circles as well as darks spots. As such its great for neutralising visible veins and deep discolouration. It also adds a warm hue and healthy glow for dull skin with naturally cooler tones. As such, if you have medium to darker skin tones, then opt for peach instead of yellow to brighten the complexion and covering darks spots or circles.
5. Pink
Pink corrects dark circles and blemishes with a green undertone. It is particularly effective on paler skin tones for under eye circles or around the corners of the mouth as long as the shadows do not appear blue or purple. It can also be used to highlight as well as illuminate skin.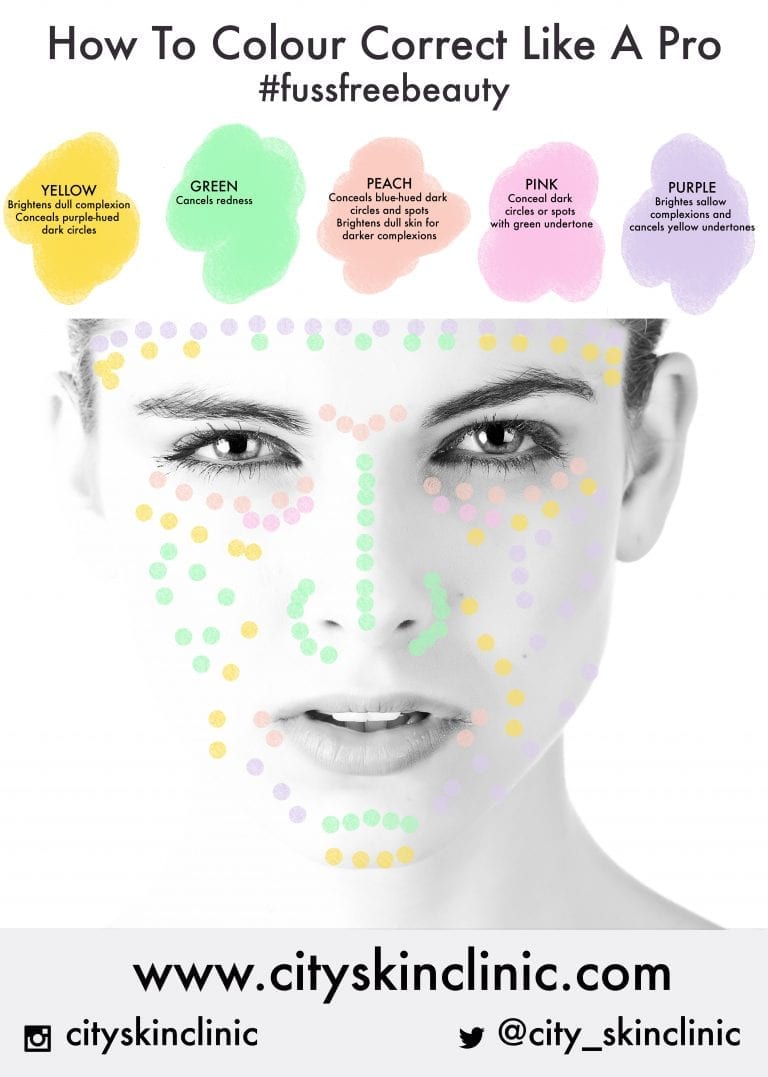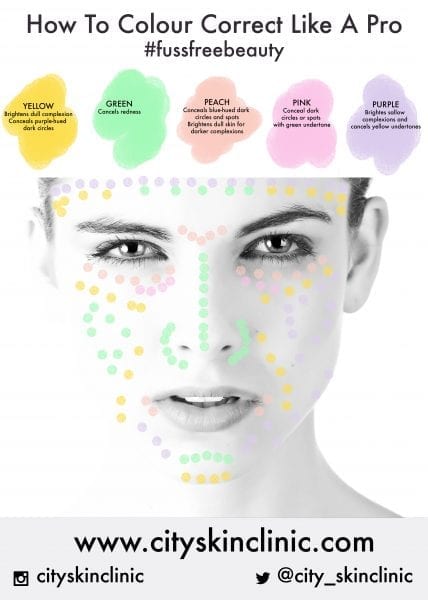 Most people will not need to use more than 1-2 of these so figure out what you want to correct and choose the corrector that targets this. You can also mix colour correcting concealers to hide more complex discolourations. For instance, if you have blue-green veins or want to conceal tattoos, mix peach (or pink if you have a paler complexion) with a little green! Another super important point is choosing the correct colour and product for your skin tone. For a natural looking finish, we recommend applying colour corrector on top of your foundation. This also means that you end up using less product. You can apply colour correctors with a concealer brush, beauty blender or your finger tips using a stippling action. You can then set them with a bit of foundation or setting powder.
In terms of product choices, you're a little bit spoilt at the moment. If you only need to correct one or two areas then we recommend purchasing individual products like the Urban Decay Naked Skin Color Correcting Fluid which also illuminates the skin and comes with its own applicator. If you have multiple colour correcting demands then you might find the Stila Correct & Perfect Palette or the MUA Pro-Base Prime & Conceal Palette more convenient.
Remember the ultimate aim of colour correcting is to blur out skin flaws. This will leave you with fresh and glowing looking skin. If you follow these simple tips you can easily integrate colour correcting into a fuss-free beauty regime. Just use sparingly and ensure you have the right shade for your skin tone. With a little effort, you can use colour correcting concealers to neutralise shadows and blemishes. You can also even out skin tone and highlight skin for a healthy glowing complexion. Don't forget to check out the rest of the blog for the latest beauty tips, reviews and expert guides.