Obagi Clenziderm
This three-step acne treatment has clinically proven benzoyl peroxide to help control mild-moderate acne for a clearer, healthier-looking complexion. The CLENZIderm M.D. System is a prescription-only treatment that includes 3 products which are for use in the morning and evening to help clear up your acne and prevent future breakouts.
Obagi CLENZIderm M.D. System (Prescription only) Online
Obagi CLENZIderm system is available through our online skin clinic in the UK. This three-step acne treatment has clinically proven benzoyl peroxide and salicylic acid to help control mild-moderate acne. It is a prescription-only treatment which can help you achieve a clearer and healthier-looking complexion. The Obagi CLENZIderm system includes three powerful products that you can use as part of a personalised protocol in the morning and evening to help clear up your acne and prevent future breakouts. Please note this system is only available after an online consultation with one of our doctors to ensure that this is the correct treatment for you. They will also create a personalised treatment protocol for you to follow and provide ongoing aftercare to help you get the most of your treatment! Better still, you can do this all from the comfort of your home through our online skin clinic!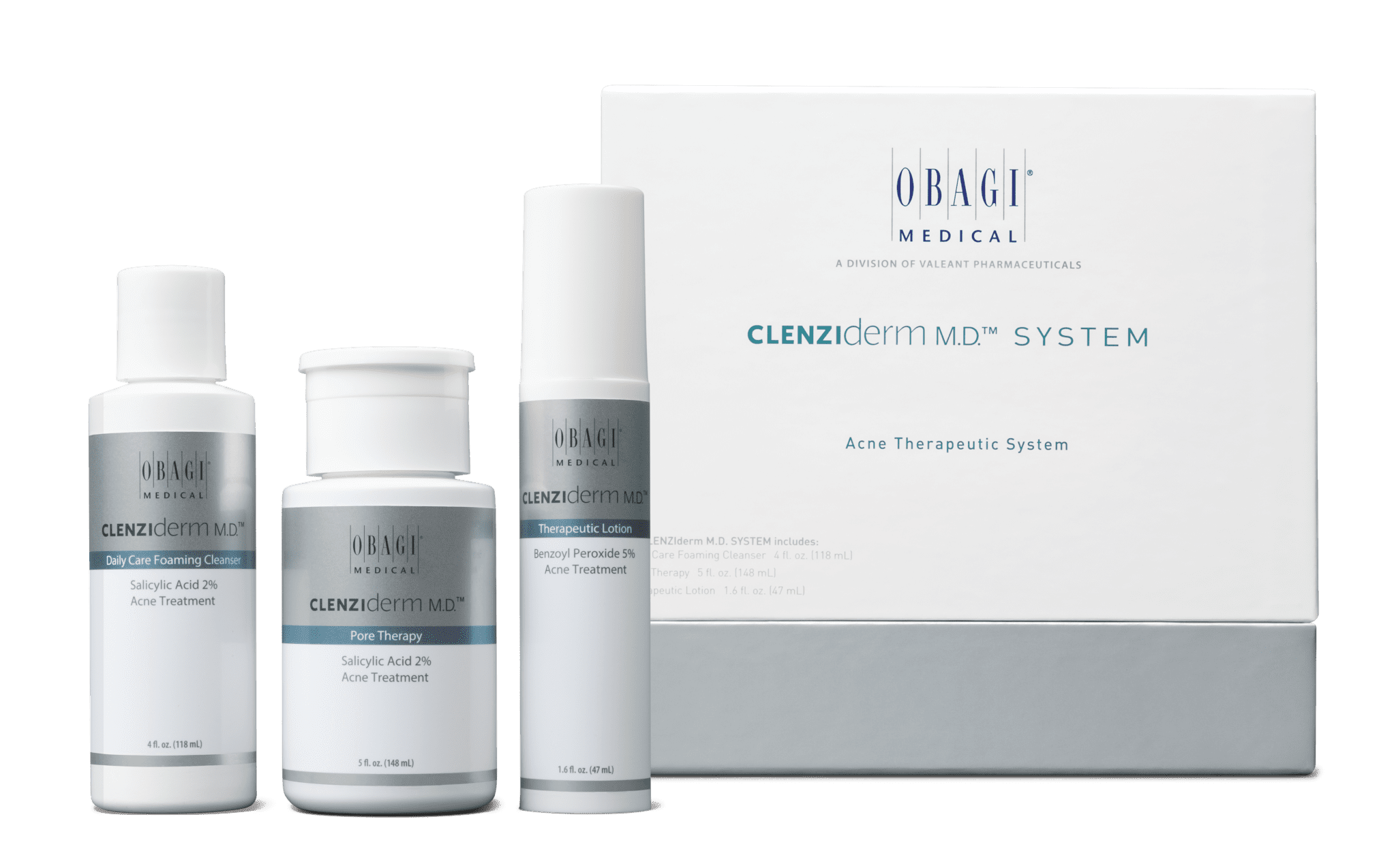 The Obagi CLENZIderm M.D. System works by targeting the P. acnes bacteria that causes acne. This complete acne treatment specifically formulated for normal to oily skin to help treat acne where it starts.
Obagi CLENZIderm MD Kit Contains:
Daily Care Foaming Cleanser
Pore Therapy
Therapeutic Lotion
CLENZIderm Foaming Cleanser
The light, foaming acne cleanser contains 2% salicylic acid and cooling menthol. It helps wash away impurities, leaving skin feeling clean and refreshed.
Pore Therapy
This is a refreshing treatment that also has 2% salicylic acid. Pore Therapy unclogs and refines pores and clears away dead skin cells.
Therapeutic Lotion
The Therapeutic Lotion is a lightweight lotion with 5% BPO (benzoyl peroxide). It is uniquely formulated to deliver medication deep within the pores.
Please note Obagi CLENZIderm system is prescription-only in the UK so you will need an online consultation with a doctor to get started.
SKIN TREATMENT FEES (UK ONLY)
CONSULTATION£30

Our expert doctor will design a bespoke Obagi Skincare program for you to follow. The cost of the consultation will be deducted from any skincare purchase.

TREATMENT WITH OBAGI CLENZIDERM M.D. SYSTEM (PRESCRIPTION ONLY)£145
Duration of effect
3-4 Months
Where Can I Get Obagi CLENZIderm System in the UK?
There are several ways to access the Obagi CLENZIderm system in the UK both online and in person. At City Skin Clinic, we offer a seamless approach via our digital platform. To access our services, simply fill out our online consultation form or schedule a virtual consultation. Our doctors will check what is the best treatment for your needs and design a bespoke treatment plan for you. Your products will be delivered directly to you. Your doctor will then provide support and advice throughout your journey.
Alternatively, you can get this treatment in a physical aesthetic clinic. After a consultation and assessment, they'll guide you on the best CLENZIderm protocol for you. You will then need to return to clinic to pick up your products or you may be able to ask them to deliver it to your home. You may also need to attend periodic in-person reviews as part of your follow up. Whilst there are many options to get treatment with CLENZIderm, please ensure that you do so from a reputable and accredited provider. This will ensure that you receive the correct guidance and avoid counterfeit products.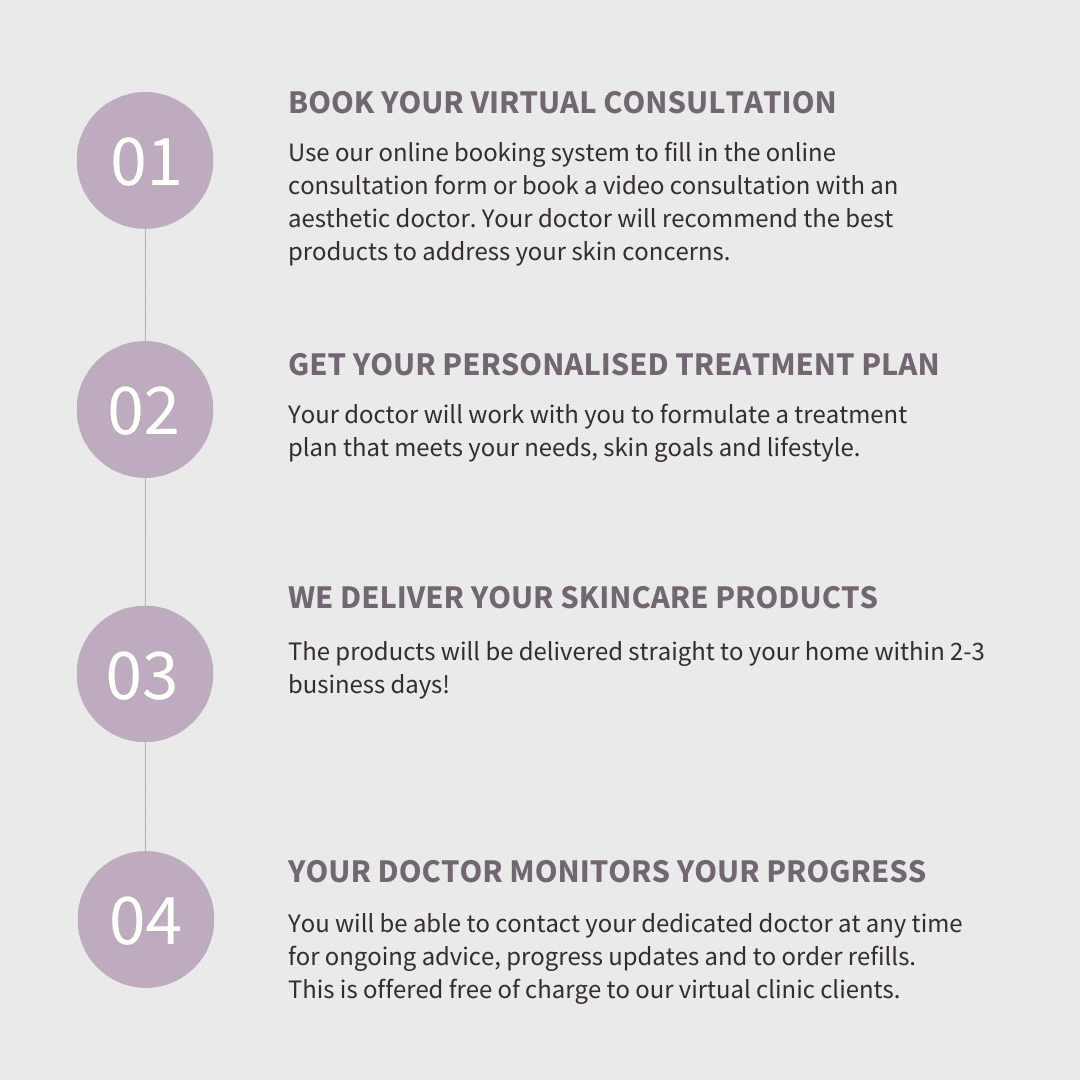 How Do You Use The System?
For optimal results, you will need to use the Obagi CLENZIderm system consistently and in a way that evolves with how your skin responds. This is why we recommend only using this system with a personalised protocol. The order and frequency of the individual products will depend on your skin concern and how severe or widespread the acne is.
We also recommend using a retinoid like retinol or Tretinoin for most of our patients as it can enhance and speed up the results. Retinoids can also target any hyperpigmentation and scars in addition to treating acne. They also help to maintain and build on your results once you have completed the treatment. The protocol will also depend on other things like whether you have sensitive or dry skin. Your doctor will take all of this in to account as well as whether to integrate any existing skincare products you are using into your skincare routine.
How Long Does it Take For This to work?
The CLENZIderm system is specially formulated to target acne-causing bacteria and reduce breakouts effectively. However, individual results can vary based on skin type, the severity of acne, and other individual factors. Generally, many users start to notice a visible improvement in their acne within the first few weeks of consistent use. For some, it might take a little longer. It's crucial to use the system as directed and maintain a consistent skincare routine. Your doctor will guide you on what to expect. They will also advise on the most effective use of the products and tailor the routine to your specific needs and how your skin responds.
Important Usage & Safety Guidelines
This Obagi CLENZIderm system contains salicylic acid or benzoyl peroxide which may not be suitable for everyone. Before incorporating actives like these into your skincare routine, please seek advice from a skincare professional or a dermatologist. They will guide you on the correct application method and frequency tailored to your skin type. This will help you minimise potential side effects like dryness, peeling or redness.
This treatment is for external application only. For best results and to avoid problems, use only as directed by your healthcare provider.
Always perform a patch test before starting any new treatment.
Store in a place that is not accessible to children.
Make sure you read individual product details for more detailed precautions.
Limit sun exposure when using this product and always wear sunscreen if you are outside.
Should you experience excessive dryness while undergoing treatment, consider using a hydrating rich moisturiser. This will ensure your skin remains moisturised and reduce irritation.