Obagi Hydroquinone Cream
Obagi Hydroquinone (Clear & Blender): Treat hyperpigmentation, melasma & sun damage.
Obagi Clear or Blender 4% Hydroquinone 57g (Prescription Only)
If you've been seeking a powerful solution to hyperpigmentation, melasma, and sun damage, look no further than Obagi Hydroquinone. As one of the most potent and effective skin-brightening ingredients available, hydroquinone has the ability to reduce dark spots and even out skin tone. Within the Obagi Nu Derm range, we offer treatment where appropriate with hydroquinone to UK patients in two formulations; Clear and Blender.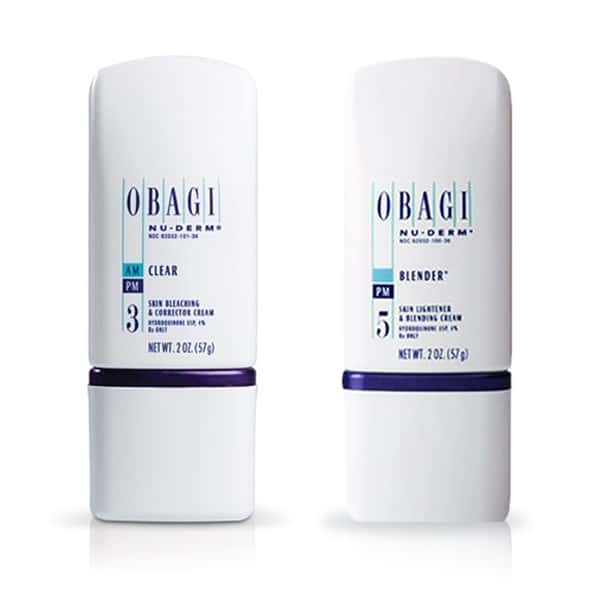 Obagi Clear: Your Daily Hydroquinone Dose
Obagi Clear is a skin brightening cream with 4% hydroquinone, designed for daily use. By inhibiting the production of melanin, the pigment responsible for dark spots, Obagi Clear helps to lighten dark spots and reduce hyperpigmentation. To use Obagi Clear, apply a thin layer to the affected area twice daily or as directed by your skincare professional. As with all hydroquinone products, it's essential to wear a broad-spectrum sunscreen during the day to protect your skin from further sun damage.
Obagi Blender: The Nightly Hydroquinone Solution
Obagi Blender, also containing 4% hydroquinone, is designed for use in the evening as part of your night-time skincare routine. Its unique formula not only light dark spots and evens out skintone but also enhances the benefits of retinoids, working synergistically to deliver optimal results. To use Obagi Blender, mix a prescribed amount with your Tretinoin or retinol and apply to your face in the evening or as directed by your skincare professional.
Obagi Hydroquinone: Clear vs. Blender
While both Obagi Clear and Blender contain the same concentration of hydroquinone, they serve different purposes in your skincare routine. Obagi Clear is designed for daily use to consistently inhibit melanin production, while Obagi Blender works with your other night-time skincare products to enhance overall results. They also work on different layers of hyperpigmentation. Your doctor will advise which of these products is best for you. For those with widespread hyperpigmentation, both products maybe needed.
Where to Get Obagi Hydroquinone in the UK
Obagi's hydroquinone products are prescription-only in the UK, and it's essential to use them under the supervision of a skincare professional. At City Skin Clinic, we offer virtual consultations through our Virtual Clinic, where one of our doctors can assess your skin and provide the most suitable Obagi Hydroquinone cream. They may also recommend other products such as Tretinoin cream that they think may be beneficial when combined to treat your hyperpigmentation. Following your virtual consultation, your doctor, will also create a bespoke skincare routine for you to help you get the best outcomes from your products. Once you've received your treatment, they will monitor your progress virtually.
SKINCARE TREATMENT FEES (UK BASED PATIENTS ONLY)
VIRTUAL CONSULTATION£30

Our expert doctor will design a bespoke Obagi Skincare program for you to follow. The cost of the consultation will be deducted from any skincare purchase.

TREATMENT WITH OBAGI CLEAR 57G (PRESCRIPTION ONLY)£115

TREATMENT WITH BLENDER 57G (PRESCRIPTION ONLY)£115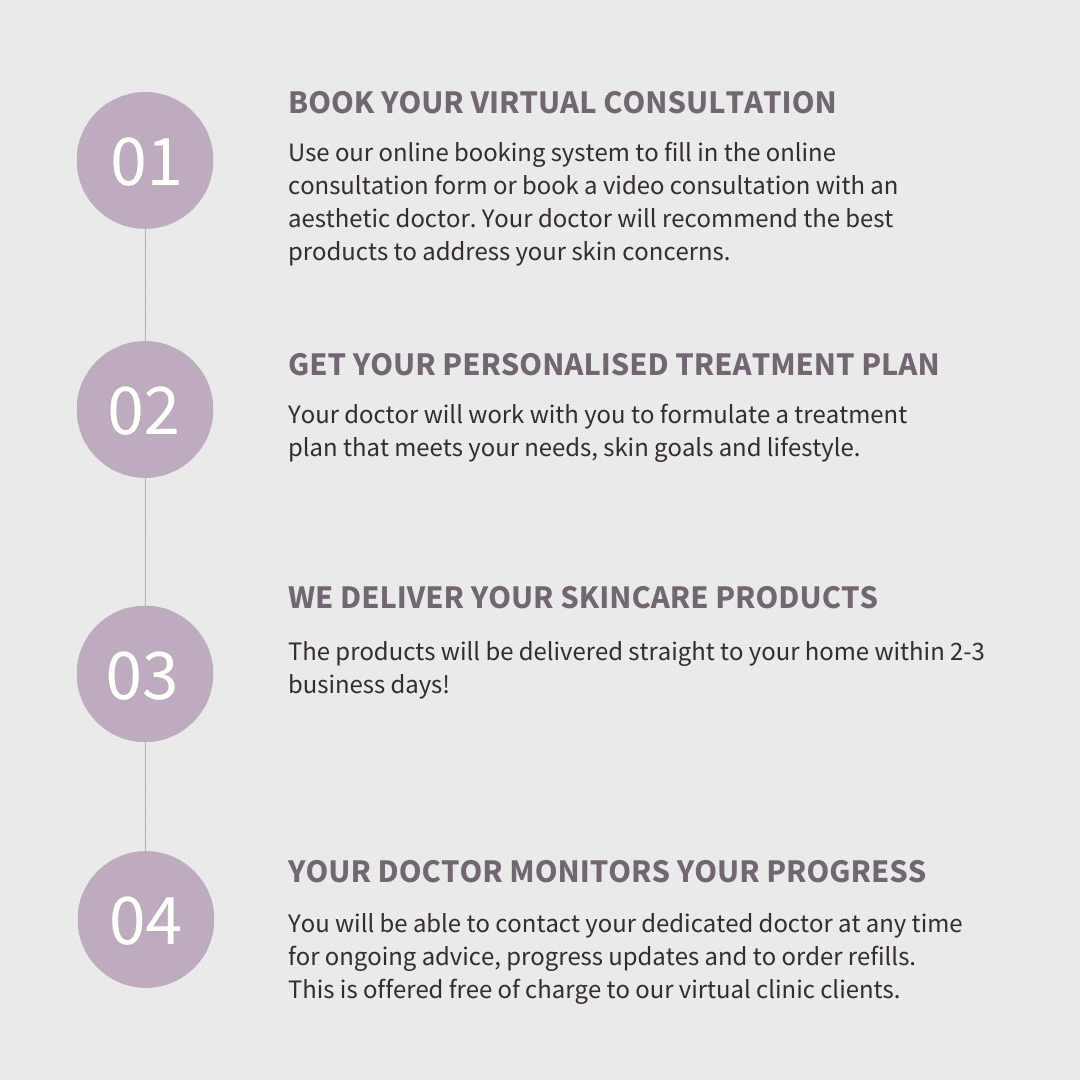 Important Information
Please note: Hydroquinone is a powerful and effective skin-lightening agent. That being said, it should only be used to treat hyperpigmentation, melasma and other causes of skin damage. It's also not suitable for everyone. That's why it's vital to discuss any potential risks and side effects with your skincare professional before starting treatment.
Hydroquinone is a potent skin-lightening agent. It reduces hyperpigmentation, melasma and sun damage. It does so by inhibiting the production of melanin. When there is excess melanin pigment, you get dark spots. Hence through this mechanism, Hydroquinone helps to lighten dark skin patches and even out skin tone.
Hydroquinone: Understanding its Efficacy and Use
Hydroquinone works by reducing the production and increasing the degradation of melanin pigments in the skin. This subsequently helps to lighten the dark patches of skin (hyperpigmentation, melasma, liver spots, age spots, freckles). These are commonly caused by pregnancy, birth control pills, hormone medicine, or injury to the skin.
Contraindications of Hydroquinone
Before starting Hydroquinone, it's key to be aware of any allergies to it or similar products. You must not use it if you have or develop an allergy to any of the ingredients. Moreover, its safety and efficacy are not known in patients younger than 12 years of age. It's also not recommended for use by pregnant or breastfeeding women. If you suffer from eczema, fish allergy, or have any sores, burns, or wounds, please inform your doctor.
How to Use Hydroquinone
Hydroquinone is a prescription treatment, and you must use it as directed by your doctor. After your consultation, your doctor will design a treatment plan just for you. This will include the products they think will help achieve your goals. The plan will also specify how often to use it and when you can increase the frequency and/or concentration.
There are some general cautions to observe when using this product. Firstly, do not apply this medicine to windburned or sunburned skin or on open wounds. Secondly, avoid using this medicine in or around the eyes or lips, and inside the mouth or nose.
Wash your skin with a cleanser and warm water, then gently pat dry. Ensure your skin is completely dry before applying Clear or Blender cream. Typically, a pea-sized amount is sufficient to cover your face. As it can cause skin dryness, we normally recommend following up with a moisturiser. Additionally, we advise all patients to wear sun protection during the day.
Side Effects of Hydroquinone
People with sensitive skin might become excessively red, swollen, blistered, or crusted. If any of these occur, there are a few options. We would either stop the treatment or adjust it to a level or frequency that you can tolerate.
Rarely it can cause ochronosis – a blue-black or gray-blue discoloration. This is rare and more commonly seen in patients that use a high concentration of hydroquinone. Usually this use is for a long period on large areas of the body.
For more information about Hydroquinone in the UK and side-effects please read our in-depth Hydroquinone guide.
Frequently asked questions
Yes, of course. However, we do recommend using Tretinoin or an over the counter Retinol to get the best results for hyperpigmentation. Although we also offer other skincare solutions such as Hydroquinone and Nu Derm as options for people who have very severe skin ageing or hyperpigmentation. These are only suggested as add-ons if the doctor feels they are indicated and of course, the client is interested in them.
This depends on how frequently you use it and how much you use. In general one tube of Obagi Hydroquinone clear used twice a day lasts 4-8 weeks.
We generally advise not using Hydroquinone consistently for more than 6 months to avoid side-effects.
This is a prescription only medicine and hence can only be offered after a consultation with a doctor. This ensures that the treatment is safe for you to use and will also ensure that it meets your treatment goals. Your doctor will also be able to answer any questions you have and provide you with a personalised treatment plan so you get the most out of your treatment and avoid irritation or side-effects.
Yes, if you are a new client to our clinic.
You will have direct access to your doctor by email so you can ask questions, get advice and let them know if you have any problems.
No, you just need to reach out to your doctor by email and they will arrange your follow up. This maybe by email or a virtual video follow up depending on the problem.
Absolutely not. We never charge for any follow up or aftercare. You can contact your doctor at any time for advice, updates and any issues.
No, you can just email your doctor and they will assist you.
No it is not. We are really passionate about putting you in control of your treatment. Everyone goes through their treatment and products at different rates so we don't think subscriptions make sense for a personalised journey. That's why we leave it up to you to let us know when you need a refill and we make it very easy to order these.
Yes. We provide two ways to access our doctors. You can either fill in an online consultation form or book an online video appointment. Please feel free to choose the option that is most convenient for you. Regardless of which consultation type you choose, you will have a single dedicated doctor throughout your treatment journey. They will create a personalised treatment protocol for your and provide ongoing aftercare and advice.
Unfortunately we can only offer our services to customers based in the UK.
Your product(s) will be delivered straight to your home. It usually takes 2-3 business days for products to arrive.
Nope! All our prices are as listed on the website. The fees also include delivery.