At City Skin Clinic we are dedicated to providing personalised solutions to London's diverse population. We have a passion to help our patients achieve healthy and natural looking beauty. As such, we offer bespoke and evidence-based aesthetics treatments. Naturally, we only provide premium skincare and aesthetic products.
We use an exclusive range of aesthetic products used for treating various skin concerns such as wrinkles, tear troughs and marionette lines. In addition, all our aesthetic products are from established brands such as Botox®, Teosyal®, Belotero®, Radiesse® and Juvederm®.
Ready to achieve your beauty goals? Browse below to find out more about our clinically proven aesthetic products. Specifically hand-picked for your satisfaction and safety.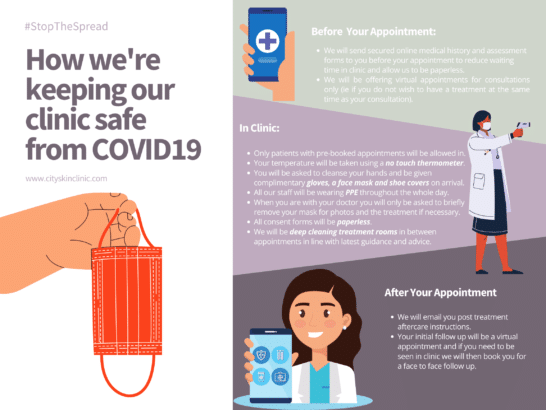 GloTherapeutics Chemical Peels
We use GloTherapeutics system peels. They are specially formulated by dermatologists to renew skin, smooth wrinkles and target spots, oily skin or pigmentation. Furthermore, these versatile peels allow us to combine more than one peel type. Thus we can target all of our clients concerns as part of a bespoke chemical peel treatment.
Collagen Induction Therapy
We use titanium 1.5-2.5mm derma roller devices to perform microneedling and skin rejuvenation solutions. As a result, we can deliver targeted nutrients and vitamins to the treated areas. Hence we can stimulate collagen induction. Similarly, we can use collagen induction to enhance vascularisation and revitalise skin.
Botulinum toxin is used to treat wrinkles caused by normal facial movement. Hence, when it is injected into a specific muscle in the face it blocks the signal from the nerve to the muscle. As a result, this stops the muscle from moving. Thus resulting in less wrinkling of the skin in the areas treated. Moreover, at City Skin Clinic, we use Botox® as it is the brand of botulinum toxin that has been around for longest and has been extensively studied. We use Botox injections for:
For more detailed information on botulinum toxin aesthetic products including visit our Botox injections guide. Also, don't forget to read our insider's guide to Botox treatments.
Juvederm® Ultra
Juvederm® Ultra is a popular hyaluronic acid filler manufactured by Allergan. It smoothes away facial wrinkles and folds. In addition, it restores volume to the skin or to plump up, redefine and enhance lips. The effects are temporary as Juvederm filler breaks down in the skin over time. Juvederm contains a built-in anaesthetic. Hence it makes treatment a comfortable experience. We mostly use Juvederm Ultra or Juvederm Vycross. The latter comprises Voluma, Volbella, Volift and Volux fillers. We use these fillers for lip enhancement, filling wrinkles as well as chin, nose and cheek reshaping.
Teosyal® Puresense
Similarly, Teosyal® is another popular range of hyaluronic acid fillers. The Swiss company Teoxane laboratories manufactures them. They also contain local anaesthetic to numb the area. Hence they are excellent for use in areas like the mouth, lips, cheeks, chin and wrinkles. We use Teosyal Redensity II for all of our tear trough corrections and Teosyal RHA for our smoker's lines treatment.
Teosyal® RHA (Resilient Hyaluronic Acid)
Teosyal® RHA hyaluronic acid filler stretches with every move of the skin. Thus, it preserves the vitality and softness of your face. As such, Teosyal® RHA is best for the most mobile areas of your face. In fact, it is popular for treating lips, nasolabial folds, and crow's feet. Indeed, Teosyal RHA 2 is our first choice for perioral rejuvenation for smoker's lines.
Juvederm® Vycross
Juvederm Voluma, Volbella and Volift are hyaluronic acid dermal fillers with advanced cross-linking technology. Due to this, they last longer than other fillers. Volift and Voluma are great for areas that require more volume and lift. Hence, we prefer them for the cheeks, chin, nose and in older clients wanting a liquid facelift. On the other hand, Volbella is a softer filler. Hence, it is excellent for lip shaping, plumping and definition. On the whole, Vycross filler results can last up to 18 months.
RADIESSE®
Radiesse is a dermal filler manufactured by Merz North America. It contains Calcium Hydroxylapatite crystals suspended in an aqueous gel carrier. This filler adds volume under the skin and lasts for up to a year or more. We use RADIESSE® to treat volume loss in the back of the hands.
Teosyal® Puresense Redensity II
We only use Teosyal® Redensity II for tear trough correction. This filler was specifically formulated for correction of under-eye circles. Currently, it is the only dermal filler approved in the UK and USA for use in the undereye area.