Obagi-C System
Obagi-C system can help you achieve softer, smoother, radiant, and more even-looking skin. The Obagi-C Rx System (Prescription only) contains 4% hydroquinone which works to reduce hyperpigmentation and a number of key ingredients that help address the signs of skin aging.
Obagi-C Rx/Fx System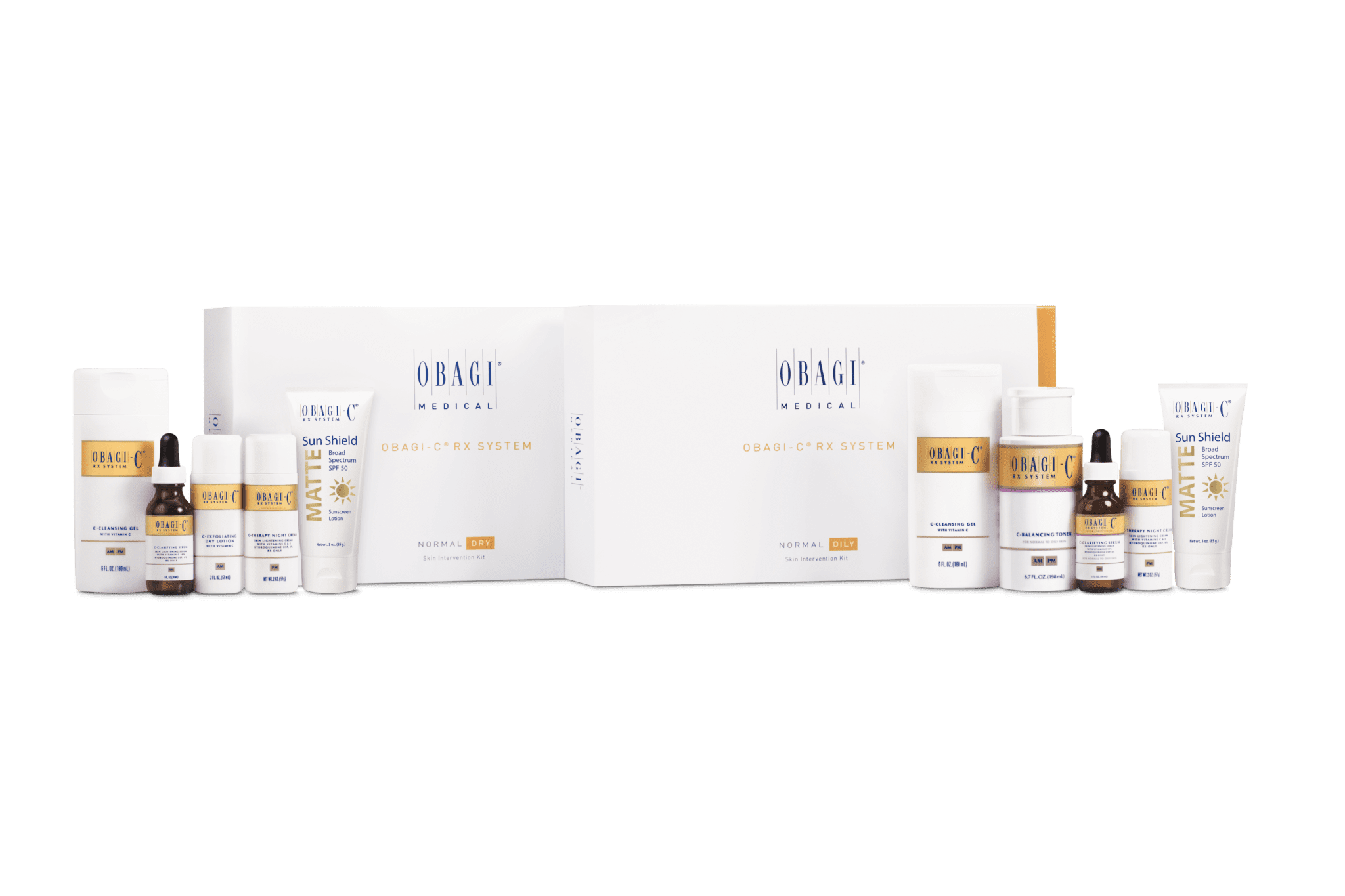 This is a complete skincare program. It comes in two forms, a prescription only version and an over the counter kit. The Obagi-C Rx system (POM) contains 4% hydroquinone and is available by prescription only. On the other hand the Obagi-C Fx system contains arbutin as the pigment suppressing agent and is available without a prescription. Both versions of the kit reduce hyperpigmentation such as dark or age spots and melasma. They also contain other essential ingredients to help address the signs of skin aging caused by photoaging.
The Kit Includes:
C-Cleansing Gel
C-Exfoliating Day Lotion (normal to dry skin kit) or C-Balancing Toner (normal to oily skin kit)
C-Clarifying Serum
Sun Shield Matte Broad Spectrum SPF 50
C-Therapy Night Cream
Discover the transformative power of the Obagi-C System. This comprehensive skincare system harnesses the antioxidant potential of Vitamin C alongside pigment suppressors. It brightens, protects and rejuvenates skin. This helps to give a complexion that radiates with youthful vitality. You will need a consultation with one of our doctors to assess you and ensure this is the correct system for you.
The Obagi-C System is an early intervention for signs of skin damage
Obagi-C system can help you achieve softer, smoother, radiant and younger looking skin. It is a especially designed to target mild-to-moderate skin ageing, hyperpigmentation and melasma. The Obagi-C Rx/Fx System is ideal if you have:
Mild-moderate hyperpigmentation, sun damage and age spots
Uneven skin tone
Rough skin
Fine lines and wrinkles
Why Choose the Obagi-C System?
Potent Vitamin C Formula: Enjoy the antioxidant benefits of Vitamin C in particular it's anti-ageing and brightening capabilities. The 10% L-ascorbic acid in the kit helps defend against free radicals. It can also help protect your skin from environmental stressors that speed up ageing with potent antioxidants.
Clinically Supported Ingredients: Powerful pigment suppressors in form of 4% hydroquinone in the Obagi-C Rx system and Arbutin in the Obagi-C Fx system. These improve hyperpigmentation and provide a more even-toned complexion.
Complete Skincare Routine: From cleansers to serums, this system takes care of every step of your skincare routine. The kit is easy to use and your doctor will personalise your protocol to ensure you get maximum benefits.
Clinically Proven Results: Trusted by dermatologists and skincare specialists worldwide, the Obagi-C System delivers impressive results. It helps reduce the appearance of dark spots and uneven skin tone. Obagi-C also combats the visible signs of ageing and sun damage.
What's the Difference Between the Obagi-C Rx (POM) and Obagi-C Fx Systems?
The Obagi-C Rx (POM) System contains 4% hydroquinone which works to reduce hyperpigmentation and a number of key ingredients that help address the signs of skin aging. The Obagi-C Fx system contains the complete skincare system but uses arbutin instead of hydroquinone. Since the Fx system is free from hydroquinone, it can be purchased without a prescription.
Both systems are effective but the Obagi-C Fx system is gentler and results are seen more slowly. The Fx products contain Arbutin, which is a gentler formulation, so it will generally take about 24 weeks to see visible results. Patients who use the Obagi-C Rx prescription system typically start to see progress in as little as 6-8 weeks. However, this system is linked with a higher risk of irritation, redness and dryness.
In general Obagi-C Rx (POM) is best suited for people with more severe or stubborn hyperpigmentation or those with darker skin tones. Obagi-C Fx is ideal for people with milder skin discolouration or those with sensitive skin. Your doctor can advise you on which system would suit your needs best during your consultation. Please note you must have a consultation with one of our doctors who will discuss which treatment be best for you and put together a personalised treatment protocol. 
CONSULTATION£30

Our expert doctor will design a bespoke Obagi Skincare program for you to follow. The cost of the consultation will be deducted from any skincare purchase.

TREATMENT WITH OBAGI-C RX/FX SYSTEM (PRESCRIPTION ONLY)£370

Your doctor will help you decide which of these systems is best for you.
Duration of effect
3-4 Months
Where Can I Get Obagi-C System in the UK?
There are a few ways you can get Obagi-C System in the UK depending on what type of treatment you need and your preferences. At City Skin Clinic, we've made this super easy. Through our online clinic, you can get Obagi-C Rx or Fx system in the UK from the comfort of your home. All you need to do is complete our online consultation form or book a virtual consultation. Your dedicated doctor will then create a personalised treatment protocol for your skin concerns and goals. They will help you choose which system is best for you. Your treatments will then be delivered to your home. The doctor will then monitor your progress and give you advice throughout your entire journey.
You can also get this treatment through a bricks and mortar aesthetic skin clinic. After a review with a medical practitioner, they can advise whether you should use the Fx or Rx system and order it for you. You would then need to attend follow ups in clinic for them to monitor your treatment. It is possible to directly buy the Obagi-C Fx system as it is not a prescription product. You can do this through a number of medical spas as well as online retailers. However, you should check that they are authorised to sell genuine Obagi products. This is because there are many counterfeit products on the market.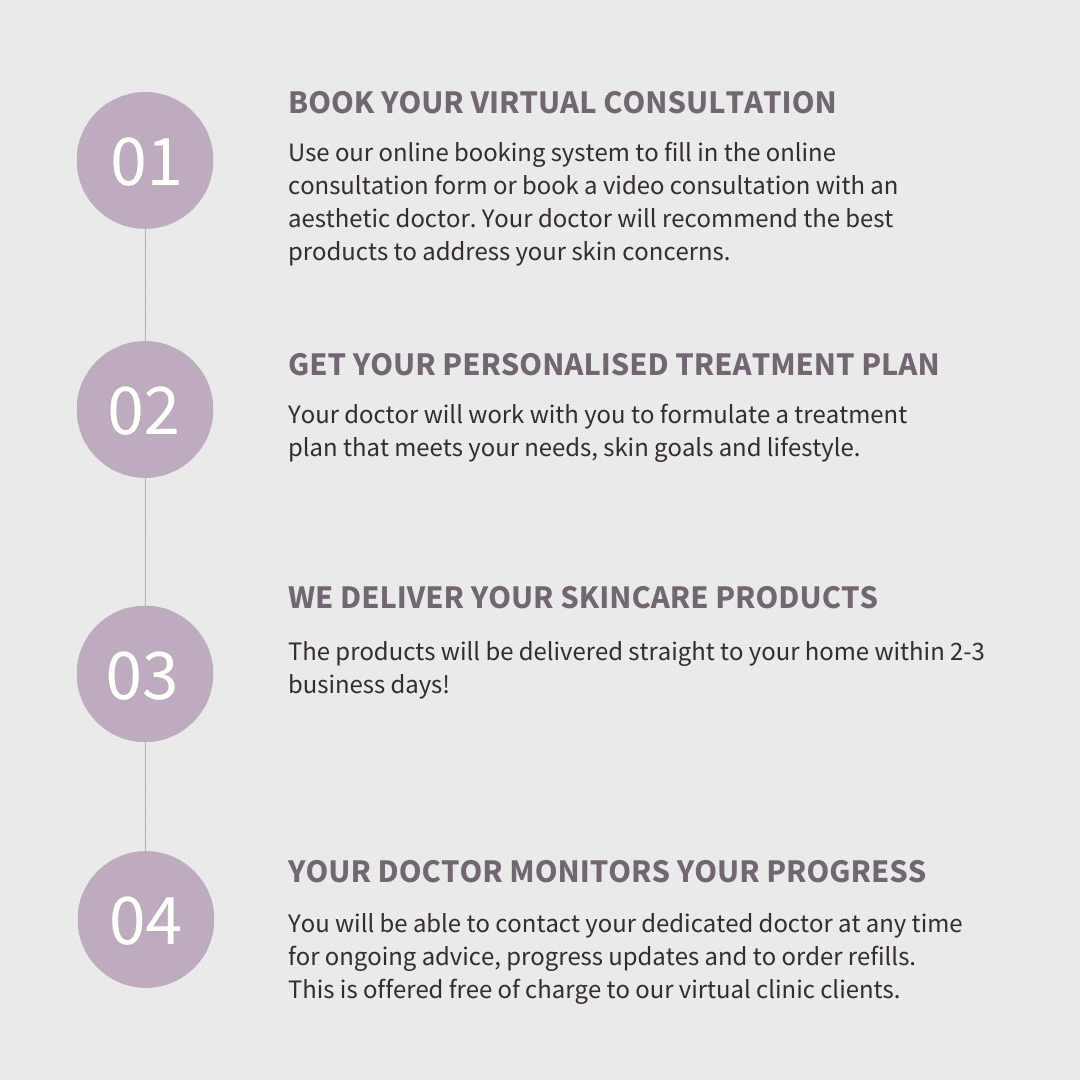 How Should You Use the System?
To get the most benefit from the Obagi-C System, we recommend a personalised approach. By tailoring your treatment protocol to your skin type, concerns and goals, you can reduce the risk of side effects and ensure you get good results. Whilst this is a complete skincare routine, we often recommend adding a retinoid such as Retinol or Tretinoin to significantly enhance the results. Retinoids speed up skin cell renewal and boost collagen production. When used with the Obagi-C System, they can help fade hyperpigmentation and reduce visible signs of ageing like skin laxity and fine lines. As a result, you can amplify the anti-ageing, smoothing and skin brightening effects of your treatment. Additionally, retinoids can also help build on and maintain the results you get after completing your Obagi-C system kit.
Frequently asked questions
This depends on the severity of your skin concern. Most people will need to use the Obagi-C system for 12-18 weeks. We do not recommend using Obagi-C Rx (POM) for more than 24 weeks at a time but you can use the Fx system for longer.
If used correctly, the products can last for the whole treatment period if treating mild to moderate concerns on the face and neck. If you need a more aggressive protocol or also want to treat the chest area, then you may need to re-purchase the serum and/or night therapy lotion after 8-12 weeks but this is rare.
This varies from person to person. However, many users start to notice visible improvements in as little as 6-8 weeks especially if used with a retinoid like Tretinoin. However you will need to use it for longer to build up and maintain the results. Optimal results are usually seen after 12 to 18 weeks of consistent use.
The system is designed for individuals looking to address signs of ageing, sun damage and uneven skin tone. It can work safely and effectively across all skin types and colours.
Some users might experience skin reddening, irritation, or a mild burning sensation. It's also essential to avoid sun exposure without adequate protection as the skin may become more sun-sensitive. If you have concerns about side effects, speak with your doctor.
Yes it is possible to use this system if you have sensitive skin but your doctor will design your protocol to reduce the risk of irritation.
Although the Obagi-C System is safe to use, we do not recommend using the Rx hydroquinone containing products for more than 24 weeks continuously. However, you can take a break of 2-3 months and restart it if you need to build on your results. The Obagi-C Fx is safe to use in the long term. Despite this, we don't think you need to use the whole system after you get your results. Our doctors will help design a protocol for you to use following your treatment. This can include over the counter products that you have used in the past or items from the Obagi range if you prefer.
At the beginning we don't recommend adding anything other than retinol or tretinoin alongside this system. Mainly because you won't need anything else but also to avoid irritating your skin. However, as you move along your treatment journey your doctor can update your protocol to include any skincare treatments like hydrating serums, masks or LED devices that you normally use.
You will need to book a virtual video consultation or use our online consultation form. Your doctor will then check if this treatment is suitable for you and create a personalised protocol for you.
I'm afraid we can only offer our treatments after a consultation with a doctor. This ensures that the treatment is safe for you to use and that it meets your treatment goals. Your doctor will also be able to answer any questions you have and provide you with a personalised treatment plan so you get the most out of your treatment and avoid irritation or side-effects.
Yes. We offer either online consultation forms or video appointments. Whatever option you choose, you will have the same doctor dedicated to you throughout your treatment.
Yes, you will need a consultation if you are a new client to our online skin clinic.
You will have direct access to your doctor by email at all times. You can ask questions, get advice and let them know if you have any problems.
No, you just need to reach out to your doctor by email and they will help you. This maybe by email or a virtual video follow up depending on the problem.
No! We never charge for any follow up or aftercare. You can contact your doctor at any time for advice, updates and questions.
No, you can just email your doctor and they will assist you. You will be able to purchase individual items if they run out of them.
Unfortunately we can only offer our services to people who are 18 years old and over who are based in the UK.
Once you've settled your treatment invoice, your product(s) will be delivered straight to your home. It usually takes 2-3 business days for products to arrive.
Nope! All our treatment fees are as listed on the website. This also includes delivery.
Key Safety Information for Obagi-C Rx C-Clarifying Serum and C-Therapy Night Cream (containing 4% hydroquinone)
Main Active Ingredient: 4% hydroquinone.
Do Not Use If:
You have had previous allergic reactions or sensitivity to this product or any component of its formulation.
You are pregnant, breast feeding or planning to be.
This system is also not suitable for children under 12 years. At City Skin clinic we only treat people who are aged 18 or over.
Important Notes:
Avoid getting the product in the eyes, nose, mouth or on the lips. If it happens, rinse the affected area immediately with water and consult with your doctor.
Using sunscreen is crucial during hydroquinone treatment, as even a little sun exposure can activate melanocytes and cause rebound hyperpigmentation.
This product contains sodium metabisulfite, a chemical that can cause certain allergic reactions. This may include potentially life-threatening symptoms or milder asthmatic reactions. While sulfite sensitivity is more common in asthmatics, its prevalence in the general population remains unknown. Patch test before first use to check for allergies and seek medical help straight away if any occur.
Potential Risks & Side-Effects:
The Obagi-C Rx system, boasts hydroquinone as a primary ingredient in the serum and night therapy lotion. Whilst it is safe and widely well tolerated, you should be alert to potential side effects. Some people might experience skin reddening, irritation, or a mild burning sensation which can be managed by altering your treatment protocol. There is also a risk of allergy which is higher in those with asthma or sulfite sensitivity. Paradoxically, while hydroquinone is used to lighten skin, its misuse can sometimes lead to hyperpigmentation. Sun exposure without adequate protection can worsen this. A rare side effect of hydroquinone over or misuse is ochronosis, where the skin develops a bluish-grey tinge. To reduce the risk of side effects, always follow your personalised treatment plan and let your doctor know if you experience any problems.