It can be rather difficult finding balance across all spheres of our often-hectic lives. Juggling a busy work schedule, quality family time, being sociable with friends and keeping a consistent fitness routine can feel almost impossible. I will be the first to admit that amongst the chaos of studying for an MA, creating content, working multiple part time jobs, and letting off steam in the gym…all I want to do is refuel and slip into my fluffiest pyjamas. Here's an easy guide to getting healthy skin whilst staying active!
This is when maintaining a consistent skincare regime can feel demanding – finding the time, energy, and simply just remembering is difficult. It's easy to get lazy and skip a few of the more important steps which are crucial to keeping our skin feeling fresh, healthy and blemish free. Leading an active lifestyle has tremendous benefits on our skin health and complexion, however, dependent on skin type, training hard for many of us comes at a cost. Exercise exposes our bodies in general to excess bacteria and pollution. In combination with sweating, all of these can clog the pores, cause irritation, produce extra oil and lead to acne breakouts. If you experience this then I can totally relate! Do not fret, this doesn't have to be the case! There may not be one magic treatment to eradicate the risks of the dreaded breakout completely, but implementing a combination of preventative measures to your routine can keep your skin glowing.
Preparation Is The key…
We all lead differing lifestyles and incorporate exercise into our routine in various ways. Whether you save on time by cycling through the city to work, run in the park at weekends, or you may be a regular on the gym floor. Whatever your movement of choice, planning and preparation is key! Your pre and post workout skincare regime is the most important thing when striving to keep a clear complexion. Amongst the hustle and bustle when we are travelling to and from the office, gym or wherever you are headed, we may not have a full range of beauty products on hand. I for sure refuse to carry them all with my books and laptop (I would rather not topple over while riding my bike). I suggest being ready well in advance for those moments when you have to quick dash from one place to another. Carry with you a bag of lightweight miniatures to hold all your skin care essentials – makeup remover, facial cleanser, toner and a light, oil-free moisturizer. Have to hand a few cotton pads (in a plastic sandwhih bag to keep them clean) and if you can manage a fresh, clean face towel! These can be easily fitted into any regular handbag or gym bag and will be so handy you won't know how you coped before without them!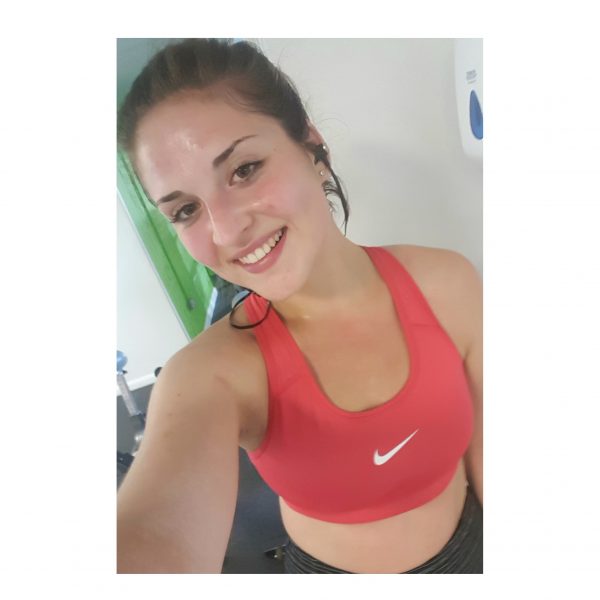 Dare To Go Au Naturel…
Sweating is a healthy process, and it's actually really amazing for your skin so EMBRACE IT!  It dilates your pores allowing them to secrete dirt and oil, increases your circulation, and helps to regulate hormones. Despite popular behaviour, it will help your skin immensely to show up fresh faced to a workout so embrace your natural beauty! If you really want to wear makeup, keep it light – maybe a touch of water-proof mascara, brow gel and if you must minimal concealer (or better still tinted moisturiser) for any spots you feel like covering. Wearing any products in excess on your skin (especially the oily kind) can cause congestion which will increase the likelihood of inflammation leading to clogged pores…which I hate to say causes breakouts.
Hands Off & Cleanse!
We all know too well that gyms are a breeding ground for bacteria. You cannot guarantee that all of the equipment – barbells and treadmills alike – are cleaned regularly. Additionally, if you are exercising outdoors your skin is exposed to the elements! Our top tip to avoid spreading bacteria to your skin is to make sure to wash your hands straight after a session. No touching and wiping away sweat – that is a giant no no! Timing is also crucial, wash your face with a gentle cleanser asap to remove any build-up of dirt. If you have time, then follow this up with your usual skincare routine. Otherwise if you're pressed, use a salicylic acid-based toner to resurface and remove dead cells and a lightweight mosituriser will do the trick.
Re- Hydrate & Re-Fuel…
Our skin, and overall physical health is a by-product of what we consume – in other words the age old 'you are what you eat'. The power of a healthy balanced diet and staying hydrated is too often underestimated when it comes to achieving a radiant complexion. Especially when we exercise, we lose a lot of fluids. The first step is rehydrating!
We must drink at least the recommended 6-8 glasses a day to replenish. The takeaway = always carry a water bottle on your journey. My second piece of advice is to have a healthy snack on hand when you know you will be exercising. Ever had that shaky, exhausted feeling post-workout? Boy is it easy to dive straight into whatever food is in front of you. So be prepared with something wholesome that you know will replenish your energy stores. Not only will your body thank you, so will your skin.
Don't Forget The Rest Of You!
The hotter months are coming up so it is great motivation to workout and get ready for the fun of summer. Whilst the above steps will help you protec the skin on your face, you want to take a whole person approach to your skin. It's easy to forget that we sweat all over our bodies and that our skin generally needs looking after in all areas. A common niggle for many of us busy, active women are breakouts, blemishes and ingrown hairs maybe on the back, legs etc… Make sure to exfoliate post workout, or at least twice a week to keep your skin stay soft, silky and glowing! I personally have started incorporating this into my weekly skincare regime for my face and body using a scrub and have really noticed a difference. Taking a few minutes a week to exfoliate, will revitalise your skin by removing any build up of dead cells and will leave you to worry about more important things for the rest of your week. Finish off exfoliation on the face and body with a nourishing moisturiser and SPF if you're going out during the day!
Well that's all for now. Hopefully these quick tips will save you some time, or simply give you a much needed reminder to stay on top of your skincare routine! Over the next few weeks I will be exploring many more topics of this nature. As nutrition is so important to our skin health, I was thinking of giving you my favourite post-workout snacks of choice, so stay tuned… I will also and sharing with you my very own skin care journey…including my not so glamorous experience with hormonal acne.
Abi xoxo