It has literally taken me years to understand makeup brushes. I've always liked the idea of them but never really understood why or how to use them. Worse still, as I became busier with my career and life, they seemed like a frivolous and unnecessary indulgence. Why the change of heart? I had a few good consultations at the Bobbi Brown cosmetics counter and watched the difference using the correct brush made to the appearance of makeup products I had been buying for years. I especially liked the sparing use of brushes (I was previously put off by the idea of using a dozen brushes to apply my routine). After that, I must admit I felt pretty inspired and the scientist within me decided to carry a thorough review of makeup brushes on the most popular beauty blogs, Instagram posts and youtube channels. I've managed to whittle them down to the 12 brushes you will ever need to apply your makeup flawlessly. So check out my research below!
Basic points to consider before buying makeup brushes
The most important thing to decide is whether to go for a natural hairbrush versus a synthetic makeup brush. I have a mixture of both and personally, I recommend using a synthetic brush. This is because synthetic makeup brushes are actually as soft (or even softer than natural hair brushes) and don't pose as high a risk of allergic reaction or irritation. makeup brushes also come in a variety of lengths, thicknesses and materials for the handles. Again, I prefer longer wooden handles as I like the feel and grip. This is very much a personal preference so before buying any brushes, I recommend going to a makeup counter in a department store or even better visiting a specialist makeup shop like Sephora. These places will have makeup artists and assistants who can show you the different brushes and you can test them for feel. Even better, they can also give you a demo on how to use them!
The next step is to decide why you need the brush and how many makeup brushes you need. I personally think that you should make a note of what you would like to do makeup wise. Based on my lifestyle (super busy but wanted to quickly and easily look great and change between daytime to evening looks), I've whittled the list down to the 12 makeup brushes that you'll ever need.
The Only 12 Makeup Brushes You Need To Know About
Eye Makeup Brushes
1) Angled Eyeshadow Brush

The angled eyeshadow brush is a great little dual purpose brush. You can use it to easily and accurately apply gel eyeliner to get a beautiful line or even cat eye if you fancy. It can also work with eyeshadow (cream shadow or if you dip the brush in water and then load powder shadow) to augment the eyeliner or use shadow instead of eyeliner.
2) Eyeshadow Blending Brush

Ever wondered how to seamlessly merge two different eyeshadow colours? The eyeshadow blending brush is perfect for softening the appearance of eyeshadow. It gently blends eyeshadows so you can get a wash of colours on and around your eyelids.
3) Domed Eyeshadow Brush

Ok, I get what you're thinking. No this is not an excessive number of brushes for applying eye makeup. You will see in my tutorials how having the right tools actually speeds up and enhances makeup application. The domed eyeshadow brush allows you to more accurately add eyeshadow. This is important when you want to This type of brush will allow you to get more specific with your eyeshadow placement. I love using this brush for applying a darker eyeshadow colour around the top and bottom lids next to the eyeliner. It is also fabulous for colouring in the inner corner of the eye (FYI a highlighter during the day and a shimmery colour at night will widen and make your eyes pop).
4) Eye Smudge brush

If you want to create that sexy smokey eye look then you will need this little brush in your armoury. Apply eyeliner to the tip of the lashes and use this brush to buff and smudge the product.
Eyebrow Makeup Brushes
5) Eyebrow spoolie

Bold brows are in. How big you want to go is a matter of taste but a well groomed and strong brow will frame your face. The eyebrow spoolie is great for brushing upwards your eyebrows in order to soften the appearance of the brow and give them a natural appearance.
6) Browline brush

If your brows are sparse or you want to better define/sculpt them then the brow line brush. The tips of this brush can be used to deposit small amounts of eyebrow gel or powder then fine brush strokes can be used to distribute the product. Use this brush to also add concealer and highlighter to the brow area for greater definition and luminosity.
Concealer, Foundation, Blusher and Highlighter Makeup Brushes
7) Concealer Brush

Concealer brushes are essential for blending concealer onto your face and with your foundation. The size and shape of this brush also enable you to get into all the small contours of the face especially around the nostrils and eye area.
8) Stippling Foundation brush (aka Duo Fiber Face Brush)

I really could go on all day about this makeup brush. It is fabulous for applying foundation to your face and giving it an even and buffed appearance. By the time you're finished and with very little product it will give a beautiful flawless quality to the skin.
9) Highlight Brush

The tapered end of this brush is perfect for applying highlighter to the forehead, nose, cheeks and chin. It also great for applying highlighter to the inner corners of the eye to widen the appearance of the eyes.
10) Angled (aka contour) Blush Brush

This brush is perfect for sweeping product along the contours of your face. I like to use it for blush on the cheekbones and on the hollows of the face when applying powder contour. It's also good for applying bronzer.
11) Powder Brush

Go for the softest, biggest and fluffiest brush you can find. This is definitely my favourite bit of makeup application. Firstly because its the last stage but also because it actually feels fabulous in an OTT ridiculous kind of way. I especially love this step when I've got a meeting at the beginning of the day when I need to be super fierce and slay! I like to use it to apply setting powder and it also works great for bronzer. Swirl it in the powder and brush onto the forehead, nose, cheeks and chin.
12) Beauty Blender (aka Sponge)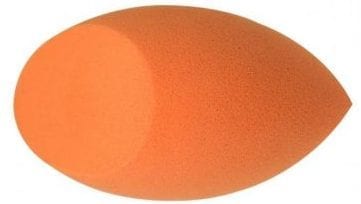 Whilst not a brush per se, I would be doing you and myself a disservice by not mentioning the beauty blender. Although I can't say I'm evangelical about them, I do find that these little sponges are great for buffing highlighter or helping blend concealer/highlighter/contour into your foundation. I like to use it before the face powder in order to ensure that my makeup looks natural and seamlessly integrates with each other. Some people use the beauty blender to apply foundation, contour, highlighter, concealer and powder blush. I have tried it and honestly, I think its best for finishing off your look rather than as a substitute for specialist brushes. Although of course that's just based on my experience and someone much more technically gifted can easily crush this argument 🙂 They are not expensive so I recommend giving it a go and seeing how you get on.