In keeping with our mission to integrate health, evidence-based aesthetics and individualized beauty we are introducing a new regular column on beauty trends. This is cheekily called "The Insider's Guide To...". To kick start this we have chosen eyebrow Microblading. This is rapidly becoming popular and has even been endorsed by celebrities like Lena Dunham. We've also noticed a huge interest in microblading from our own patients as well as the public in general. Hence, we thought we'd put together an overview on this increasingly popular beauty trend. As we're all about safety, we've also added important things to consider before going ahead. So here is our 10-point guide to microblading: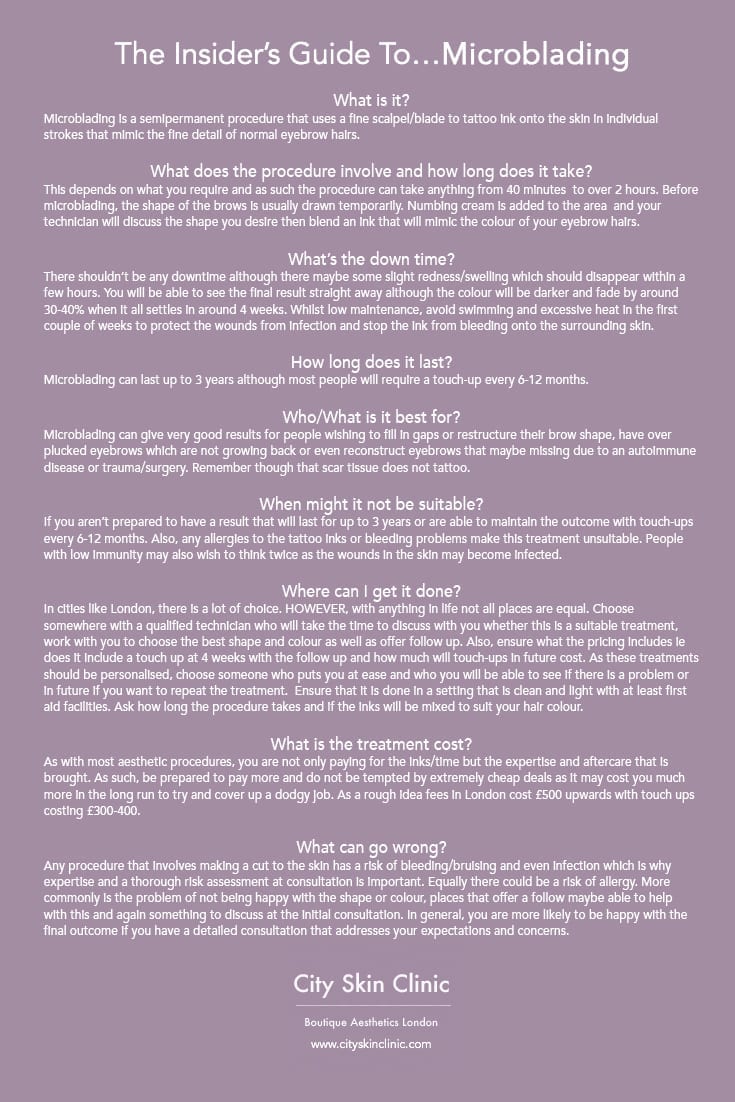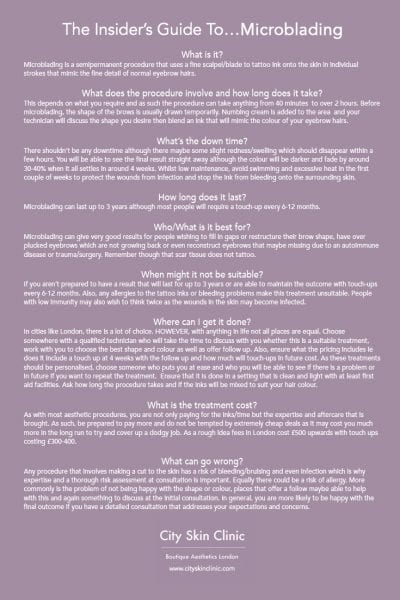 1) What is Microblading?
Microblading is a semipermanent procedure that uses a fine scalpel/blade to tattoo ink onto the skin. This is done in individual strokes which mimic the fine detail of normal eyebrow hairs. If microblading is done expertly, the final result looks natural. It should also be hard to distinguish from your own eyebrow hairs, hence its popularity.
2) What does the procedure involve and how long does it take?
This depends on what you require. As such the procedure can take anything from 40 minutes  to over 2 hours. Before microblading, the shape of your brows is drawn temporarily to plan the final outcome. Numbing cream will be added to your brow area to minimise discomfort. In addition your technician will discuss the shape you desire and choose/blend an ink that will mimic the colour of your eyebrow hairs. The microblade/scalpel the technician will use is a specialist pen with a very fine tip chosen to draw the fine detailed hairs.
3) What's the down time?
There shouldn't be any downtime. However, there maybe some slight redness/swelling which should disappear within a few hours. You will be able to see the final result straight away although the colour will be darker and fade by around 30-40% when it all settles in around 4 weeks.
Whilst low maintenance, there are a couple of things you will need to do in the first 2 of weeks. Avoid swimming and excessive sweating/heat. This is mainly to protect the wounds from infection (remember that small nicks into the skin are made to deposit the ink). In addition it will stop the ink from bleeding onto the surrounding skin. Initially, you might also be given a balm/ointment to place on the eyebrows to protect them when exercising. After this, its business as usual and there's no real maintenance required. A good practitioner will offer you a follow up at 4 weeks to assess how your brows look and whether a touch-up is required to complete the final look.
4) How long does it last?
Microblading can last up to 3 years. However, most people will require a touch-up every 6-12 months to maintain the effect.
5) Who/What is it best for?
Microblading can give very good results for people wishing to fill in gaps or restructure their brow shape. It is also great for those who have over plucked eyebrows which are not growing back or even to reconstruct missing due to an autoimmune disease or trauma/surgery. Remember though that scar tissue does not tattoo. Hence its worth discussing your individual reasons for wanting this treatment with an expert. They will help you to determine whether it will give the results you want.
6) When might it not be suitable?
Microblading isn't for you if you don't want a result that will last for up to 3 years. Also avoid microblading if are unable to maintain the outcome with touch-ups every 6-12 months. Another reason to steer clear is if you have any allergies to the tattoo inks or bleeding problems. People with low immunity or on medications that suppress the immune system may also wish to think twice. This is because the wounds in the skin may become infected. Its important to discuss all of this with your technician and where safety maybe an issue then make that your focus.
7) Where can I get it done?
In cities like London, there is a lot of choice. HOWEVER, with anything in life not all places are equal. As with aesthetic treatments, you should choose somewhere with a qualified technician. They will take the time to discuss with you whether this is a suitable treatment, work with you to choose the best shape and colour as well as offer follow up. Also, clarify up front what the pricing includes. For example, does it include a touch up at 4 weeks with the follow up and how much will touch-ups in future cost (although allow for inflation etc).
Make sure you choose someone who puts you at ease. In addition ensure that you will be able to see them if there is a problem or in future if you want to repeat the treatment. Finally, hygiene and safety are very important. You should make sure that it is done in a setting that is clean and light. There should be at least access to first aid facilities should something unexpected happen. Ask how long the procedure takes and if the inks will be mixed to suit your particular hair colour rather than being given a one-size fits all. Have a look at before and after photos as well as reviews.
8) What is the cost of the treatment?
As with all aesthetic procedures, you are not just paying for the inks/time but also the expertise and aftercare. Hence, be prepared to pay more. Do not be tempted by extremely cheap deals as it could cost you much more in the long run to try and cover up a dodgy job. As a rough idea, microblading in London could cost you £500 upwards with touch ups costing an additional £300-400. Again, when assessing value you should check expertise, location and whether follow up and 4 week touch up is included.
9) What can go wrong? 
Any procedure that involves making a cut to the skin has a risk of bleeding/bruising and even infection. This is why expertise and a thorough risk assessment at consultation is important. Equally there could be a risk of allergy so that is something to discuss with your technician. More commonly is the problem of not being happy with the shape or colour, places that offer a follow maybe able to help with this and again something to discuss at the initial consultation. In general, you are more likely to be happy with the final outcome if you have a detailed consultation that addresses your requirements, expectations and concerns. This is worth paying for as a bad outcome is very hard to correct.
10) Are there any alternatives?
If you're not ready to take the plunge then there are a number of alternatives. Traditional methods like eyebrow threading or waxing when done professionally can give a really good shape. Treatments like an eyebrow lift using botox  or dermal filler can help gently curve the brow and raise it. This is great if shape and definition rather than the actual hairs themselves is the problem. If you're looking to achieve a thicker brow and are happy to put the effort in with makeup, then a good place to start is the Benefit Cosmetics Brow pages. Benefit have very useful tips and a range of products such as the soft natural brow kit  to fill in, define and shape eyebrows.
We hope you found this guide useful. Please let us know if we've missed anything or if you have any topics you want us to cover as part of our "The Insider's Guide To..." series.