So you haven't already bought every Christmas gift, ordered your Christmas food and put up the decorations with plenty of time to spare? Fear not, we've never had time for that level of organisation either. Here are some immensely fabulous ideas for last minute Christmas beauty gifts that are guaranteed to please. Below are our top 8 Christmas beauty gifts guaranteed to please any beauty fan:
Christmas Beauty Gifts Under £50
Grounded Coffee & Charcoal Kit, £24

Here's a bit of coal everyone would be happy to receive on Christmas day! This kit contains Grounded's activated charcoal face scrub and activated teeth whitening powder. The face scrub contains coffee grounds which will polish and smooth your skin whilst the activated charcoal will cleanse and clear your pores. Additional sweet almond oil and Vitamin E provide for moisturised, soft, purified and glistening skin. The activated teeth whitening powder will freshen breath, remove plaque and get rid of stains for a whiter smile. All orders have to be in before 2 pm on 21st December 201 for pre-Christmas delivery.
Glossier Cloud Paint Quad, £45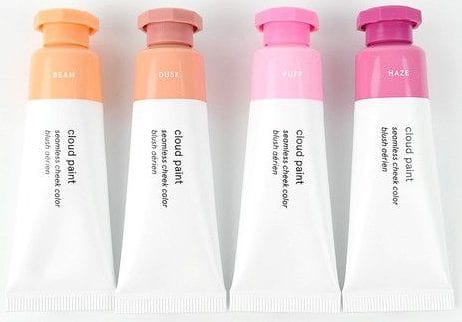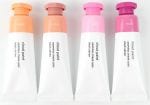 These delightful cream blushes are not only adorable but deliver a gorgeous and natural looking sheer buildable pigment. Use them all as blushes or the more neutral ones as a subtle bronzer. For the woman in a hurry, they can also be used for eyeshadow for a natural no-makeup makeup look. You will need to order by the 20th of December 2017 using express delivery for them to arrive before Christmas though.
Bobbi Brown Complexion Perfection Set, £46.50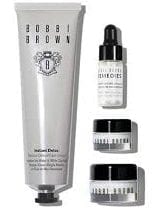 This is a great skin perfecting kit which is great at home and also for a little maintenance when travelling. The Hawaiian sea water & white clay mask will cleanse skin and clean out pores. The hyaluronic acid rich serum will hydrate your skin whilst the moisturiser and eye cream will plump, smooth and brighten the face. This a fabulous detox and repair kit which will be loved by any skincare aficionado.
Rodial Heroes Collection Kit, £34.50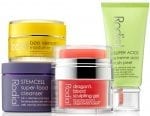 For the ultimate skincare lover, this Rodial kit is perfect. It comes with a travel-friendly set of their hero products which have earned millions of fans. The dragon's blood sculpting gel is their best-selling product and helps plump skin and define facial contours. The super acids X-treme acid rush peel helps resurface skin with azelaic, glycolic and lactic acids. The stemcell super-food cleanser will clean and nourish your skin with skin-friendly anti-oxidants and oils. Finally, the bee venom moisturiser helps hydrate skin and smooth the appearance of lines and wrinkles. The kit can be ordered directly online from Rodial or bought from a number of department stores.
Christmas Beauty Gifts Over £50
Zoeva 
Rose Golden Luxury Set Volume 2, £65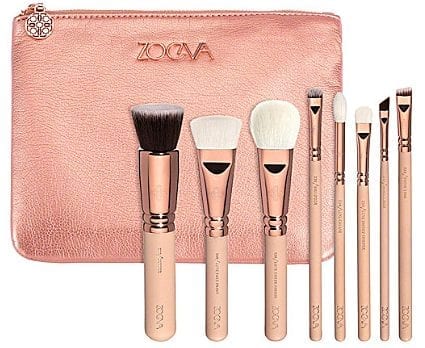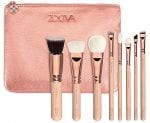 For the makeup lover, this is one of the most elegant and coveted makeup brush sets out there. These brushes have a gorgeous rose gold stems and a super chic carry bag. The set contains 8 synthetic haired brushes for precise application of eye and face makeup. Whether they're a makeup pro or shy beginner, these makeup brushes are a great addition to any beauty routine.
Fresh Mask Wardrobe, £70


This mask set contains a refining sugar face polish, hydrating rose face mask, smoothing black tea instant perfecting mask, radiating vitamin nectar vibrancy-boosting mask. It's a great gift set which will allow the lucky recipient to mix and match the masks according to how their skin feels for a tailor-made facial every time.
Huda Beauty 
Desert Dusk Eyeshadow Palette, £56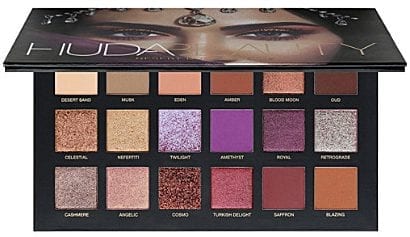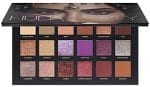 This is one of the hottest eyeshadow palettes so makeup lovers will be delighted with this gift. Even for the uninduced, this is a very versatile eyeshadow palette. it contains matte shades which are neutral based and hence suit a range of daytime looks. The metallic shades help elevate this palette and can be used to give a glam evening look.The range of colours mean that this can spawn a larger number of different combinations and looks hence its very versatile.
Charlotte Tilbury's Lip Masterclass Lip Kits, £130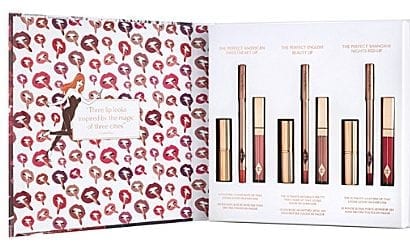 Last but certainly not least is this spectacular looking li kit from Charlotte Tilbury. It contains 3 sets of lip cheat, lipstick and lip lustre that are inspired by 3 cities (London, New York and Shanghai). This set will compliment any skin tone and age. The products can be used to create many different daytime and evening looks ranging from everyday elegant to high femme chic.
Hopefully, one of our Christmas beauty gifts will help you pick out a perfect Christmas pressie for a beauty fan. Check delivery times if you're ordering online in order to guarantee pre-Christmas delivery. If you're really stuck for time, don't forget you can also be creative and treat them to a gift experience. For Christmas spa sessions, massages, manicures and facials are all fantastic gift options. For a truly indulgent skincare experience, consider something like an advanced clinical facial or other bespoke skincare treatment. Don't forget to check our blog for the rest of the week for daily Christmas beauty and lifestyle posts. That's us for now, let us know what beauty gift ideas you've been considering and what you think of our choices.