Juvederm Volite Skin Booster Treatments
Juvederm Volite is a one session skin booster alternative to Profhilo injectable moisturiser. Volite is a hyaluronic acid skin booster injection that gives a skin a radiant and healthy glow. It can also directly target smokers lines and hydrate thinning lips. Choose our personalised Volite treatment in London to enhance your skin.
Juvederm Volite skin booster is a revolutionary treatment that helps to improve the overall quality and appearance of the skin. It is a hyaluronic acid-based injectable that stimulates your skin cells to make more collagen and elastin. Volite boosts skin hydration, elasticity and radiance. This results in a more youthful, glowing, and smoother complexion.
One of the great benefits of Volite is that it is suitable for all skin types. It is versatile and works variety of areas of the body, including the face, neck, and hands. The treatment is relatively quick and has minimal downtime, making it a convenient option for those with busy schedules. Volite works in a similar manner to Profhilo injectable moisturiser. The key difference is that it does not need 2-3 sessions 4-6 weeks apart. We can administer the full dose in a single session. Additionally, Volite is particularly effective at boosting the skin and directly treating concerns such a smoker's lines (vertical lip lines). Furthermore, it can also treat thinning dry lips. On the other hand, Profhilo is more suitable if you would like a treatment with fewer injections, do not need to directly treat smile lines or lip dehydration and you can commit to both sessions.
Juvederm Volite is an injectable skin booster that is a one session alternative to Profhilo.
As with all our treatments, your doctor will design a treatment protocol. This will address your skin concerns and meet your goals. Generally, during the treatment, our skilled practitioners will inject the Volite dermal filler into the targeted areas using a fine needle. Usually Volite treatment involves a larger number of injections compared with Profhilo. However, Volite injections involve small volumes and a tiny needle. The procedure is relatively painless and needs as little as 15-30 minutes.
Shortly after the treatment, patients may experience some mild swelling or redness, but these side effects should subside quickly. Most people are able to return to their normal activities immediately after the procedure. Results of Volite treatment usually take 4-6 week to reach full effect. Some people can begin to notice improvement within a few days. Generally, the results of Volite can last up to nine months. We recommend that you repeat the treatment every six to nine months to maintain your results. Furthermore, you can also combine Volite with other treatments such as Botox or dermal fillers at the same session.
What is Volite treatment?
Volite is a cosmetic hyaluronic acid injectable treatment that improves the appearance of the skin. It boosts the hydration and elasticity of the skin. Volite treats a variety of concerns, including fine lines and wrinkles, uneven skin tone, and dryness.
Which is better Volite or Profhilo?
Both Profhilo and Volite are hyaluronic acid skin boosters that improve your skin's elasticity, hydration and plumpness. Profhilo is excellent if you want to boost your skin and prefer few injection points although you will need to have two sessions. Juvederm Volite is excellent if you don't mind multiple injections and are unable to commit to multiple sessions as the treatment only needs one session. Both take the same amount of time to see results and the effects last for the same period. Volite can also directly treat lip lines, thinning lips and forehead wrinkles.
How is Volite treatment administered?
Volite treatment is typically administered through a series of injections into the skin. Only licensed healthcare professionals such as a nurse, doctor or dentist should perform the treatment.
Is Volite treatment painful?
Volite treatment is typically well tolerated. Most people do not experience significant discomfort during the procedure. Some people might experience mild pain at the injection site, but this is usually short-lived.
How long does Volite treatment take?
The duration of a Volite treatment session can vary, but the procedure is typically relatively quick, taking anywhere from 15 minutes to half an hour to complete.
Is Volite treatment safe?
Volite treatment is generally considered safe if a trained and licensed healthcare professional performs the treatment. However, as with any medical procedure, there are potential risks and side effects, which may include swelling, redness, and tenderness at the injection site. It is important to discuss any concerns about the safety of Volite treatment with a healthcare professional before undergoing the procedure.
How long does Volite take to work?
Most people will experience an improvement in their skin within a few days. This is usually manifests as smoother/softer skin that looks hydrated. For full effect it usually takes 4-6 weeks to notice greater skin bounce, elasticity and radiance. This is because Volite stimulates skin cells cell which take time to turnover.
How long does Volite filler last?
The results of Juvederm Volite can last up to 12 months though this depends on you and the area treated. To maintain results you should repeat treatment every 6-9 months.
UPDATE: We've moved our treatments online!
We're excited to share with you that we've moved our skin treatments online! This means that we're no longer accepting new patients for aesthetic treatments including Volite at our physical clinic in London. However, we are welcoming new clients to our online skin clinic. We have decided to fully focus on skin rejuvenation. Which is why we we offer prescription strength anti-ageing and skin boosting treatments like Tretinoin under the care of our aesthetic skin doctors. You can have your consultation and recieve your skincare products as well as aftercare all from the comfort of your home!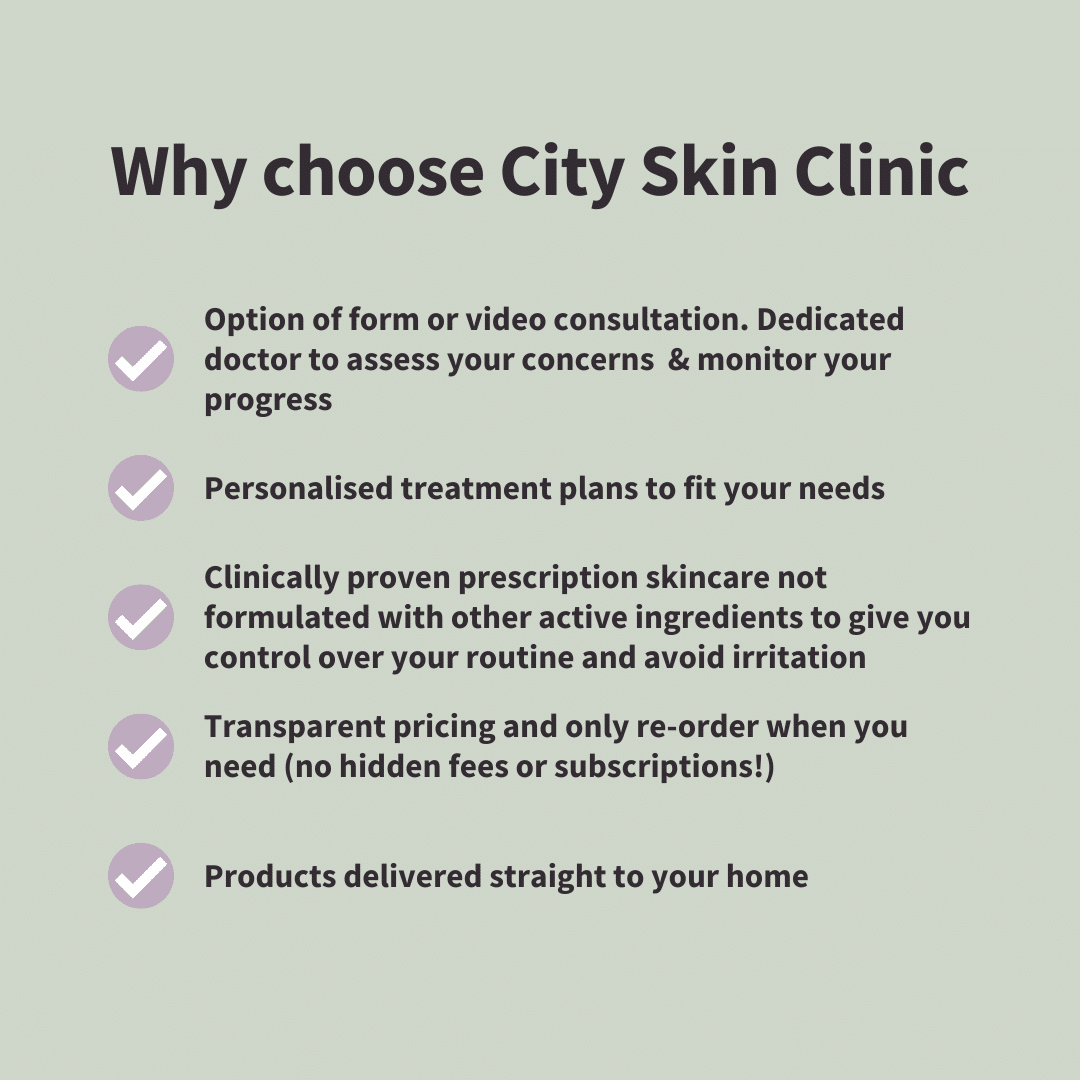 City Skin Clinic is a rare find in the non-surgical cosmetic treatment world. The clinic has a principled and meaningful vision and approach. Its doctors and staff are extremely friendly, passionate and conscientious – I felt really well advised and I could trust in their expertise and that they were looking after my best interests. The quality of service is exceptional and the customer care goes beyond the treatment in a holistic and tailored way that feels very human. I would definitely recommend it, especially if it's your first time delving into this world.
NORA
Overall, I have had an amazing experience with this clinic. I was given honest advice and there was a follow up appointment in which they ensured I had gotten the desired results.
SYNTYCHE
Highly recommended! Always had a great treatment and the best advices.
DARIO
I've been going to see Amel for about a year now and am very happy with the results. The service she provides is very personalised and has made a real difference to how my skin looks and feels. I would definitely recommend City Skin Clinic even if you have tried other, similar services.
RACHEL
Amazing result! Very natural. Will definitely return soon! Thank you!
IRINA
Doctor Amel is highly recommended she patient and very welcoming . She made me feel comfortable from the beginning and has such a sweet spirit. I trust her for any future procedures 😄🙌
SUMAYA
Can not recommend this place anymore. All the staff are super lovely, doctors lovely, has great chat and I'm so pleased with my results!
STEFANO
I visited the City Skin Clinic recently and can honestly say that the service is exceptional. I have visited many clinics around London and have not found one that makes me feel comfortable, until I visited the City Skin Clinic. I was greeted by a wonderful receptionist who made me feel at ease. The hygiene is of a high standard, with safety measures taken into careful consideration. I was given gloves, shoe covers, hand sanitizer etc. The doctors conduct treatments with you in mind, they are very careful, skilled and the results look natural making a world of difference. I would highly recommend this clinic particularly as it caters for all skin tones, no one is left out, which is quite rare for aesthetic clinics.
MEL
Such a professional experience, with amazing results that I couldn't have even imagined.
TOMMY
My experience with City Skin Clinic has been superb. I can always count on receiving honest advice and the client service is outstanding. I have gotten a couple of treatments there and I have been beyond satisfied each time. Can't wait to be back 😉 I cannot recommend them more. Keep up with the amazing work!
JUDITHA
Excellent results, I would highly recommend - Amel is really lovely and welcoming, she spends time making you feel comfortable and is honest about treatments and results.
KAT
Amel is a superstar. You can trust her entirely and know that she will not let you walk away disappointed. Highly recommend City Clinic.
ASHIA
Fabulous company and fabulous service!
YANA