Non Surgical Rhinoplasty London For Nose Reshaping Nose Fillers
Non surgical rhinoplasty London with nose reshaping fillers at City Skin Clinic
At City Skin Clinic, we use hyaluronic acid dermal fillers for all our non surgical nose reshaping treatments. This is also commonly known as the non surgical rhinoplasty or non surgical nose job. What sets us apart is that our expert doctors tailor the procedure for each individual client's face, needs and goals. We use nose fillers to alter the definition, projection, profile and shape of the nose. The key benefits of our personalised non surgical rhinoplasty are:
Fully bespoke non surgical rhinoplasty nose reshaping treatment
All treatments performed by an expert aesthetic doctor
Premium hyaluronic acid dermal fillers
Natural looking results
Dedicated aftercare and free follow-up
Since opening, we have gained a reputation for excellence and safety in London. All of our expert doctors are firmly focused on delivering a fully personalised bespoke non surgical rhinoplasty London nose reshaping treatment. We only use the leading brand of premium hyaluronic acid dermal fillers to correct and reshape the nose with our non surgical nose job.
Who is best suited for a non surgical rhinoplasty treatment?
Non surgical rhinoplasty, also known as nose reshaping dermal fillers, is a quick and non invasive method to shape the appearance of the nose. Whilst it can not replace a surgical rhinoplasty if a permanent anf extensive nose rehsaping is needed, it provides excellent results if used to on:
Mildly crooked nose to improve symmetry
Small nose that needs building up
Hook-shaped nose that requires straightening
Mild or moderate bump on the bridge of the nose that needs smoothing
A mild to moderate drooping of nasal tip that
Noses that would like more height, definition and a nose tip
What does the non surgical rhinoplasty procedure involve?
All of our treatments start with a detailed consultation to design a bespoke treatment based on your individual needs, appearance and budget. The treatment starts with our expert doctor thoroughly cleansing the skin then applying a numbing cream for your comfort. She will then inject the dermal filler using either a needle, microcannula or a combination of the two (depending on what is needed).
When will I see results and how long do they last for?
You will be able to see the result immediately although the full effect is best appreciated after 1-2 weeks once any swelling or bruising settle down. The results depend on the type of filler used with our standard premium hyaluronic acid fillers, the outcome lasts for 6-8 months whilst our advanced range of hyaluronic acid fillers may last for 12-18 months.
Why choose City Skin Clinic for your non surgical rhinoplasty
We are renowned for our unique combination of a personalised approach, the highest standard of clinical care and dedicated follow up. Our doctors will always put you at the centre of all treatments and deliver a service comparable to no other clinic. Book an appointment online today for expert non surgical rhinoplasty nose reshaping dermal fillers in London. 
Book your consultation for nose reshaping dermal fillers in London
Bespoke non surgical rhinoplasty performed by expert doctors in London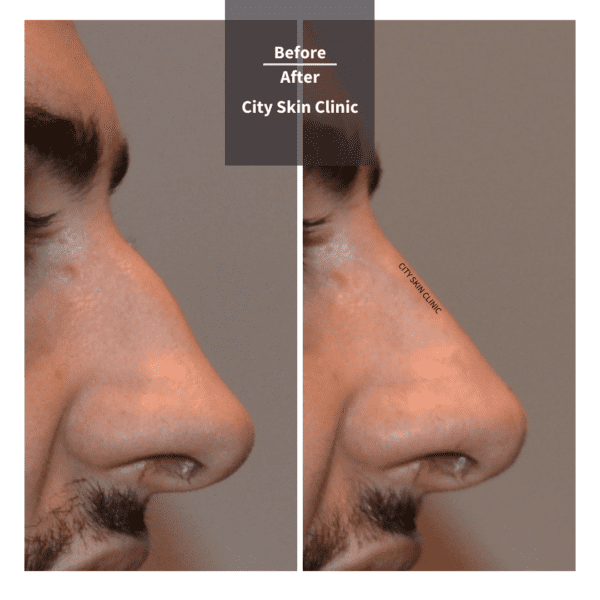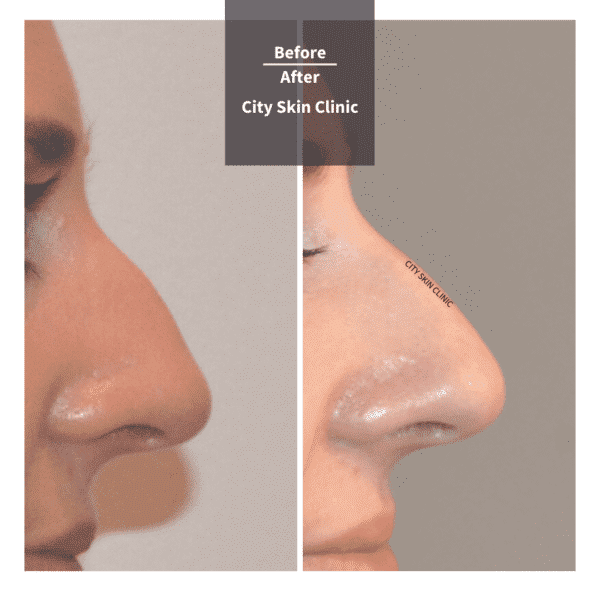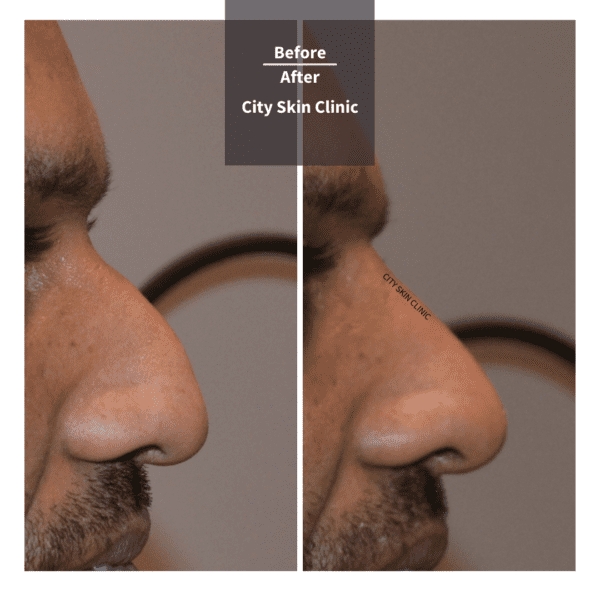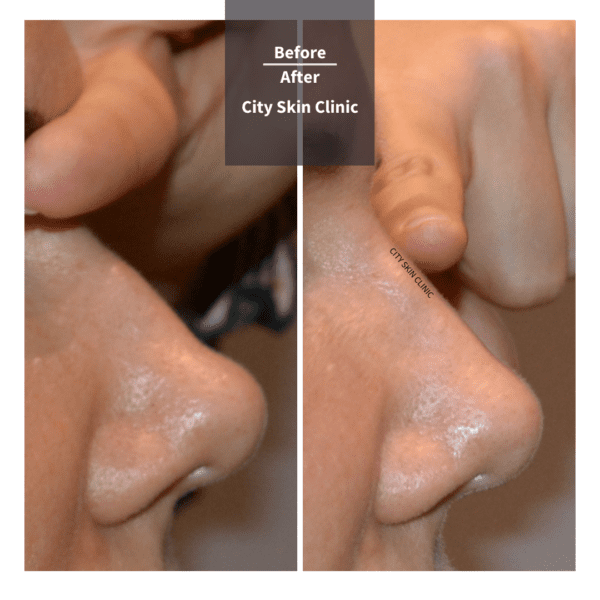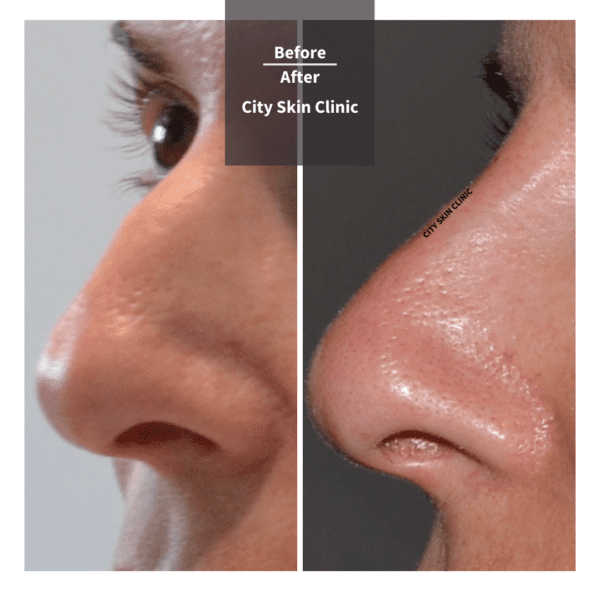 Consultation
£30
Our expert doctor will design a bespoke treatment plan tailored to your needs to achieve the best possible outcome. The cost of the consultation will be deducted from any treatments administered at the same appointment.
Non Surgical Rhinoplasty with 1ml advanced dermal nose fillers with VOLUMA
£650
Advanced hyaluronic acid dermal filler lasting up to 18 months.
Non Surgical Rhinoplasty with 1ml advanced dermal nose fillers with VOLUX
£750
New generation advanced hyaluronic acid dermal filler lasting up to 24 months.
Excellent results, I would highly recommend - really lovely and welcoming, she spends time making you feel comfortable and is honest about treatments and results.
Highly recommended! Always had a great treatment and the best advices.
Being a medical professional myself, I was a bit skeptical at first. However, all my fears were laid to rest after meeting Dr Ibrahim. She is a thorough professional and she guided me through the process step by step. Her knowledge of aesthetic medicine is very good and she re-assured me all through out the process. I am very happy to recommend her to all future clients.
I just wanted to say that it's the best filler I've ever had and I'm really pleased with the result now it's settled down it's fabulous. You took lots of time and looked at the shape and size of everything and I really appreciated that level of care and attention. Very happy customer, will be back in the new year, if not before!
Book an Appointment Online
Book a consultation and treatment with our expert doctor for cheek fillers in London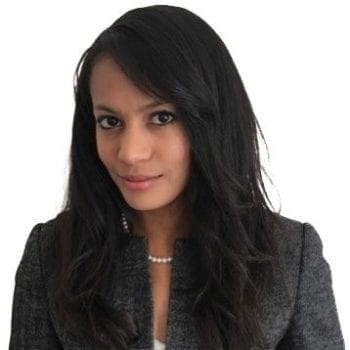 Dr. Ibrahim established City Skin Clinic in 2015 in order to improve the quality and safety of aesthetic treatments in London. She has built a reputation in the professional aesthetic treatments sphere for excellence and a high level of patient satisfaction. Her team specialises in using dermal fillers to delicately sculpt and reshape the nose giving a natural and bespoke result.