Time waits for no woman and whilst no one actually enjoys New Year's Eve, its generally not something you can get out of. So, at the very least, why not welcome the new year looking the most glamorous version of yourself. We've put together this post to help time-poor women get ready for New Year's Eve festivities with minimal fuss. Even better, because no one wants to look generic, we've put together 3 super glam looks inspired by our style inspirations. These can be easily copied, adapted or mixed up!
The New Year's Eve Beauty Guide
The Skin Preparation
If you have great skin, everything else becomes super easy. If your skin is suffering a little bit from the indulgence of Christmas, you might want to consider a facial, advanced clinical facial or superficial chemical peel. Do this a day or two before New Year's Eve though. Do not go on the day and do not get anything more involved. You do not want to be suffering from any flakiness, redness or other type of down time.
Start by properly cleaning your skin using a gentle oil cleanser like DHC Deep Cleansing Oil to remove any makeup, dirt or grime. Follow up by double cleansing with a conditioning and hydrating lotion like Glossier Milk Jelly Cleanser. Now that your skin is clean, remove dead dry skin with an exfoliator. We absolutely adore Grounded Activated Charcoal Blackhead Removing Face Scrub. It unclogs pores, removes impurities and surprisingly doesn't dry out skin. Better still, it can double up as a face mask if you exfoliate then leave it on for  10-15 minutes. Follow up with a clay mask like Charlotte Tilbury Goddess Skin Clay Mask if you have oily skin. If you have dry skin, then give the Skin Laundry Hydrating Radiance Facial Treatment Mask a try for long-lasting moisture and skin plumping effect.
Now that your skin has been smoothed, unclogged and moisturised, you can start to prepare it. Apply a nourishing moisturiser and hydrating product. Moisturisers like Bobbi Brown Vitamin Enriched Face Base or Glossier Priming Moisturizer have the benefit of doubling up as a primer for your makeup. Otherwise, apply a primer separately on top of your moisturiser. Both Smashbox Photo Finish Foundation Primer and The Ordinary High-Spreadability Fluid Primer have won massive followings. This is because they're light-weight, give a dewy finish and are long lasting.
The Makeup
Face
Apply foundation to the centre of your face (T-zone) then blend outwards with your fingers, beauty blender or foundation brush. We're big fans of both Bobbi Brown Skin Long-Wear Weightless Foundation SPF 15 and Charlotte Tilbury Light Wonder because they're sheer and lightweight. This will ensure that your foundation doesn't appear cakey and your skin looks flawless all night. Apply concealer under the eyes to brighten your face and for this we can't rave enough about Bobbi Brown Instant Full Cover Concealer. Alternatively, if you only wish to highlight this area because you're lucky enough to not have dark under eye circles, then YSL Touche Éclat is a great option. 
Next up, apply a bronzer to the edges of your cheekbones (suck in your cheeks to make this easier) and blend to the foundation using a contour brush. This will define and enhance your cheek bones. Apply a bit of the bronzer to the forehead, around your jawline, temples and anywhere you wish to sculpt a bit better. Benefit Hoola Bronzing Powder is still one of the best all round bronzers and is great for a bit of contouring.
Apply highlighter to the top of the outer brows, middle of forehead, bridge of the nose, top of the cheekbones and anywhere else you wish to highlight. Stick to a glowy highlighter like Glossier Haloscope, Anastasia Beverly Hills So Hollywood Illuminator or NARS Hot Sand Illuminator for a grown uplit by candle-light kind of illumination. If you fancy a bit more sparkle (it is New Year's Eve after all), then reach for Anastasia Beverly Hills Glow Kit (in Moonchild or Aurora depending on your skin tone) for a divine strobe effect.
For a bit of colour, apply a subtle shade of blusher to the apples of your cheeks and blend to the foundation and bronzer. Finish by setting your makeup with a setting spray or powder to ensure that your makeup doesn't move throughout the evening and night! When it comes to setting powder, Charlotte Tilbury Airbrush Flawless Finishing Powder is the clear front-runner. It is super finely milled and will also act like a filter to further perfect the appearance of your skin. If you're after a spray, then e.l.f Studio Makeup Mist & Set is a fantastic and inexpensive option. Whilst it won't last the whole night if you're partying, it does a great job if you are having more of a cocktails and hanging out kind of evening.
Eyebrows
Without a doubt, your eyebrows cannot be ignored. They frame your face and help give that all important I'm not impressed or interested look when you're trying to fend off the unwanted attention that usually surfaces on New Year's Eve. Pluck your eyebrows early on in the day or have them waxed/threaded the day before. In order to shape and define your eyebrows, use a spoolie to brush them upwards. Fill in gaps with an eyebrow pencil or gel with a colour that matches your natural brows. You're spoilt for choice in terms of products and if you don't have a favourite already, its worth checking out Benefit's extensive brow range. Once you've drawn your brows, use a brow gel like Glossier Boy Brow to fluff up and set your brows so that they look natural and stay put!
Eyes
So far, we've kept the makeup looking neutral and glowy. This lets you play with the eyes and lips in order to amp up your look so its super glam or you can keep a no makeup makeup chic vibe. As its New year's Eve, we think upping the ante with a dramatic smokey eye gives the perfect combination between glamour puss and rock chick. Of course, this is also the time to use a little glitter (in a grown up sophisticated way of course).
If you're after a Sophia Lauren beauty kind of vibe, try using browns, coppers and gold. For this look, we use Charlotte Tilbury luxury Palette In The Dolce Vita which gives a stunning bronze and Mediterranean inspired eye. The colours can be used to create a subtle or dialled up look depending on the combination. Another great festive collection, is the Bobbi Brown Caviar & Rubies Eye Shadow Palette. It contains 8 colours and one gilded eye shadow that can be mixed and matched to create a range of nordic sultery smokey eye looks. Both palettes look good on all skin tones and can be used to create more or less drama depending on your mood. The glittery eyeshadows on both can be applied at the end to the eyelid and inner corner of the eye or just as a line above the top lashes if you want a more muted sparkle.
Add a waterproof eyeliner like Urban Decay 24/7 Glide-On Eye Pencil in black or dark brown to the waterline (al the way on the top lash and 2/3 of the way in on the bottom lash) then use a smudge brush to blend it into the eyeshadow for the perfect smokey eye. Then apply a line above your top lashes and a little feline flick at the edges which will lift the eyes and make them look fresher. Follow up with a full volume mascara like Urban Decay Troublemaker or  L'Oréal Paris Telescopic Mascara to straight or curled (if you want a more fluttery appearance to your lashes. Place mascara on both the top and lower lashes for a wide-eyed look.
Lips
The lip for New Year's Eve will depend on how playful you want to be. As a general rule, we love a more neutral sultry coloured lip with a dramatic eye. Firstly define your lips using a natural coloured lip liner like Charlotte Tilbury Lip Cheat in Pillow Talk. Use this to draw the boundaries of your lips and also apply on top of the lips as it will act as a base to make your lipstick last longer. Top up with a neutral lipstick of your choice (we quite like Charlotte Tilbury Bond Girl for warmer skin tones). if you hate lipstick, you could just apply your favourite lip gloss over your lip liner for a more tinted and defined lip. If you really want to up the ante and go for a red lip, then look no further than Dior Rouge Lipstick which has a velvety matte finish.
The Party Looks
Putting it all together is definitely the fun bit! We've chosen Billie Holiday, Sophia Loren and Diana Ross as our inspirations for grown up glamour looks this NYE. To keep things simple, the face makeup is all the same and the only things we've changed are the eye and lips makeup. We prepped the skin as above and used Charlotte Tilbury Wonder Light foundation (shade 8), Glossier highlighter and boy brow, Benefit hoola bronzer and Revlon blush.
Our first look is inspired by the incredible Billie Holiday. Billie's signature look revolved around a cat eye and strong bold lip. We used Bobbi Brown Caviar & Rubies palette for the eye makeup. As a base, we swept cool grey onto the top and bottom lid. We used wheat, golden beige and moon star on the crease as transition colours. Using a smudge brush we applied caviar to the upper and lower lash line. We then used Urban Decay eyeliner in zero on the top and bottom lashes followed by Urban Decay liquid liner for the feline flick on the top lid. For the lashes, we used Urban Decay trouble maker mascara. To finish off, we applied (using the little finger) a bit of the gilded eyeshadow to the top eyelid and blended onto the crease for a bit of grown up sparkle. For the bold lip we used Charlotte Tilbury lip cheat in pillow talk to define the lips and as a base for Dior's Rouge lip stick!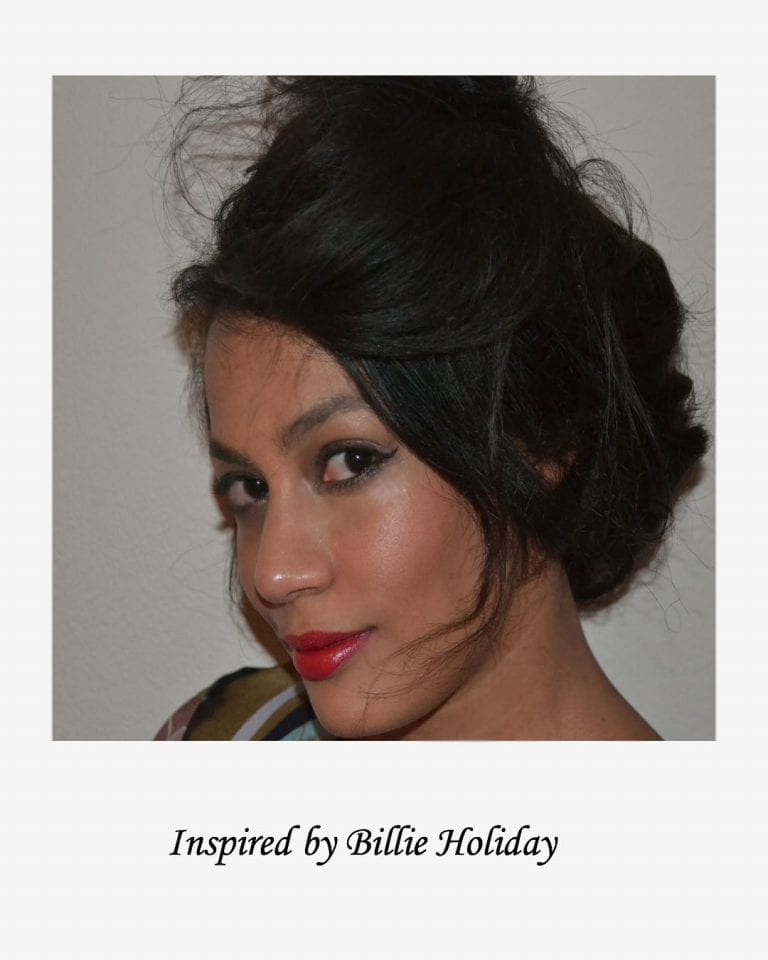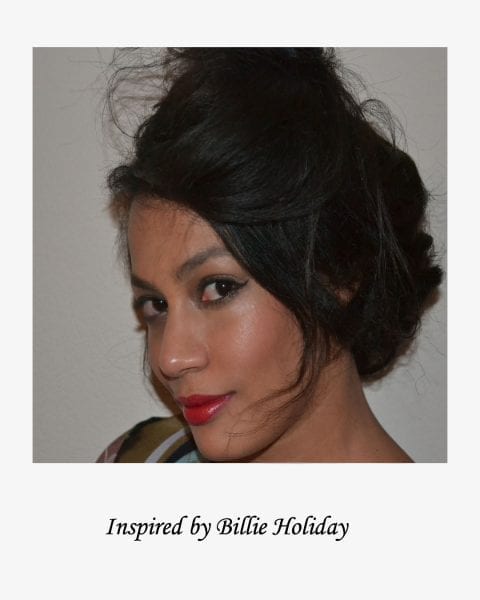 The next style icon we wanted to pay homage to is Sophia Loren. This look is all about the eyes and midface. The eye shape is a dramatic cat eye whilst the cheek bones are high. To get this look we were a little generous with the highlighter on the cheekbones. For the eyes, we used Charlotte Tilbury's Dolce Vita Luxury palette. To define the eye we used the prime shade on the top lid and inner eye then followed up with the enhance shade on the top lid and crease. We then applied the smokey shade to the upper and lower lash line which we smudged with a brush. To get the feline flick we used Urban Decay waterproof eyeliner for the top and bottom lashes then used the liquid liner to get  cat eye. To finish this look we applied (using the little finger) the pop shade to the inner 2/3 of the top lid and a couple of coats of mascara to the lashes. The lips were defined with Charlotte Tilbury's pillow talk liner and finished off with the Bond girl lipstick.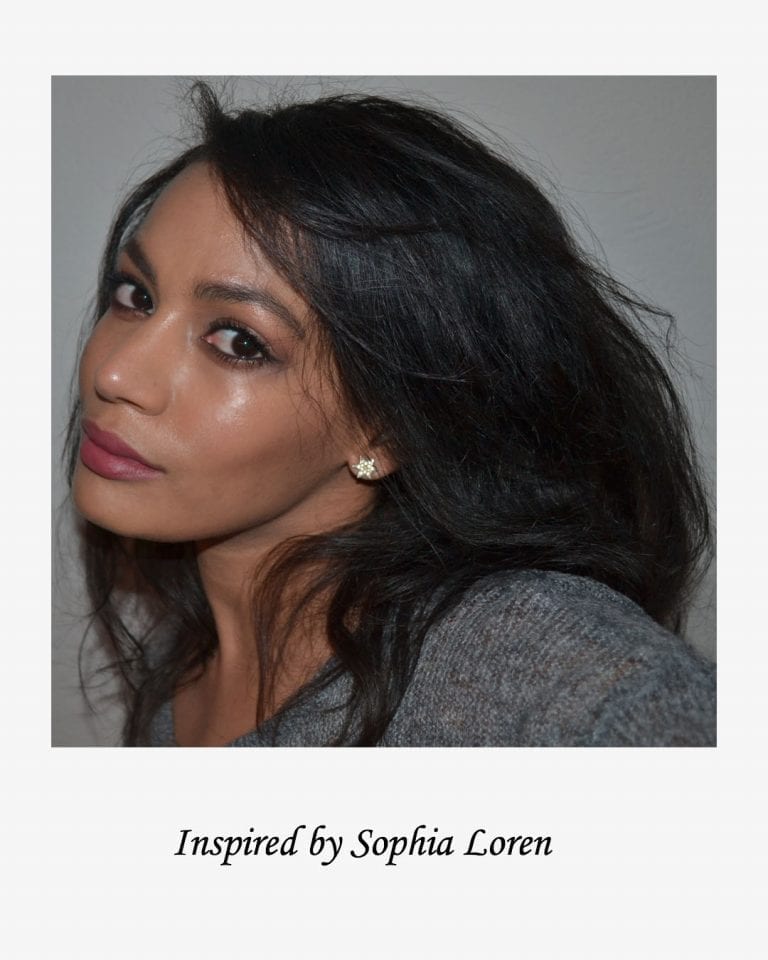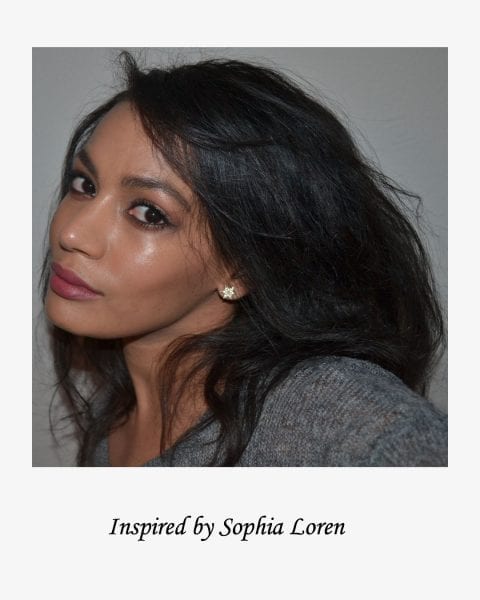 Our final look is inspired by the inimitable Diana Ross. This look is all about a dramatic wide eye. We used the prime shade from Charlotte tilbury palette to prepare the eyelid then followed up by using cool grey and golden wheat on the crease as transition shades from the Bobbi Brown Caviar & Rubies palette. We then smudged black caviar from the same palette onto the outer upper lid and the lower lash line. For a strong eye line we smudged the Urban Decay waterproof eye pencil into the lids then dragged it out to the corners for a flick. To compete this eye we applied the gilded shade of eyeshadow onto the inner 2/3 of the upper eyelid and finished off with lots of mascara to the lower and upper lashes. The lip was lined with Charlotte Tilbury lip cheat in pillow talk and her Bond girl lipstick.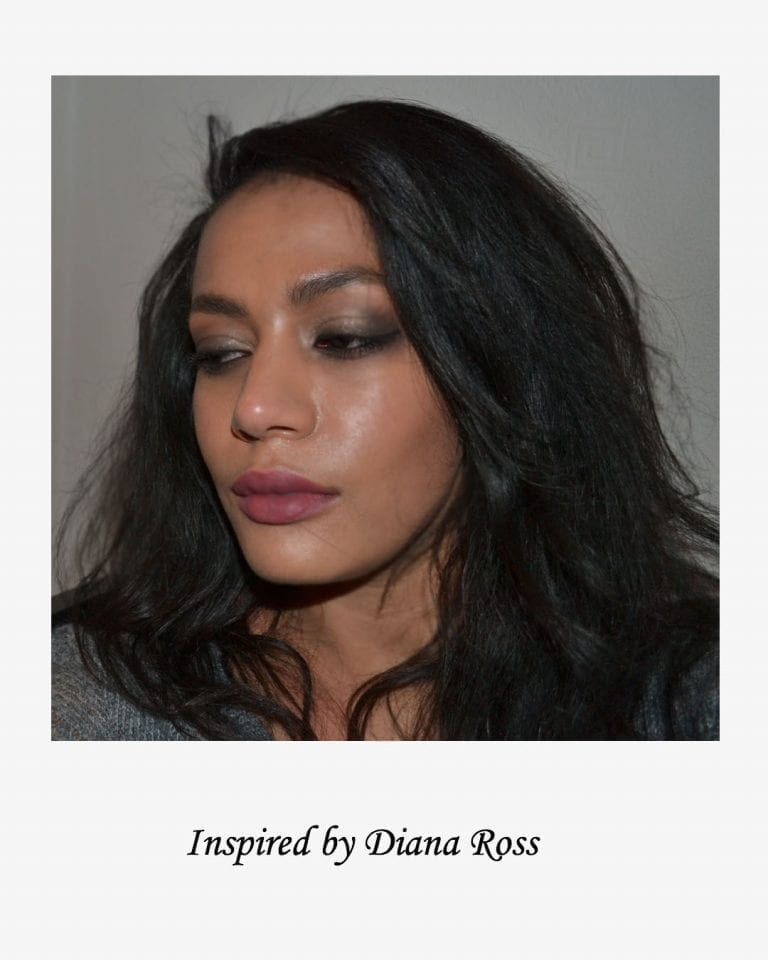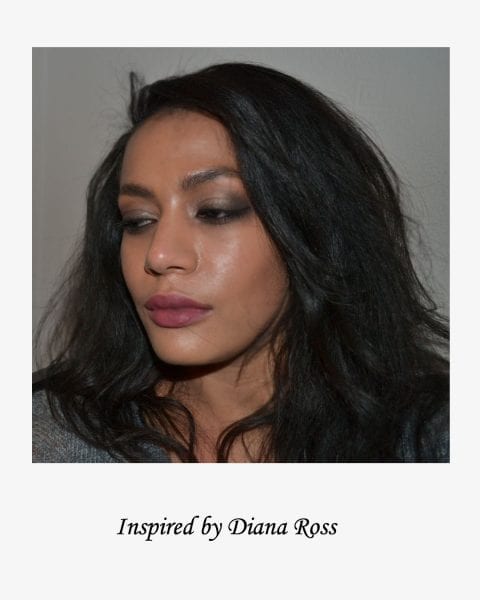 Regardless of your outfit choice, hairstyle or accessories, if you get your skincare and makeup right you will not fail to look glamorous this New Year's Eve. Don't be daunted by the steps, all of this can be done in half an hour if needed. Just make sure you prep your skin properly and apply your face makeup then set it. Everything else just glides on. Check out our Instagram for more beauty tips and product reviews.