Treatments for Men
City Skin Clinic offers treatments for men with wrinkles, excess sweating and skin problems that are designed specifically for males to ensure natural looking and effective results.
Professional Skin Treatments For Men
The number of men seeking professional skincare treatments is rising with many now seeing it as an extension of their wider grooming routine. These treatments are also relatively quick and don't have any downtime. At City Skin Clinic we offer a range of effective and personalised treatments by experienced doctors specifically designed for men including:
As male faces can differ in structure to women, desired outcomes can also be different. That's why we have developed a set of techniques and protocols to ensure natural-looking results. After a consultation with one of our doctors, a personalised treatment plan will be made for you. This will include suitable treatment options to give you the best results. Please visit our dedicated products page for further details on which brands we use. The general treatment pages have detailed information on the full range of services that we provide. Our skincare and beauty blog also has a number of tips and advice for achieving great skin for both men and women.
UPDATE: We've moved our treatments online!
We're excited to announce that we have moved our skin boosting treatments online! This means that we're no longer accepting new patients for aesthetic treatments at our clinic in London. However, we are welcoming new clients to our online skin clinic. Through this we offer prescription-strength skin treatments like Tretinoin for skin ageing, acne, hyperpigmentation and more! All under the care of our aesthetic skin doctors from the comfort of your home.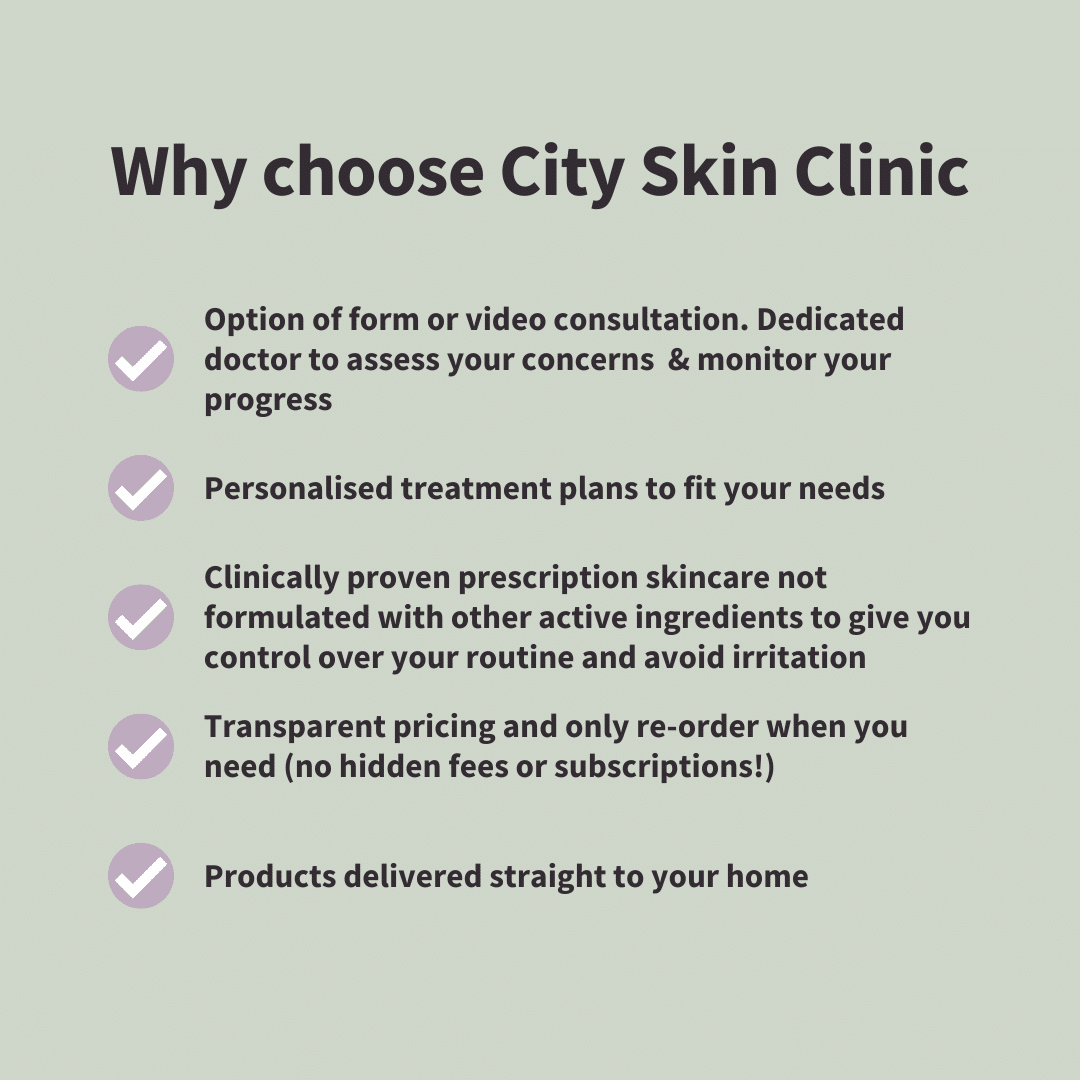 City Skin Clinic is a rare find in the non-surgical cosmetic treatment world. The clinic has a principled and meaningful vision and approach. Its doctors and staff are extremely friendly, passionate and conscientious – I felt really well advised and I could trust in their expertise and that they were looking after my best interests. The quality of service is exceptional and the customer care goes beyond the treatment in a holistic and tailored way that feels very human. I would definitely recommend it, especially if it's your first time delving into this world.
NORA
Overall, I have had an amazing experience with this clinic. I was given honest advice and there was a follow up appointment in which they ensured I had gotten the desired results.
SYNTYCHE
Highly recommended! Always had a great treatment and the best advices.
DARIO
I've been going to see Amel for about a year now and am very happy with the results. The service she provides is very personalised and has made a real difference to how my skin looks and feels. I would definitely recommend City Skin Clinic even if you have tried other, similar services.
RACHEL
Amazing result! Very natural. Will definitely return soon! Thank you!
IRINA
Doctor Amel is highly recommended she patient and very welcoming . She made me feel comfortable from the beginning and has such a sweet spirit. I trust her for any future procedures 😄🙌
SUMAYA
Can not recommend this place anymore. All the staff are super lovely, doctors lovely, has great chat and I'm so pleased with my results!
STEFANO
I visited the City Skin Clinic recently and can honestly say that the service is exceptional. I have visited many clinics around London and have not found one that makes me feel comfortable, until I visited the City Skin Clinic. I was greeted by a wonderful receptionist who made me feel at ease. The hygiene is of a high standard, with safety measures taken into careful consideration. I was given gloves, shoe covers, hand sanitizer etc. The doctors conduct treatments with you in mind, they are very careful, skilled and the results look natural making a world of difference. I would highly recommend this clinic particularly as it caters for all skin tones, no one is left out, which is quite rare for aesthetic clinics.
MEL
Such a professional experience, with amazing results that I couldn't have even imagined.
TOMMY
My experience with City Skin Clinic has been superb. I can always count on receiving honest advice and the client service is outstanding. I have gotten a couple of treatments there and I have been beyond satisfied each time. Can't wait to be back 😉 I cannot recommend them more. Keep up with the amazing work!
JUDITHA
Excellent results, I would highly recommend - Amel is really lovely and welcoming, she spends time making you feel comfortable and is honest about treatments and results.
KAT
Amel is a superstar. You can trust her entirely and know that she will not let you walk away disappointed. Highly recommend City Clinic.
ASHIA
Fabulous company and fabulous service!
YANA